Irene Jones
River Corridor Program Director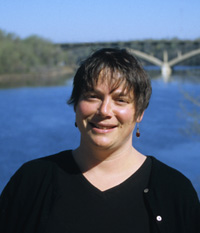 Professional Bio
Irene has more than 25 years of professional experience with environmental organizations, including 15 years at FMR. After receiving a B.S. in Biology from the University of Minnesota, she spent 12 years living in upstate New York working as a naturalist, education program manager and communications specialist. In 1999 Irene returned to Minnesota to take a position as FMR's Outreach Director, and spent several years building a a successful stewardship and volunteer program. As the organization grew, her portfolio expanded to include river corridor land use, policy and advocacy work. Irene's policy expertise, communications skills and background as an educator, have provided a strong foundation for engaging citizens and other stakeholders in river stewardship and advocacy.
FMR Role
Irene is responsible for managing two programs. FMR's stewardship program engages 3,000-5,000 people annually through approximately 100 volunteer and education events, outings and workshops. FMR's river corridor advocacy program aims to influence local, state and federal land use policy for the Mississippi River Critical Area, a 72-mile corridor from Dayton to Hastings.
Personal Details
In her spare time, Irene likes to travel, garden, host parties and watch old movies.