Action Alert: Don't cut funds for Minnesota's environment and environmental jobs [CLOSED]
April 27, 2020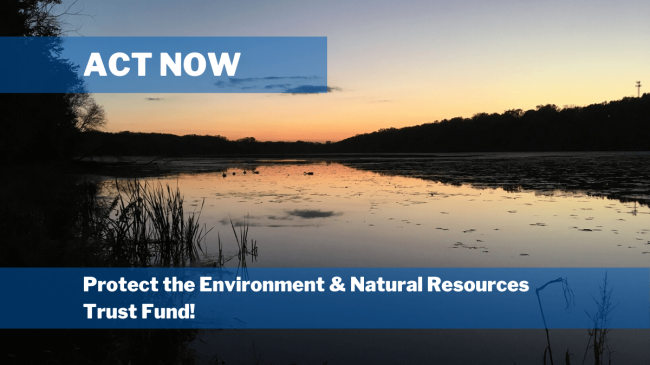 Minnesota voters approved the Environment & Natural Resources Trust Fund in 1988. They/we established it "for the public purpose of protection, conservation, preservation, and enhancement of the state's air, water, land, fish, wildlife, and other natural resources." Over the years, the fund has invested in over 1,700 research and conservation projects across the state. But now, all of that is at risk.
While a bill to appropriate the Environment Trust Fund has been heard in the House, the Minnesota Senate recently announced they do not intend to pass a bill this year.
Worse yet, they have signaled their intentions to use the special fund to backfill anticipated shortfalls in state revenue next year — a move that will likely run afoul of the Constitution, not to mention the will of Minnesota voters.
Please join us in taking action to protect dedicated environmental funding in Minnesota. Email your legislator today to support the advancement of the Environment &Natural Resources Trust Fund bill. And read more about what's at stake in our blog post.
This Action Alert is no longer available. Sign up to be a River Guardian and we'll keep you updated when the river needs your voice. Visit our Legislative Blog to learn about similar issues and follow the 2020 legislative session.