Restoring a blank slate at Houlton Farm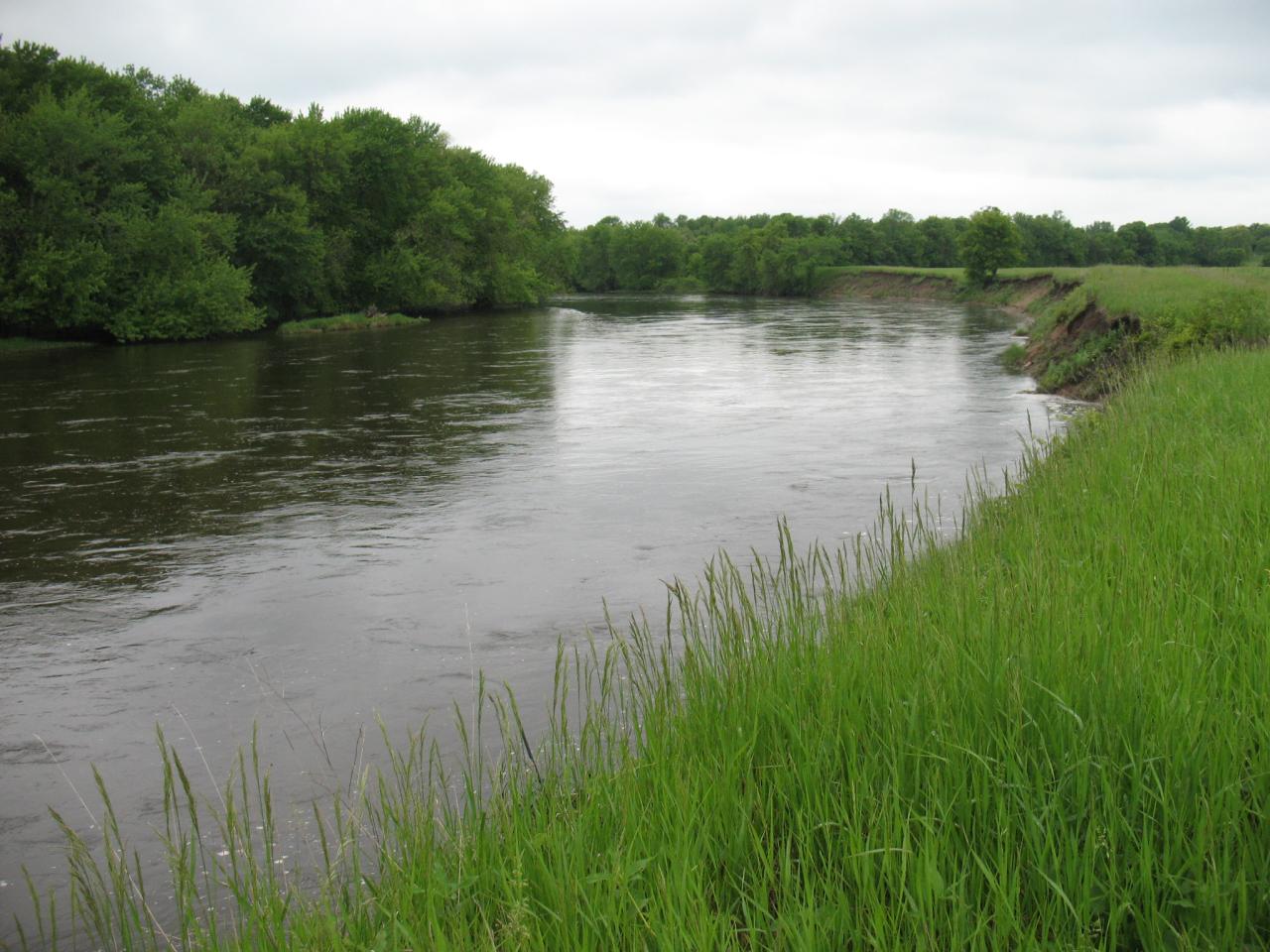 When I first drove onto the Houlton Farm property in Elk River, I was taken aback by its sheer size. As I stepped out of the car, I looked out over 360 acres of farmland and floodplain forest. This property, at the confluence of the Elk and Mississippi rivers, was to become my blank canvas. As the ecologist in charge of writing the Natural Resource Management Plan (NRMP) for Houlton Farm - officially named the William H. Houlton Conservation Area - I saw this as an incredible opportunity to restore rare and important plant communities on a large scale. Since that first visit in early summer, I have made weekly trips to Houlton Farm, surveying plant communities, documenting features of interest and determining how best to restore this amazing property.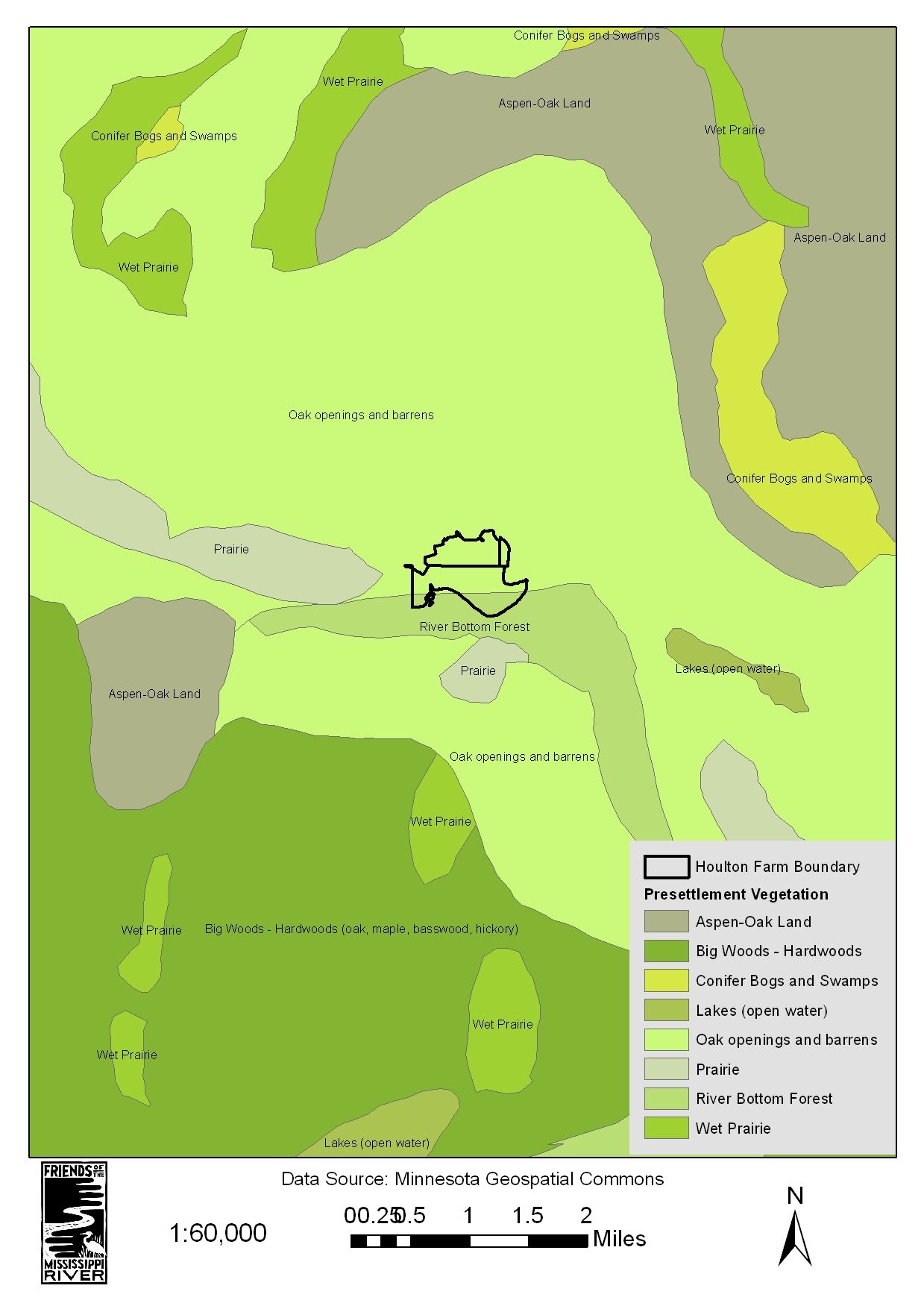 Creating maps like this historic vegetation map allow managers to understand what the land was like before human settlement and to set goals for plant community restoration.
However, in order to devise a restoration plan for the property, I first had to understand the present and historical aspects of the farm that I could not see. Prior to subsequent site visits, I used geographic information system (GIS) programs to examine existing data related to the property. I compiled information on site geology, topography, rare species, pre-settlement vegetation, and historic and existing land use. I then combined that information with data about current vegetation obtained through both the Minnesota County Biological Survey (MCBS) data layers and through my own surveys of the plant communities at the property. Using all of this information, I created detailed and informative maps of the property that will guide future restoration efforts.
Aside from historic aerial photos, I also met with local residents who had information about changes that occurred on the property within the last half century. Meeting with folks who worked on or frequented the property allowed me to paint a more detailed picture of what the property was like in the past and how the property has changed over time to become what it is today. These meetings were also a welcome break from my usual meetings with the mosquitoes in the floodplain forest areas of the property.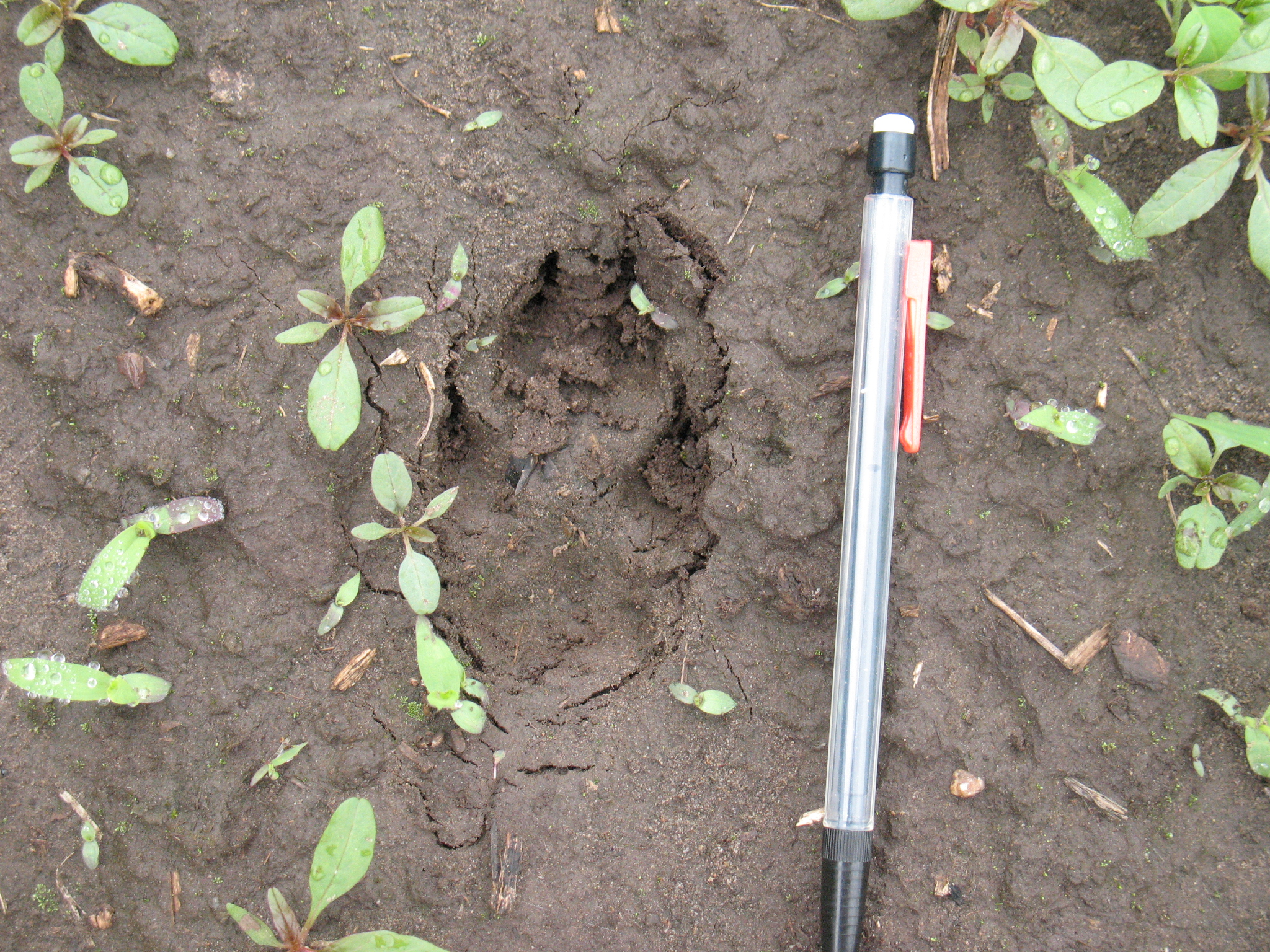 This coyote track is one of the many examples of the clues used to the identity the wildlife that frequent Houlton Farm.
Once some of the initial legwork was complete, I focused more energy on exploring and surveying the property. On a typical visit, I'll pick a specific section or plant community on the property and do a detailed vegetative survey in the area. This involves identifying plants in all vegetative strata (ground layer, shrub layer, canopy layer, etc.) and determining their relative cover and abundance. I also photograph species of interest (both plants and animals) that I see during my surveys and take GPS points of features ranging from structures and trails to rare or invasive plant species. On most occasions I run into wildlife, including a rafter of wary turkeys, abundant deer and a lone coyote who keeps a watchful eye on my movements.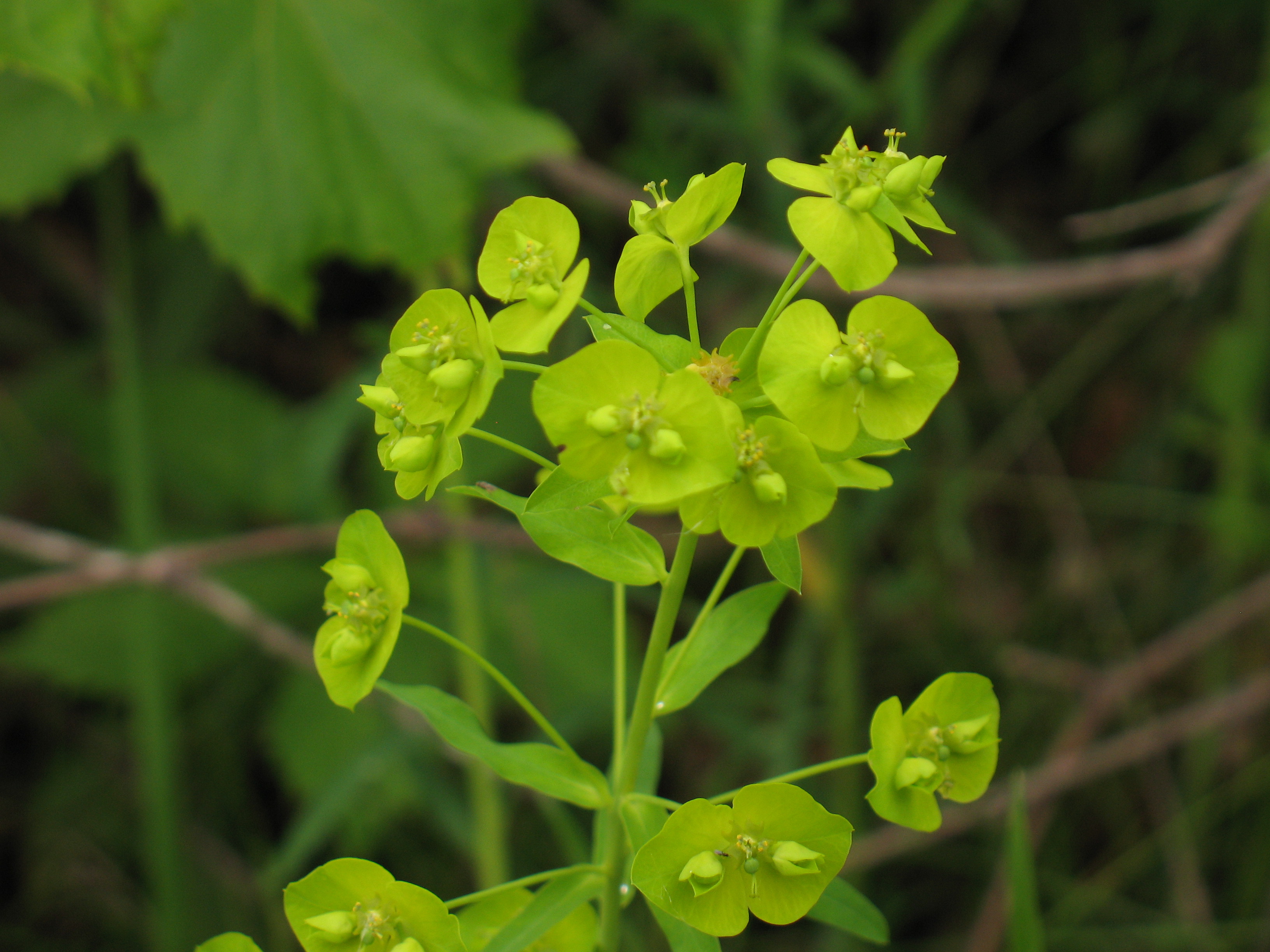 Leafy spurge (Euphorbia esula), invasive to prairies and savannas, is present in small pockets on the Houlton Farm property. Early detection is key to managing the spread of this and other invasive species.
On my most recent visits, I've paid particular attention to areas where management interventions may have the greatest impact. For example, in areas where there is a small overgrowth of a particular invasive plant (leafy spurge, dame's rocket, etc.), early detection and rapid response can prevent the species from spreading and becoming a property-wide issue. Using this type of criteria, I am prioritizing management throughout the property and incorporating this information into the NRMP.
All of the background information, vegetative surveys, and management recommendations will come together to form the overall NRMP for the property. I am currently working on developing restoration goals and priorities for the site. This includes determining the target plant communities for the site and ascertaining how best to achieve those given historic and current conditions. And rest assured, there will be plenty to do in order to restore this large and diverse property. There will be invasive species to remove (buckthorn is quite dense in some areas of the property), and we will be converting the farm fields into over 150 acres of native prairie and savanna – no small task. In the meantime, I look forward to continuing to work on the NRMP, and to seeing the first steps in the restoration of this special place occur in 2016.
Funding for this project was provided from the Outdoor Heritage Fund, as appropriated by the Minnesota State Legislature.