World's largest cellulosic ethanol plant opens in Iowa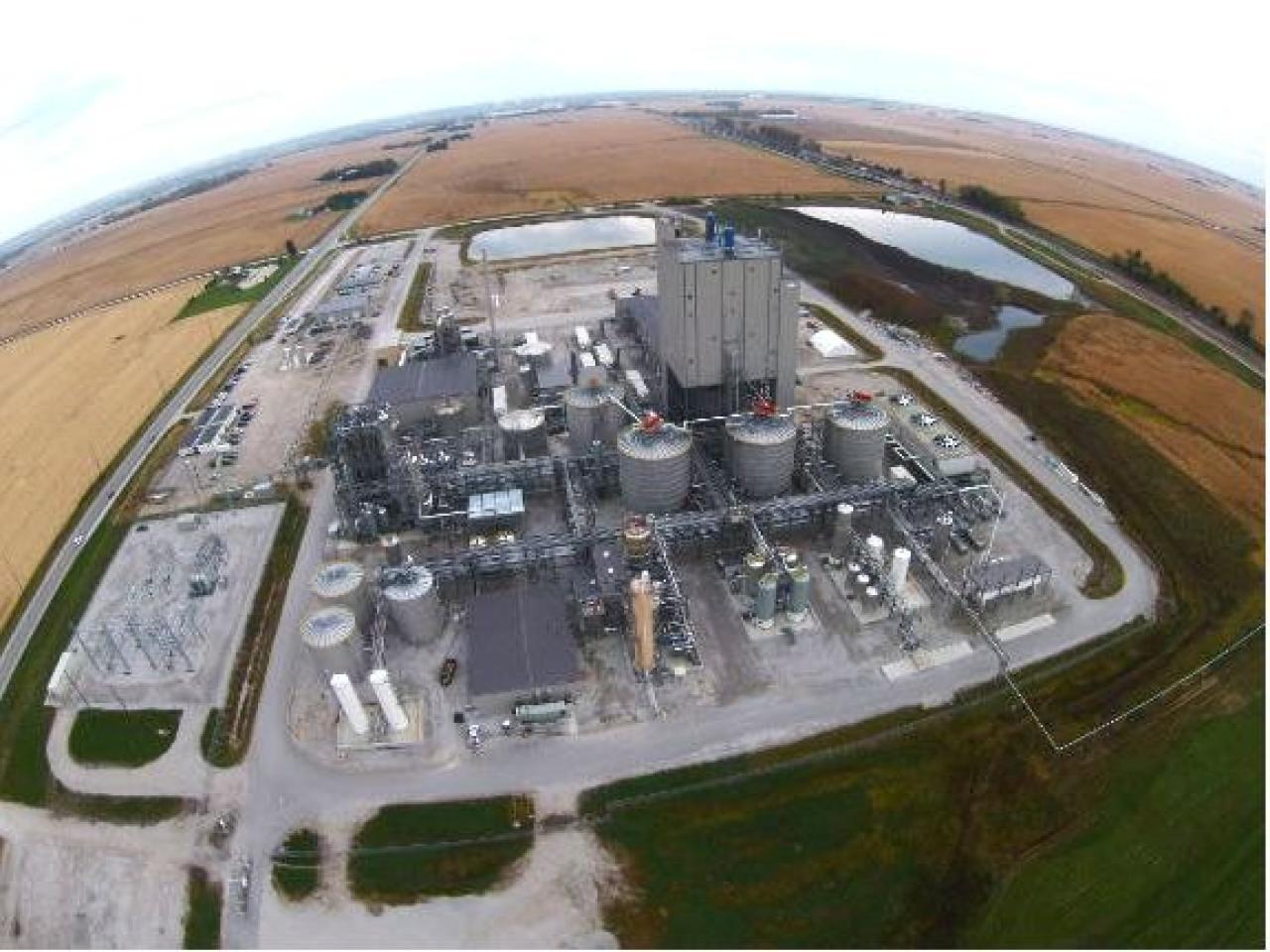 DuPont's 30-million gallon per year cellulosic ethanol plant in Nevada, Iowa. Source: http://www.biofuelsdigest.com
November 10, 2015
DuPont recently announced the opening of the world's largest cellulosic biofuel facility in Nevada, Iowa. The plant, which uses corn stover (the stalks, leaves and husks of the corn plant) to produce ethanol, aims to produce approximately 30 million gallons of fuel per year.
The majority of this cellulosic ethanol will be bound for California to help that state fulfill its Low Carbon Fuel Standard. DuPont also hopes the plant will serve as a commercial-scale demonstration of the promise of cellulosic technology.
While corn stover sounds like a great source of feedstock for large-scale cellulosic ethanol facilities, its use can create serious risks for water quality, soil health and natural resources across the Midwest.
Corn belt crossroads: the risks of corn stover ethanol
Many farmers perceive corn stover as a waste product, and are motivated to generate extra profits by selling stover from their fields after corn harvest.
However, this leaves fields barren for months at a time - unprotected by cover crops or crop residues - resulting in fields that leech pollutants and lose soil to erosion. The lack of cover also impacts soil organic matter and overall soil health, which can impair crop health and reduce the soil's ability to retain water and prevent runoff. For these reasons, FMR and our conservation partners have long advocated for biofuels programs that balance corn stover harvest with perennial crops and cover crops that produce profitable fuels while protecting our natural resources.
As water quality issues become more and more severe in agricultural parts of the Midwest, the corn belt finds itself at a crossroads: promote short-term gain from stover ethanol, or promote a transition to sustainable long term biofuels. While some communities are opting for stover-based fuels, Minnesota is poised to become a leader in sustainable use of advanced cellulosic biofuels.
Cellulosic ethanol in Minnesota
This past legislative session, FMR teamed up with our environmental allies and a coalition of bio-energy, agriculture and forestry groups to pass an innovative biofuels production incentive program. The program, which aims to catalyze the biofuels industry in Minnesota while protecting water quality and soil health, is unique in that it requires 50% of the biofuel feedstock (plant material to be converted to fuel) to come from perennial crops or cover crops by the fifth year of production at all participating refineries.
These cover crops and perennial crops provide multiple benefits to water quality, soil health, climate and habitat all while providing a valuable source of biofuels for cellulosic ethanol plants. As a result, Minnesota's biofuels program will help create a long-term market of profitable perennial crops and cover crops that enhance the bottom line for farmers while providing multiple benefits to our air, land and water.
Unfortunately, as regular Mississippi Messages readers know, the 2015 biofuels bill was not a complete success.
An incomplete biofuels bill
The biofuels bill originally included a critical state program: the Working Lands Watershed Restoration Program. That program would help provide incentives to farmers to plant perennial crops and cover crops for use in biofuel refineries, so that enough perennials would be available for the refineries to use in their facilities. Sadly, an 11th-hour reversal by House and Senate leadership resulted in the "Working Lands" provisions being removed from the bill.
As a result, Minnesota is left with a refinery incentive that requires facilities to use up to 50% cover crops and perennial crops, but no program in place to help farmers plant the required acres. 
Moving forward on Minnesota biofuels
FMR and our environmental allies aim to restore the promise of a sustainable state biofuels economy through two key initiatives in the coming year:
Restoring the biofuels bill: While the refinery incentive is in place, the grower (farmer) incentive program will need to be fully funded in order for adequate supplies of cover crops and perennials to be planted and available for harvest. FMR will play leadership role in asking the state to provide full funding necessary to establish this grower incentive program and pilot its implementation in key watersheds throughout the state.
 

Forever Green: FMR will also continue to advocate for long-term funding for an exciting and innovative program at the University of Minnesota know as Forever Green. This increasingly popular initiative invests in critical research necessary to develop Minnesota-specific cover crops and perennial crops that are suitable for food, fuel and fiber in a way that also protects our environment.

Current Forever Green research shows great promise for the development of highly productive biofuel crops that will allow Minnesota to transition our transportation sector from fossil fuels to environmentally sustainable biofuels in a way that also reinvigorates rural agricultural economies.
Looking ahead
Minnesota's water quality is suffering, and solutions to agricultural runoff will not happen overnight. By creating incentives that catalyze the sustainable biofuels industry in our state, FMR is playing a leadership role in solutions that ensure clean water, healthy land and prosperous farms.