Volunteers rock spring. Join us this summer!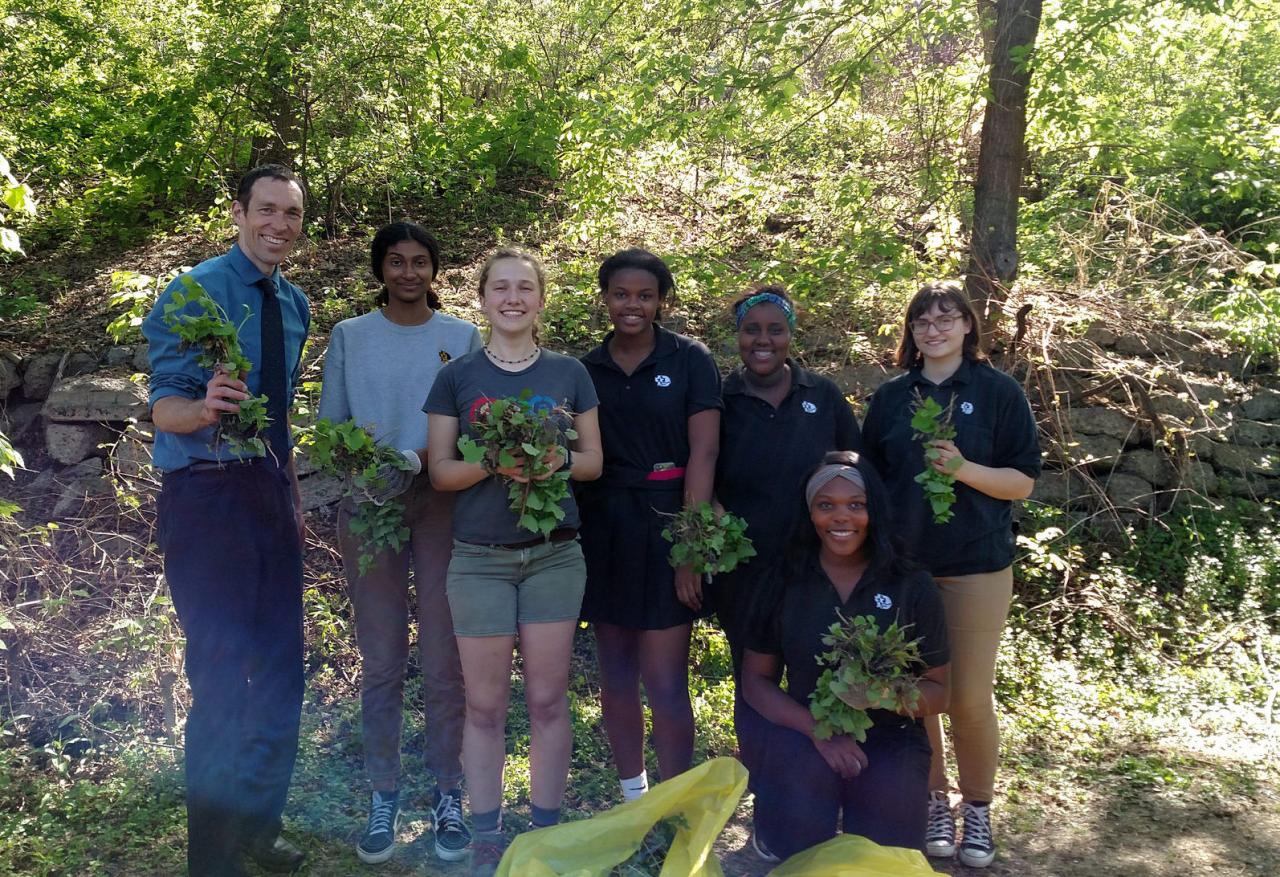 Despite the unusual April weather and delayed spring, we've had a wonderful start to our outdoor event season. From first-timers to veteran Super Volunteers, we're continually surprised and inspired by the passionate volunteers of all ages who come out to get their hands dirty for the river. Thank you, river restorers!
Haven't had a chance to join us, yet? There are still plenty of ways to get involved this summer or fall.
Whether you're an individual looking to learn a little more about a beautiful restoration site near the river, part of a community organization, a youth group leader or teacher, we've got a number of different ways for you to help protect and restore the river and have fun while doing it.  
Habitat restoration events
So far in 2018, over 250 people have participated in 12 FMR public restoration events. Together, we cleaned up litter, removed truckloads of invasive species, and planted hundreds of native wildflowers, trees and shrubs. We even "bombed" the restored prairie at Ole Olson Park in North Minneapolis with native seed-bombs created by students at Horace Mann School. 
And we're not even halfway through the season!
Join us!
Dozens of events are planned for summer and fall. While most require advance registration, no application or long-term commitment is necessary. And no experience is required as our top-notch stewardship staff takes care of all tools and training. We also take photos to share. We appreciate your time and want to make the most of it while you're out with us!
For the most up-to-date volunteer opportunities, keep on eye on our calendar or contact FMR Volunteer Coordinator Amy Kilgore, akilgore@fmr.org or 651.222.2193 x31, to learn about upcoming volunteer habitat restoration opportunities at FMR restoration sites near you.
Become a Super Volunteer
Participate in four or more hands-on restoration events (or contribute 20+ hours a year in another way) to become an FMR Super Volunteer. Along with our gratitude, Super Volunteers receive advance notice to some of our most popular events plus a commemorative shirt. (To see an example see our main events page photo.)
People always ask, but the answer remains "no": These shirts can only be earned, never bought.
Start working towards your Super Volunteer status by signing up for one (or four!) restoration events, or contact FMR Volunteer Coordinator Amy Kilgore, akilgore@fmr.org or 651.222.2193 x31, to learn more.
Young river stewards 
This spring so far, over 697 youth volunteers have contributed 1,179 hours to protect and restore the river by stenciling storm drains, removing invasive species, planting native grasses and wildflowers and helping us monitor our habitat restoration sites.  
Storm drains stenciled
Using spray paint and stencils, volunteers mark St. Paul storm drains with the message, "Keep 'em Clean Drains to River!" and distribute related doorhangers to educate residents about what they can do in their homes and yards to protect the Mississippi River.
Of the 862 storm drains stenciled this spring, 706 were painted by youth groups or classrooms, who also distributed 1,816 flyers (out of 2,110 total). Thank you and nice job! 
Invasive species removed
Lucky for us, we have an army of helping hands ready to remove invasive species at several of our metro habitat restoration sites.
This spring, over 200 young river stewards pulled invasive garlic mustard. Highlights included:
• the 5th grade class from Anderson United Community School who removed a whopping 21 bags' worth of this invasive species from the Mississippi River gorge
• a troop of Minneapolis Girl Scouts that not only pulled several bags but educated Earth Day clean-up volunteers about why it's important to remove this common invasive plant
• and the DeLaSalle Green Team who pitched in for our first volunteer event at Nicollet Island (of which, there are many more to come).
Restoration research in the works
Several young groups of citizen scientists also work with FMR to monitor the progress of our metro habitat restoration sites. 
This spring, Hastings High School began a long-term, five-year survey (in partnership with Hastings Environmental Protectors) monitoring for butterflies and other pollinators in Vermillion Linear Park. And students at Open World Learning Community in St. Paul continued to monitor plant diversity at Indian Mounds Park prairie, not to mention planting native grasses and wildflowers grown in their school greenhouse at this iconic river bluff park.   
Thank you, to all of our young river stewards!
Schedule your youth outing
Are you with a youth group, scout troop or classroom interested in an outing? Let us know! We have several summer and fall openings available.
To stencil storm drains, contact FMR Program Assistant Daurius Mikroberts at dmikroberts@fmr.org or 651-222-2193 x24.
To remove invasive species or discuss other specialized programs, contact FMR Youth Coordinator Kate Clayton, kclayton@fmr.org or 651-222-2193 x23.