Bao Phi, award-winning poet, to be featured at FMR's annual fall event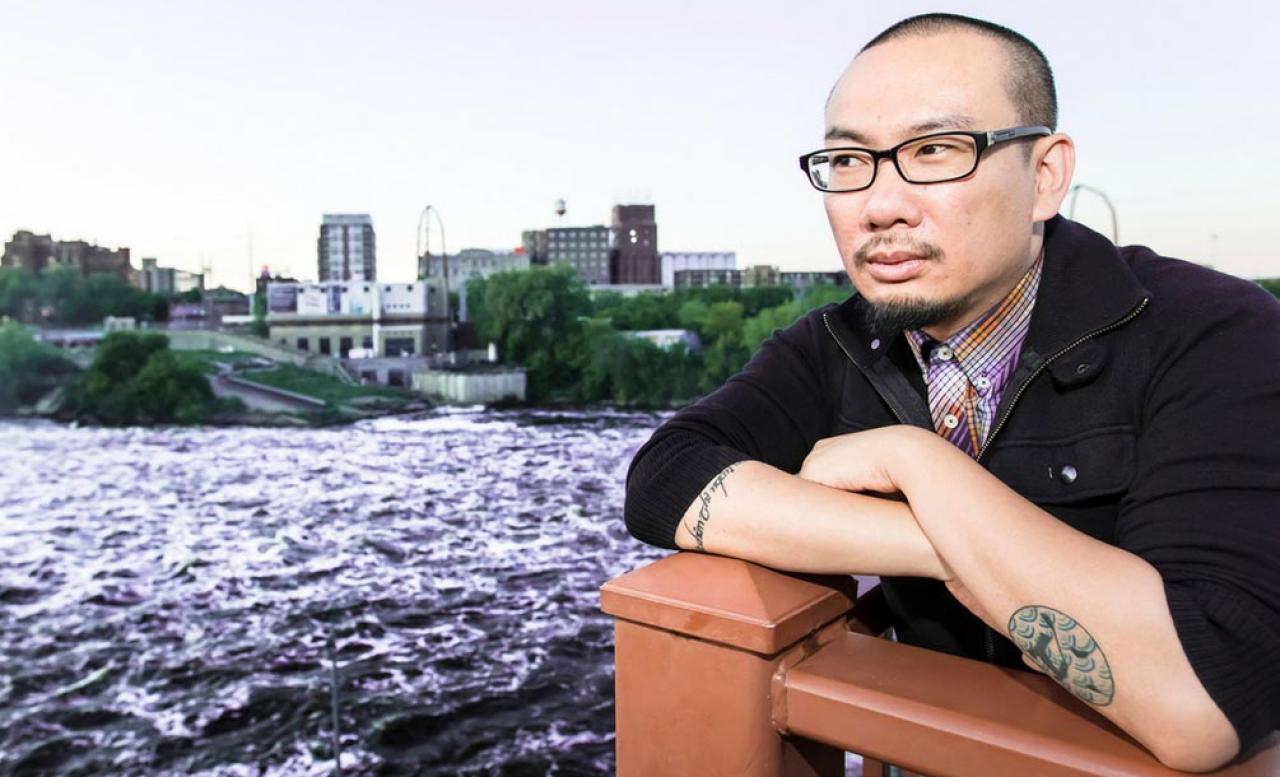 Enjoy poetry from renowned local artist Bao Phi (above) at this year's "Evening Celebrating the River." (Photo by Anna Min)
August 10, 2018
FMR is pleased to announce Minneapolis-based poet, Bao Phi, will be featured at our annual Evening Celebrating the Mississippi River on September 20 at Aria in Minneapolis' North Loop. From our stage, Phi will present his poetry and share his connection to and inspiration drawn from our Big River.
From a young age, Phi has had a deep connection with the Mighty Mississippi. "I grew up in Minneapolis, learning to spell 'Mississippi' by heart in grade school," he said, "sometimes going with my older siblings, transported in beat-up second- or third-hand cars, to sit by the side of the river off the parkway and tell ghost stories, or with my father to fish for food in the dark."
"And as I grew even older, my friends and I found an old railroad bridge where we would sit and enjoy one another's company. I learned that the country I was born in, Vietnam, rivers were also quite significant: in legend, in our culture, in our livelihood."
Born in Vietnam in 1975, Phi was three months old when he, his parents and five older siblings fled Saigon and the Vietnam War to settle in the United States and eventually Minnesota.
Phi attended South High School and began performing his poetry while competing on the school's speech team. He graduated from Macalester College in St. Paul with an English degree and soon after was building his reputation as a spoken word artist in the 1990s.
It wasn't until 2011 that Phi published his first collection of poetry, "Sông I Sing," which explored the varied experiences of Asian-Americans. Six years later Phi published "Thousand Star Hotel," filled with poems about his personal life and loved ones and "A Different Pond," Phi's first children's book, illustrated by Thi Bui.
Currently, Phi is the program director at The Loft Literary Center, a nonprofit "haven for readers and writers" with a mission to "advance the artistic development of writers, foster a thriving literary community, and inspire a passion for literature."
Phi manages and operates several Loft programs, including Equilibrium (EQ), which is devoted to spoken word artists and audiences of color and creates a space where nationally recognized talents share the stage with local emerging artists.
Water connects us all
The word for river in Vietnamese, "Sông," struck Phi as beautiful, and stuck with him for over a decade before he finally gave that name to his daughter.
"My partner at the time and I, we took her [Sông] to see the headwaters in Itasca when she was 2, trotting in those shallow waters not even deep enough to reach her diaper," says Phi, "By the time you read this, I'll be taking her back there, now that she's 8, at an age where I can tell her how important this river and many others are to me and to her, and she'll remember."
Every night, Phi reads with his daughter. And with that came his desire for greater diversity in children's literature, not just Asian-American culture but also to teach his daughter about families of all walks of life, cultures and perspectives.  
Encouraged by many to write his own children's book, Phi decided to adapt one of his poems loosely based on fishing trips Phi would take with his father at a young child into what is now the critically acclaimed book, A Different Pond, illustrated by Thi Bui. 
Receiving many awards and accolades, including the Randolph Caldecott Medal recognizing the "most distinguished American picture book for children," "A Different Pond" is a simple story, but that's part of its charm.
It's a story of Phi's childhood in a poor, immigrant family in south Minneapolis. In the early morning hours, father and son go fishing on the shore of a small pond in Minneapolis. While spending time together, the father tells his son about fishing on a very similar pond as a child on a pond a world away in Vietnam –  spanning time, culture and familial ties.
This captivating book is beautifully and at times metaphorically written. As the father tells stories to his son on a cool, crisp morning, Phi writes, "A kid at my school said my dad's English sounds like a thick, dirty river. But to me his English sounds like gentle rain."
FMR is thrilled to have Bao Phi, along with several other acclaimed artists, to join us for the An Evening Celebrating the Mississippi River on September 20. To learn more about Phi and his publications visit his website. 
Tickets now available 
Registration to attend An Evening Celebrating the Mississippi River is now open. Learn more and save your seat via the event listing. 
As always, we'll celebrate the importance of a healthy Mississippi and all that FMR does to protect, restore and enhance this ecological and global treasure in our midst. But this year, the theme is "The River Inspires," and we're shining the spotlight on the connection between the river and our thriving arts community. We look forward to having you join us for this fun-filled and inspiring evening.