Our top 10 river news stories from 2018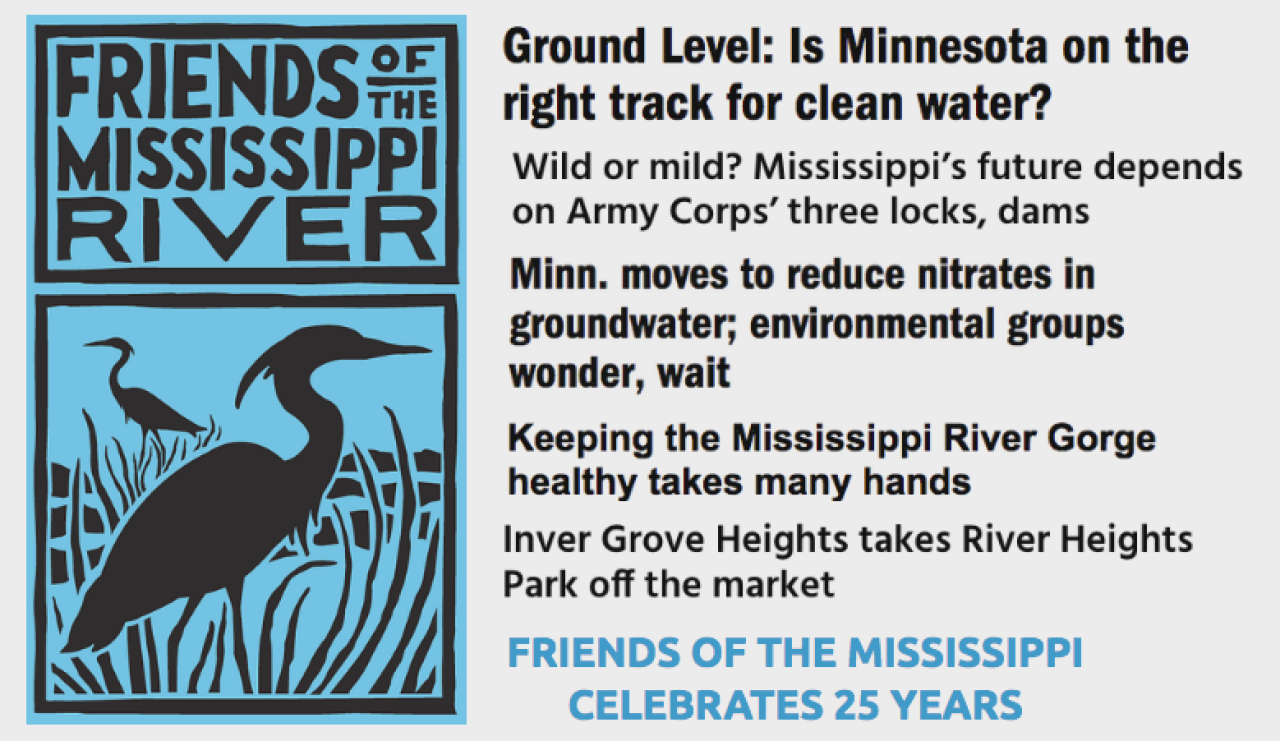 December 13, 2018
2018 was a big year for both the river and FMR in the news. 
The Army Corps of Engineers pondered removing dams. Ag pollution was in the spotlight as runoff fertilizer expanded the Dead Zone and leaked into Minnesota's drinking water. And several groups (FMR included) initiated a lawsuit against the state to protect constitutionally-dedicated environmental funds.
Ford Motor Company's industrial dump on the river in St. Paul made headlines, as did the protection of River Heights Park in Inver Grove Heights (thanks to community members and FMR River Guardians).
FMR's habitat restoration sites enjoyed increased attention. From long-time favorites like the River Gorge to our newest addition, Nicollet Island. Not to mention accolades for our Write to the River project, the River Story Map and, finally, our 25th anniversary.
Throughout the year, it was our privilege to work with reporters to provide a voice for the metro Mississippi River.
Dozens more articles are available on our In the News page, but without further adieu...
FMR's top 10 stories from 2018 
• Wild or mild? Mississippi's future depends on Army Corps' three locks, dams 
Pioneer Press — July 7, 2018  
by Bob Shaw 
• Minn. moves to reduce nitrates in groundwater; environmental groups wonder, wait
MPR — March 7, 2018
by Mark Steil 
• Ground Level: Is Minnesota on the right track for clean water? 
MPR — March 30, 2018 
by Kirsti Marohn 
• Conservation groups sue state over use of environmental fund
Star Tribune — October 3, 2018
by Josephine Marcotty
(See full media coverage.)
• 'Inver Grove Heights takes River Heights Park off the market' 
Pioneer Press — May 16, 2018 
by Nick Ferraro
• 'Friends of Mississippi River push for cleanup of Ford Plant landfill
MPCA has yet to determine risks posed by riverside dump' 
Villager — May 23, 2018 
by Jane McClure
(Text-only version)
• Keeping the Mississippi River Gorge healthy takes many hands 
Longfellow Nokomis Messenger — November 19, 2018 
by Ellie Rogers
• Nicollet Island habitat restoration begins 
Northeaster — October 31, 2018  
by Cynthia Sowden
 • Writing the River
Open Rivers Journal — Summer 2018
by Leslie Thomas
• Friends of the Mississippi celebrate 25 years (video) 
CCX media — July 23, 2018 
by Eric Nelson 
• A friend of the river for 25 years and counting 
St. Paul Voice — June 25, 2018 
by Ginny Contreras Sawyer