Local muralist Liv Novotny to create FMR's third water quality mural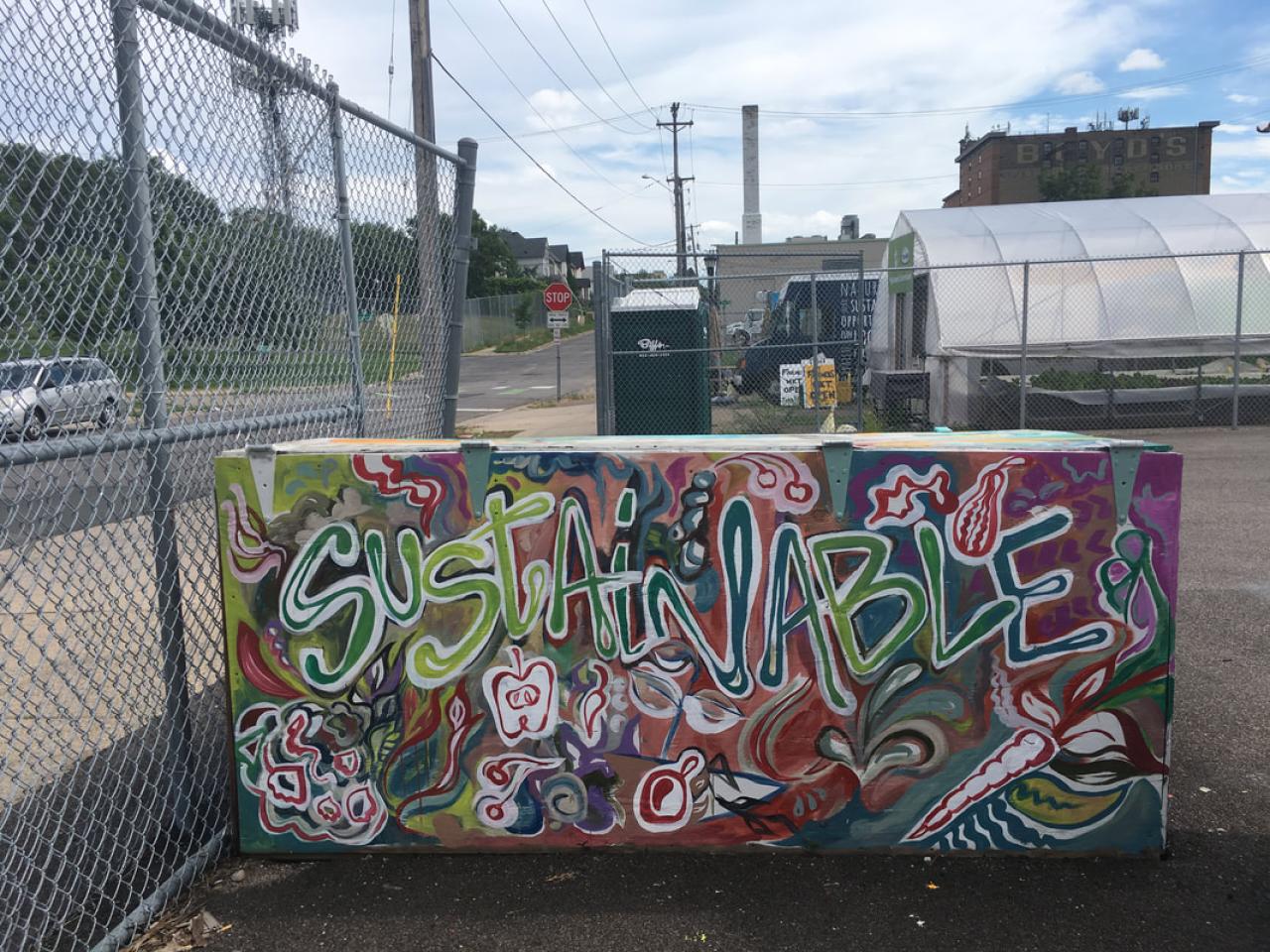 As we look to the new year, FMR is excited to announce the selection of Liv Novotny as the lead artist for our third water quality mural project.
About our muralist
Liv Novotny is a muralist, printmaker and graphic designer currently working in Minneapolis.
Novotny graduated from the University of Minnesota in 2018 with a BA in Art and Journalism and a minor in Graphic Design. In 2018 they received a Grand Challenges Grant to travel to Bogotá, Colombia to work with activist theater group Teatro La Candelaria and the Mothers of Soacha to make collaborative paintings shown at the SEIU Local 26 Worker's Union.
Currently, they work as a contract painter and mosaic artist for GoodSpace Murals, an organization that promotes community development through mural painting. They love to create collaboratively, having worked with eight other muralists nationally and internationally.
Though FMR received many impressive applications to lead this project, Novotny's stood out. "We picked Liv because of their obvious talent and fantastic energy, as well as experience collaborating with local community members," says Kate Clayton, FMR project lead.
This year's mural
FMR has long coordinated a stenciling program to raise awareness that many of our storm drains run straight to the Mississippi. From May through October, we work with volunteers throughout St. Paul to paint the message "Keep 'em Clean, Drains to River!" next to storm drains and distribute related educational flyers to area residents.
In 2017 and 2018, we worked with artist Gustavo Lira to highlight our connection to the river in another way. Lira helped create our first community storm-drain murals at Lake Como.
This year, our third mural will be installed at Lake Phalen WaterFest on June 1, 2019 (weather permitting). Novotny will design the mural with community input gathered from a handful of St. Paul school classroom visits and an upcoming community workshop (date and time TBD).
This mural project is made possible thanks to funding provided by the City of St. Paul Public Works Department and support from Ramsey-Washington Metro Watershed District and St. Paul Parks and Recreation.
To see the previous two murals in person, visit Como Lake at the intersection of East Como Lake Drive and Lakeview Avenue West.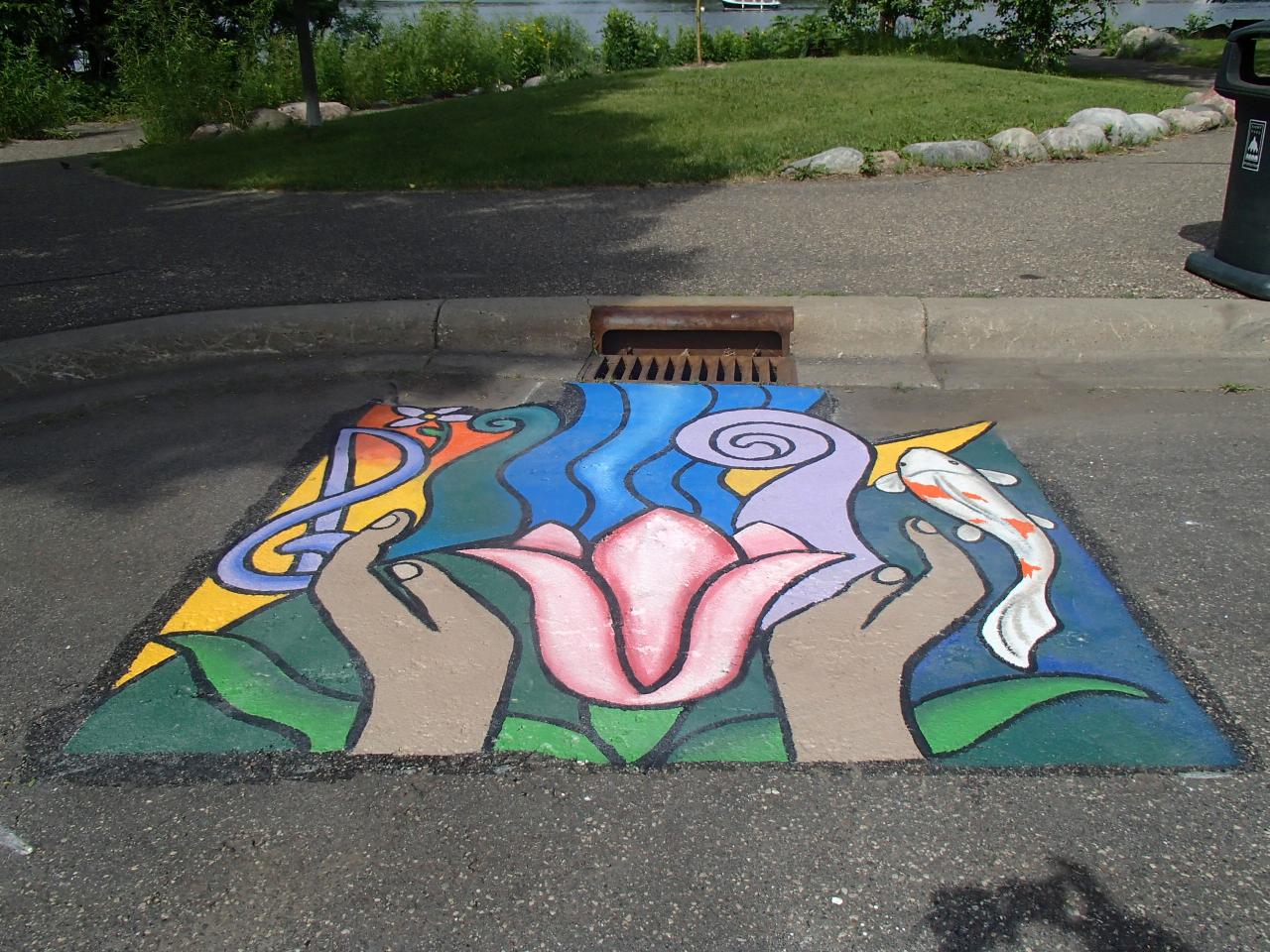 FMR worked closely with neighborhood groups and local artist Gustavo Lira to design St. Paul's first storm-drain mural in 2017. The koi fish represents Como Park Zoo & Conservatory, the music notes Como Dockside and the snapping turtle Como Lake.  
Want to help?
To make sure you get updates about this collaborative mural project and more, sign up for our e-newsletter, Mississippi Messages, which we send two times per month. For each issue, our staff writes lively, informative articles on all things river-related: the latest news, legislative updates, wildlife spottings, and invitations to participate as a volunteer, advocate and more.