A serene image for a rocky 2020: FMR's fourth water quality mural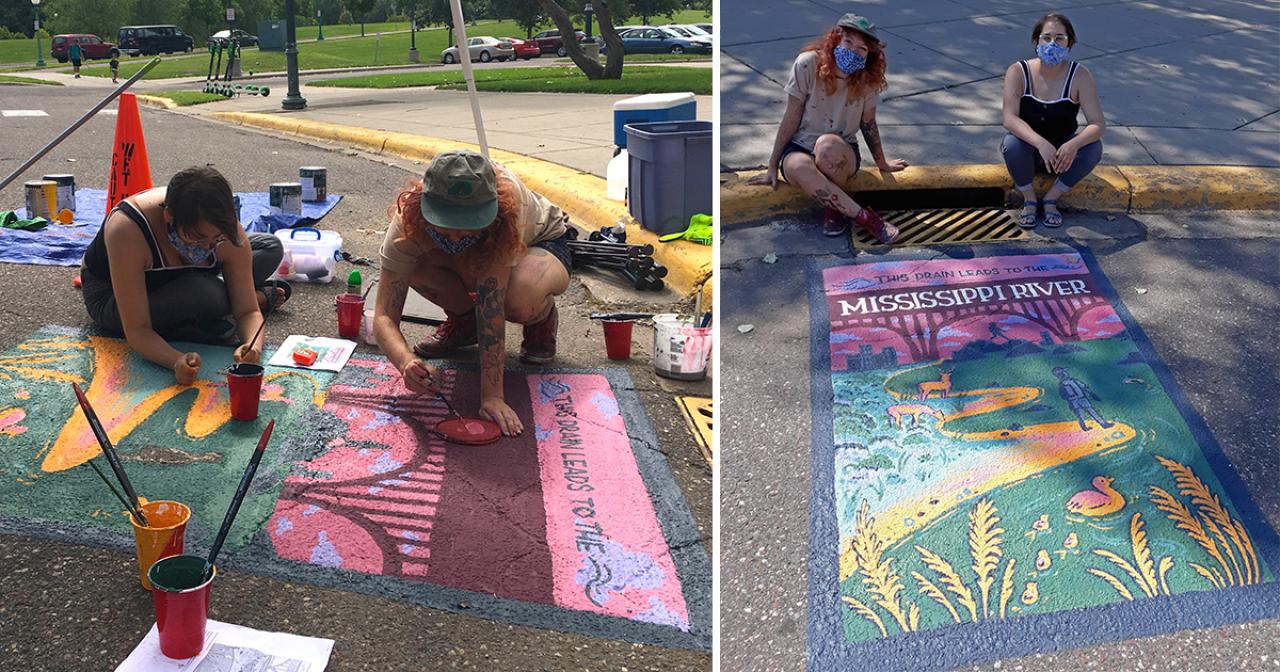 This is the fourth year FMR has contracted with artists to create a storm drain mural focused on water quality, but our latest mural is the first to focus on the Mississippi River.
Located on the west side of St. Paul at Harriet Island and created with input from students at Open World Learning Community and Cherokee Heights Elementary, this mural emphasizes the destination for serenity that the river can be for many of us.
"We really enjoyed working with artists Violeta Rotstein and Liv Novotny again this year," says FMR Volunteer Coordinator Sophie Downey. "They were amazingly creative in pulling everything together while we were all socially distancing."
Students electronically submitted photos, poems, drawings and statements about the importance of the Mississippi River to them while we were in lock-down last spring. Liv and Violeta were able to virtually meet and create this amazing design.  
"It was really interesting to read all the students' responses — they were all so unique — and find inspirations that way. One student suggested a postcard, and we ended up designing it to look like a destination postcard. One mentioned that they love seeing the river every time they drive over the bridge so that element was added too," Violeta describes.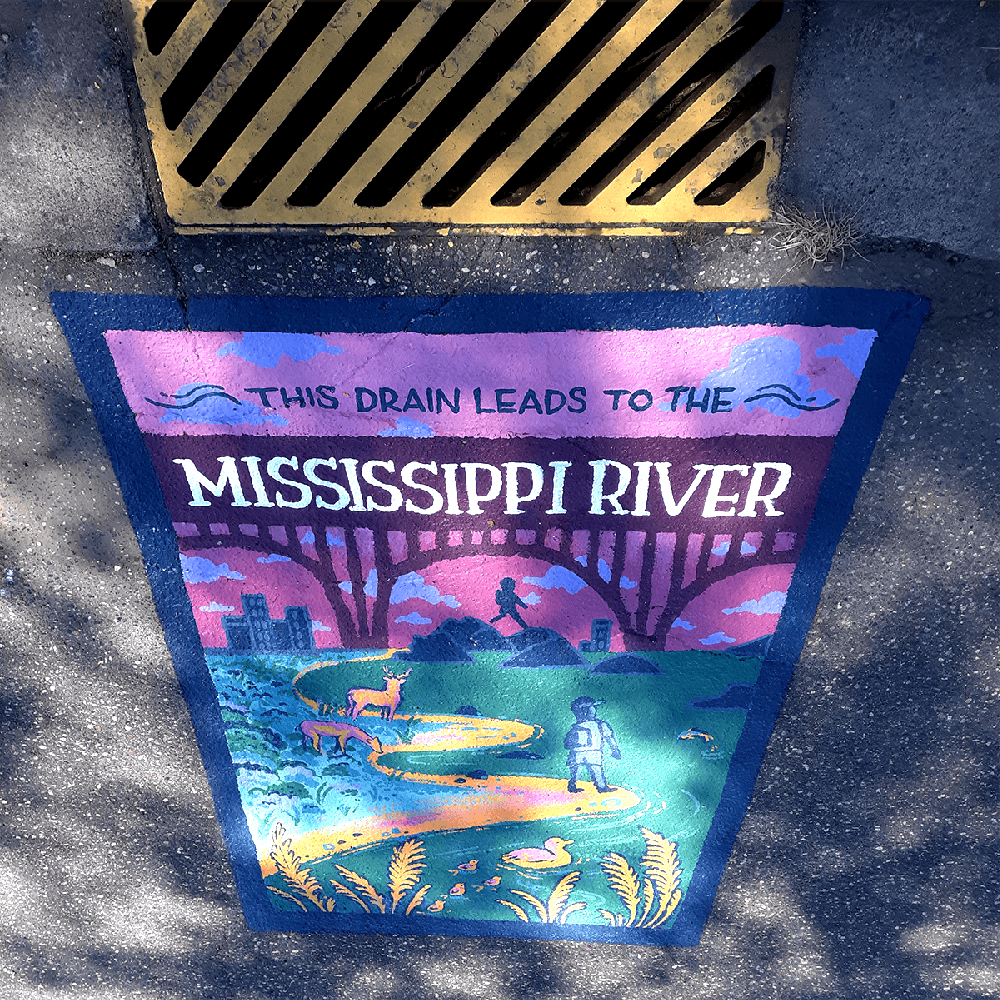 See the finished mural up close near the pavilion at Harriet Island.
Why paint storm drain murals?
After it rains, leaves, grass clippings, trash and road salt wash into our local lakes, creeks and rivers via storm drains. All are bad news for wildlife and bad for our drinking water.
All four of our murals show passersby the connection between our waters and roads. What we do on land impacts the rivers and lakes around us.
"This mural is important because it brings awareness to these storm drains you pass every day without a second thought. I hope people take away that their individual actions are connected to the heath of the environment. It's also a reminder you are at a beautiful destination even if you're not a visitor, so keep it beautiful by not polluting," says Violeta.
Find our other water quality murals in St. Paul
Last year our mural at Lake Phalen featured a long, colorful image showing someone biking on a sidewalk past a storm drain that spills into a river, great blue herons soaring over a voyageur canoe, and an angler beside prairie plants on the riverbanks.
Two earlier murals near Como Lake, created by artist Gustavo Lira in 2017 and 2018, feature elements from their surroundings: koi for the Como Conservatory, music notes for Como Dockside's well-loved outdoor music series and swirling water and wildlife for the waters Como Park centers around.
Want to protect our waters?
If you would like to help keep our rivers and lakes clean, check out our storm drain stenciling page where you can reserve a stenciling kit with no-contact pick-up and drop-off. And check out our volunteer events to get your hands dirty restoring native habitat.