Pine Bend Bluffs conservation effort wins MEI Award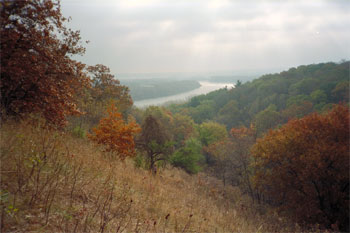 Photo: Dakota County
A nine-year effort to restore and protect the Pine Bend Bluffs Natural Area took the annual Minnesota Environmental Award for Natural Resource Protection at a ceremony May 17. FMR and numerous partners have helped protect and restore hundreds of acres of this site, which offers spectacular views and biological diversity along the Mississippi.
About 250 of Minnesotas environmental and corporate leaders were in attendance at the awards ceremony and dinner. FMR conservation director Tom Lewanski accepted the award on behalf of the partners, many of whom were also there.
Having seen this project grow from an interesting but challenging puzzle into an award winning project with more than 250 acres protected and over 800 acres under restoration and management, I was struck by the rewards of hard work, cooperation and patience, said FMR executive director Whitney Clark. He thanked especially FMRs dedicated conservation staff Karen Schik and Tom Lewanski for the countless hours of sweat and strategy they have invested. I believe we have really accomplished something important and lasting.
Restoration progress at the natural area includes:
Permanent protection for 256 acres within the DNR Pine Bend Bluffs Scientific and Natural Area. The SNA program provides the highest level of state protection available and is reserved for the highest quality natural area remnants.
Ecological resource management plans for about 800 acres of the natural area.
Intensive ecological restoration work on over 160 acres, with more planned. Restored plant communities include wetland, oak savanna, sand-gravel prairie, mesic prairie, and mesic oak forest.
Over 800 volunteers have participated in over 20 restoration events at the natural area since 1999, representing well over 2,500 hours of labor. Volunteers have removed, stacked, and burned exotic brush, removed other exotic plants, installed and transplanted wetland and prairie plants, collected and broadcast native prairie seed, and planted acorns.
FMR has been the project lead, initiating the first steps of landowner outreach, engaging partners, developing ecological management plans, conducting landowner outreach, leading restoration efforts, organizing volunteer events, and providing funding.
Among the many government and private partners involved in the protection and restoration of the natural area are the DNRs Metro Greenways and Ecological Services programs, the Dakota County Farmland and Natural Area Program, Dakota County Parks Department, Flint Hills Resources (a landowner in the area), Great River Greening, the Trust for Public Land, the city of Inver Grove Heights, Macalester College, the Dakota County Soil and Water Conservation District, National Fish and Wildlife Foundation, Mississippi River Fund, Mississippi National River and Recreation Area, and the Legislative Commission on Minnesota Resources.
Lewanski says, This project is a unique example of the power of bringing together four sectors of the community: public, private/corporate, private/individual, and nonprofit to achieve the public good of protecting critical ecological functions. The spirit of cooperation that has pervaded this project is seldom encountered. We believe it was achieved by bringing all stakeholders together, developing and maintaining strong trustful relationships, and ensuring that all held a common vision.
FMRs commitment to the natural area, Lewanski says, is firm. We didnt just come in to help with restoration and then leave. Were interested in keeping long-term relationships with the landowners and the land.
Now its 14th year, the Environmental Initiative Awards is one of the most popular environmental awards programs in Minnesota. The program annually recognizes 15 innovative partnerships around the state. For information about the award finalists, please visit the Minnesota Environmental Initiatives Finalists page.