President Obama signs bill to close St. Anthony Falls Lock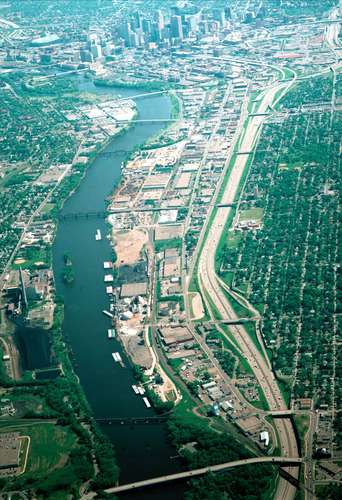 (Archive article by Irene Jones, summer 2014)
The Water Resources Reform and Development Act (WRDDA) has officially passed into law, with President Obama signing it on June 10, 2014. WRRDA is a hefty bit of legislation with one little provision that will make a big difference for the Mississippi River: Not later than 1 year after the date of enactment of this Act, the Secretary shall close the Upper St. Anthony Falls Lock and Dam.
FMR has been advocating for the lock closure provision in the act to prevent the spread of invasive carp for more than two years, with our allies in the Stop Carp Coalition. Thanks to the bill's chief sponsors Senator Amy Klobuchar, Representative Keith Ellison and their colleagues for accomplishing this very important victory for Minnesota!
Now that this landmark legislation is officially signed into law, our coalition can put more focus on the bigger and more difficult problem of stopping the carp downstream, says Whitney Clark, FMR's executive director.
Lock closure also will create new opportunities for the city of Minneapolis and the Minneapolis Park & Recreation Board. The Above the Falls Master Plan, which is currently undergoing an update, calls for continuous parks and trails on both sides of the river north of Plymouth Avenue, and lock closure could speed up development of parks, especially on the west side of the river. The city-owned Upper Harbor Terminal is already scheduled to close this year and will be redeveloped as a park and new urban development.
This is great news for our parks, said MPRB President Liz Wielinski, because now we can move forward confidently with implementing our upper river plan. Stopping the invasive carp will bolster our plans to improve river access for small boats, canoes and kayaks above the falls.
For more insights, Chris Steller provides an in-depth piece in MinnPost about lock closure and what changes might be afoot in Minneapolis.