RiverFIRST moves closer to reality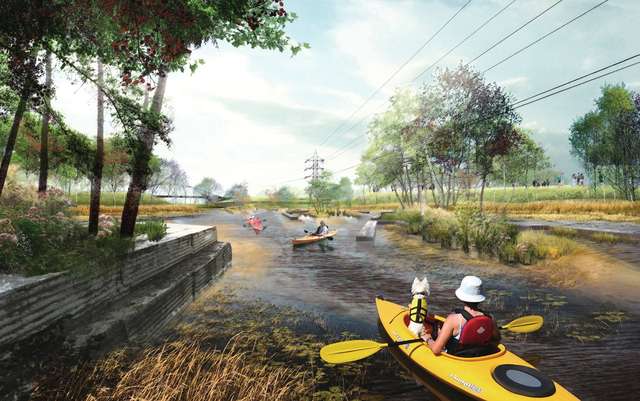 Graphic by TLS/KVA
After a whirlwind year of design competition and community meetings, the Minneapolis Park & Recreation Board (MPRB) will be making official recommendations next month about what, where and how to move ahead with the RiverFIRST redevelopment of the Mississippi riverfront.
Just one year ago, Tom Leader Studio of Berkeley and Kennedy & Violich Architecture of Boston led the design competition's winning team that created the RiverFIRST plan — a park vision for five miles of river from the Stone Arch Bridge to the northern city limits. Focused on themes of water, health, mobility and green economy, the winning vision included restored islands and wetlands, expanded bike trails and bridges, urban agriculture and other green industries, and a land bridge over I-94 that connects Farview Park and northside neighborhoods with the river.
Community members were highly receptive to the RiverFIRST vision, but also sought to ground-truth it with the Above the Falls Master Plan, an award-winning plan and vision for redevelopment of the river in north and northeast Minneapolis officially adopted by the city several years ago. A year of meetings and stakeholder workshops ended with a proposed framework to begin implementing priority components of RiverFIRST over the next five years and offered strategic recommendations for developing, programming, managing and raising funds for expanded riverfront parks in Minneapolis.
MPRB recently wrapped up a 45-day comment period on RiverFIRST, and MPRB planners will be presenting their staff recommendations for next steps to the park board's commissioners in February.
One of the key recommendations will be to collaborate with the City of Minneapolis to amend the Above the Falls Plan. Concurrent to the RiverFIRST planning process, the city has been conducting its own review of Above the Falls policy and future land-use guidance. The amendment would bring the two processes together, encompassing both the results of this review as well as the RiverFIRST project. The amendment process will involve community meetings and formal adoption by the city council and MPRB commissioners. (Stay tuned for updates later this year.)
MPRB planning staff will also recommend specific sites within the RiverFIRST proposal that are ready to have an architect/engineer move forward and begin preparing schematic diagrams or designs, and others that require additional feasibility analysis. They will also recommend developing site-specific design guidelines for potential private development within and/or adjacent to new riverfront parks and trails.
To learn more, or download "RiverFIRST: A Park Design Proposal and Implementation Framework for the Minneapolis Upper Riverfront", visit the Minneapolis Riverfront Development Initiative site.
For information about the February Minneapolis Park and Recreation Board Commissioner meetings, visit MinneapolisParks.org.