ESI guest post: Touring Lock and Dam No. 1
July 11, 2022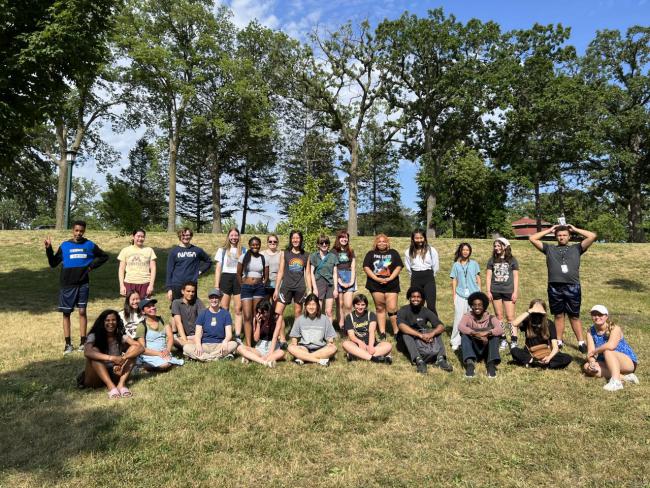 This is a guest post from the Environmental Stewardship Institute (ESI), a program created by FMR to address the gap between environmental education and a career path in the environmental field. This year's fellows (a mix of high school sophomores, juniors and seniors) are taking part in summer site visits to important locations throughout the Twin Cities. In this post, ESI Assistant Ivy Song recaps a recent outing.
What was the event?
A tour of Lock and Dam No. 1 near Minnehaha Park on June 29, 2022.
What did ESI fellows have the opportunity to do?
ESI fellows learning about the lock and dam. (Photo by Ivy Song)
We got to visit Lock and Dam No. 1 (also known as the Ford Dam) to explore its history and learn some fun facts from the tour guides. We also discussed its future and the upcoming conversations about whether it should be removed, including who is in charge of ultimately making that decision.
One interesting thing I learned:
It could take 20 years for a study about the future of the lock and dam to be completed and for a decision to be made about whether to keep or remove the structure. 
Why is it important for ESI fellows to learn about this topic?
The Ford Lock and Dam. (Photo by Ivy Song)
It's important for us to know what would happen if the dam gets removed. And since in 20 years, we fellows will be old enough to help make these decisions, we should know the consequences of both options.
* * * * *
Want to know more?
Learn more about the Environmental Stewardship Institute, including how to apply or become a mentor. You can also follow the fellows on Instagram to find out more about their summer projects and experiences.
If you're interested in the possibility of dam removal, check out FMR's info page on our metro locks and dams, including opportunities for a tour of your own.