Allie was a quick study and a passionate addition to our land conservation team this summer. Here she reflects on the insect drama she witnessed while monitoring, the appeal of tiny urban prairies, and her next move.  >>
September 7
Putting on an 8-week program for the next generation of environmental leaders is a lot of work, and this year, former fellows Naomi and Justine stepped up to help us plan and facilitate. Our assistants reflect on how FMR's summer program has evolved and share insights on their experience as environmental leaders in the program.  >>
September 7
Allie Carroll, our summer field ecology intern, has a great eye for insects. We're all looking a little closer now that she's on our team. Here's a guest post from Allie in which she gives us a tour of some of the coolest finds from her fieldwork so far.  >>
July 13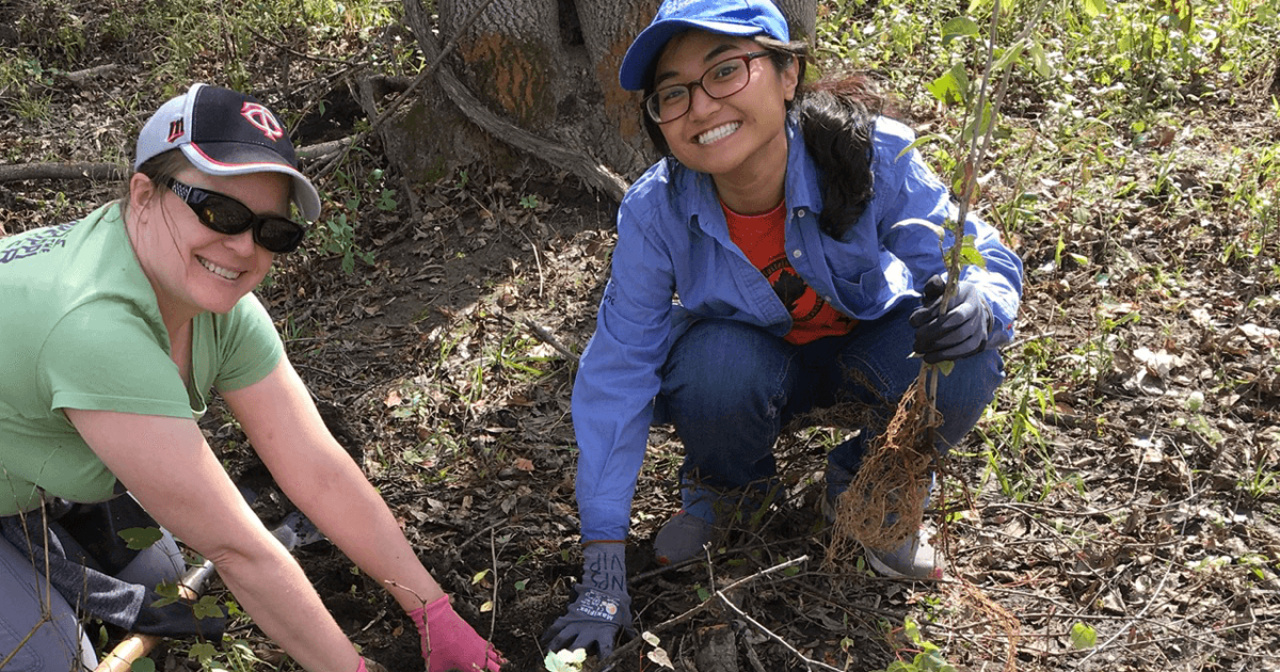 Field ecology interns have the opportunity to directly assist with conservation, like 2019 intern Phuong Nguyen pictured here at an FMR habitat restoration project.
Find out more about this internship, apply or spread the word.  >>
Our summer intern Michaela Hackbarth reflects on the gray catbird's call, how field work requires great people skills, and the expansive feeling at FMR habitat restoration sites.  >>
September 7
In this piece by fall-winter 2019 intern Phuong Nguyen, she describes her favorite FMR experience: Canoeing to a small metro Mississippi island to plant 350 native trees. >>
January 1
Daurius Mikroberts, one of FMR's 2019 summer ecology interns, reflects on a summer monitoring birds, pollinators, turtles and native plants at FMR restoration sites. Despite the mosquitoes, Daurius says the internship was "one of the best ways I've ever spent a summer."  >>
October 10
As she completes her master's in horticulture at the University of Minnesota, Elizabeth Carls will also be working with FMR ecologists Karen Schik and Alex Roth throughout the 2018 habitat restoration and monitoring season.
Elizabeth will conduct rare plant surveys, lead our monarch monitoring program at Pine Bend, and assist with bird surveys. She'll also lend a hand at our volunteer and education outings. Be sure to say hello at an upcoming FMR event!
March 2
Yengsoua Lee, an MWMO Green Team alumni intern, helps survey trees on Nicollet Island as part of his time with FMR.
Marking storm drains with youth groups, measuring trees, removing invasive species — it was all in a week's work for Yengsoua Lee. 
Although here a short time through an internship program with Mississippi Watershed Management Organization and the Minneapolis Park and Recreation Board, Yengsoua (pronounced Yeng-shu-a) experienced a breadth of FMR programming and was able to participate in a variety of field and office events, providing invaluable help to multiple FMR staff. In turn, Yengsoua's experience at FMR and other Twin Cities environmental organizations will help him as he pursues a degree in environmental science and an eventual career in the environmental field. 
August 7