Join us as our field ecology intern.  >>
February 17
FMR strives to offer internships and other pathways to support the next generation of environmental leaders. Check out our current openings.  >>
FMR has permanently protected 45 sites in the greater metro area since 1993. Our fall 2021 Land Conservation intern, Nick Jacobson, created a tool to help us answer the question of where to focus next. Which lands can we most effectively protect, restore and enhance along the Mississippi River for its wildlife and human communities?  >>
January 7
We're grateful to our fall 2021 interns: Stewardship & Education program intern Megan Daniluk (left), Land Conservation intern Nick Jacobson (center), and Finance department intern Owen Campbell (right).
Our fall interns installed a new pollinator garden with J.J. Hill Montessori school, created a strategic conservation map and database to aid our land protection efforts, and explored more efficient methods for analyzing and tracking our gifts and grants.  >>
December 30
Allie was a quick study and a passionate addition to our land conservation team this summer. Here she reflects on the insect drama she witnessed while monitoring, the appeal of tiny urban prairies, and her next move.  >>
September 7
Putting on an 8-week program for the next generation of environmental leaders is a lot of work, and this year, former fellows Naomi and Justine stepped up to help us plan and facilitate. Our assistants reflect on how FMR's summer program has evolved and share insights on their experience as environmental leaders in the program.  >>
September 7
Allie Carroll, our summer field ecology intern, has a great eye for insects. We're all looking a little closer now that she's on our team. Here's a guest post from Allie in which she gives us a tour of some of the coolest finds from her fieldwork so far.  >>
July 13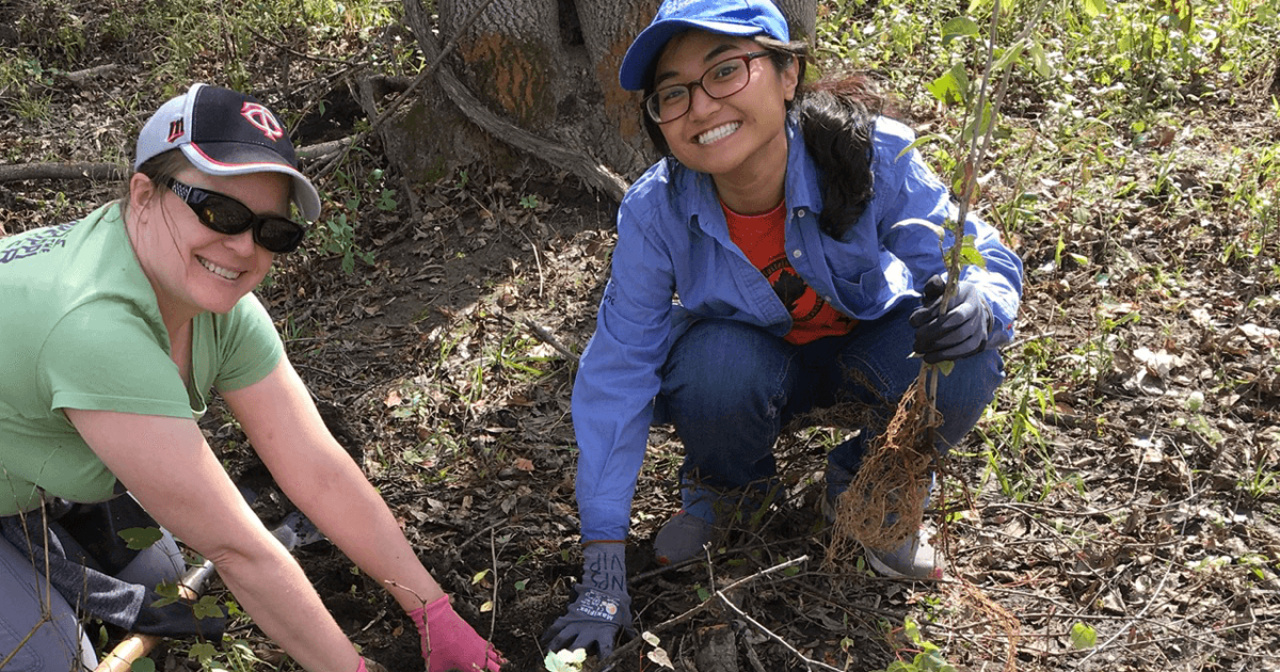 Field ecology interns have the opportunity to directly assist with conservation, like 2019 intern Phuong Nguyen pictured here at an FMR habitat restoration project.
Find out more about this internship, apply or spread the word.  >>
Whether you're a young person, an educator, or a group leader of youth, we want to work with you! (Note: Waders should be worn with a belt for safety.)
FMR offers a variety of free virtual and in-person education and volunteer opportunities for K-12 groups and individual youth in the Twin Cities metro area.  >>
Elia Engberg, in their senior year of Environmental & Educational Studies at Macalester College, spent eight weeks as FMR's stewardship and education intern this fall. They worked collaboratively with FMR's team to create new curriculum resources that uplift connections between people and place, highlighting culture and identity relationships as essential parts of environmental education.  >>
January 8
Pages