Field ecology internship (no openings at this time)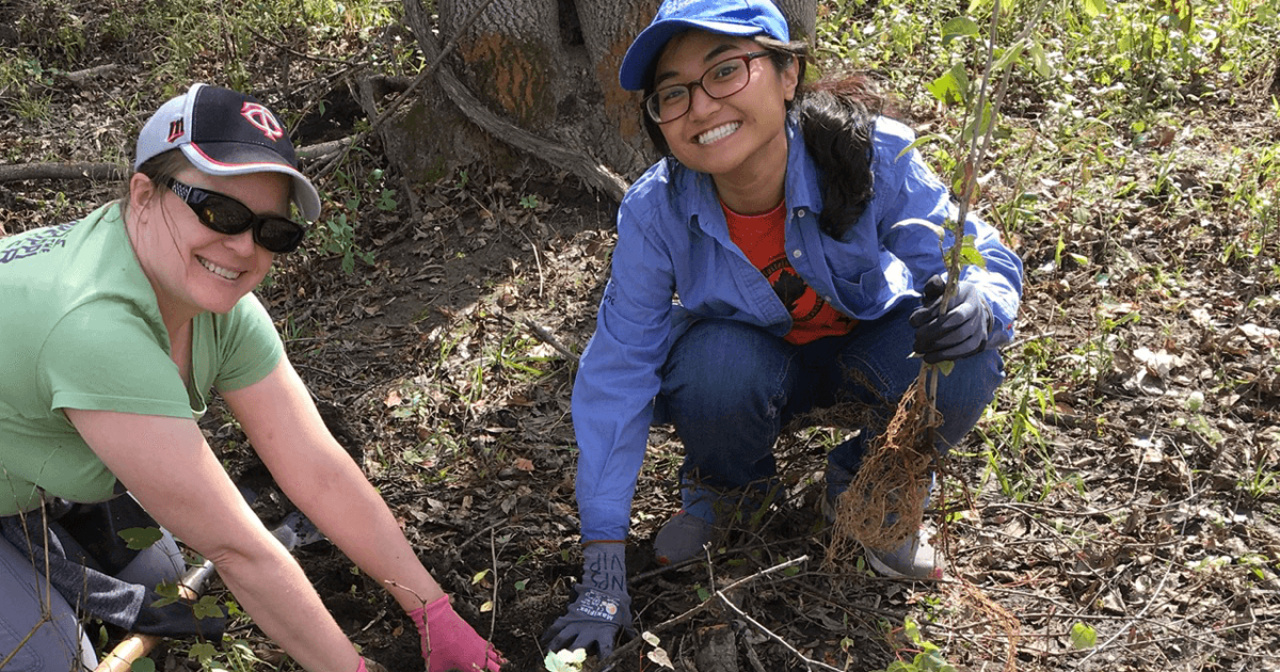 Field ecology interns have the opportunity to directly assist with conservation, like 2019 intern Phuong Nguyen pictured here at an FMR habitat restoration project.
Updated 3/22: Due to a high volume of extremely qualified candidates, FMR is no longer accepting applications for this position.
FMR is seeking a field ecology intern for late-May to mid-August 2021 to assist with our Land Conservation Program. 
FMR's Land Conservation Program is actively working to restore hundreds of acres at over 30 metro-area sites and to assess how well restored lands provide habitat for pollinators and other wildlife.
This is an excellent opportunity for an undergraduate or graduate student with an ecology, wildlife or natural resources-related major to connect their academic studies with professional field and habitat restoration work.
This internship offers a blend of indoor and outdoor, hands-on and project-oriented tasks. The field ecology intern will work with FMR ecologists as they conduct day-to-day natural resources management tasks. They will gain hands-on experience in ecological survey methods, data management, research and ecological restoration methods of prairie and woodland habitats.
Roles and Responsibilities
Conduct independent surveys of pollinators, monarch surveys, and soil invertebrates (training provided)
Assist with vegetation surveys (or complete independently if able)
Assist with small mammal trap surveys and wildlife camera monitoring
Assist with breeding bird surveys
Participate in active restoration research, including vegetation plot set-up, treatment implementation, data collection, and simple analysis
Manage field data: record and enter field data and manage database, catalog photos, keep project records
Lead volunteers in pollinator surveys
Assist with other volunteer restoration events​ such as plantings and invasive plant removals
Additional tasks and activities as they arise
Requirements
Coursework or background in natural resource fields such as general ecology, restoration ecology, conservation biology, soils, entomology forestry, ornithology, wildlife biology, botany, etc.
Detail-oriented in terms of both field and office/data work
Comfortable working in Microsoft Excel and Word, and in the Google suite/workspaces
Have a reliable vehicle and able to drive to project sites in Dakota, Washington and Hennepin Counties (mileage will be reimbursed)
Comfortable spending long hours outdoors, and with adverse weather and field conditions (insects, dense brush, heat, sun, rain), and have suitable footwear and clothing for such conditions 
Additional desired qualifications
Ability to and interest in interacting with volunteers from the general public
Native plant or pollinator identification skills
Students of color are particularly encouraged to apply 
Training and supervision
At each step along the way, we will offer ample support (including templates, resources and training) but also encourage creativity.
Interns become valued members of the FMR team, and also may have the opportunity to get to know staff from partner groups such as the National Park Service, St. Paul Parks, the Department of Natural Resources and others.
If it works for their schedule, the intern is encouraged to attend monthly staff meetings and/or monthly staff lunches.
Scheduling
Preferred season/semester: 13-16 weeks, between late-May and mid-August. Start and end dates are somewhat flexible.
Average hours per week: 15. Some weeks may be significantly more or less.
Workdays are typically Monday-Friday but may include occasional Saturday events.
Hours can be flexible and may change week to week, but workdays are typically between 7:30 a.m. and 4:30 p.m. They may begin as early as 6 a.m. for a few days in June, and as late as 8:30 p.m. for a few evening events.
Stipend and Mileage
FMR is able to offer a stipend of $2,000 and will cover additional mileage reimbursement at the current federal rate for travel to and from survey sites (56 cents per mile in 2021). 
Ready to apply?
To apply, please send a single PDF document that includes a resume, contact information for two references (preferably one academic and one from a previous employer or contact in your field) and a cover letter detailing why you are interested in this internship and explaining any relevant experience you may have. 
Please email your application to both Karen Schik, kschik@fmr.org (651-222-2193 x15) and Alex Roth, aroth@fmr.org (651-222-2193 x33).
Applications will be accepted on a rolling basis until April 15, 2021. Interviews will also occur on a rolling basis.
If interested, please learn more about our organization and follow the links to review our annual reports and other program materials.