Thank you for your interest in this event, however it has reached capacity and registrations are no longer being accepted. Please consider another event scheduled on the FMR calendar. 
Location
Pine Bend Bluffs
55077
Inver Grove Heights
,
MN
United States
44° 47' 17.3616" N, 93° 2' 2.6628" W
Minnesota US
The MAWQCP may declare farm fields to be meeting water quality goals when limited data suggests that farm pollution levels may greatly exceed state standards.
In January 2012, the state announced plans to launch the newly created Minnesota Agricultural Water Quality Certification Program (MAWQCP). While the concept of a farm certification program has promise, FMR has serious concerns the state implementation of the program.
These concerns are validated in a new report from our friends at the Minnesota Center for Environmental Advocacy (MCEA).
December 14
Our work takes place on Dakota homelands. Learn more.
--
Location
Mississippi River Gorge
55406
Minneapolis
,
MN
United States
44° 56' 29.9076" N, 93° 12' 14.0364" W
Minnesota US
Thank you once again to our dedicated, enthusiastic volunteers! We had a record breaking year and couldn't have done it without you! Take a minute to check out our Best of 2015 Flickr photo album for a glimps of our year in review. We are working away to get the volunteer event schedule for 2016 set and hope to see many new and familiar faces at our upcoming events. FMR would also like to extend our thanks and gratitude to all of our event partners, sponsors and contributing members who help make these events possible.
December 8
As the outdoor volunteer season comes to a close, we stand in awe of our river stewards' accomplishments. In 2015, some 3,637 people — individuals, families, church, school and neighborhood groups — came together from throughout the metro area to help the Mississippi River at 135 FMR volunteer events. Together they stenciled over 3,000 storm drains with educational messages helping residents connect their yards and streets to our local waters, removed over a thousand bags of invasive species from local parks and natural areas, removed litter from over 20 riverfront sites and installed native prairies and raingardens at six riverfront parks. At the end of our busiest restoration season on record, our community's ability to act on behalf of our local waters and wildlife continues to amaze us.
November 10
Join us for a crisp autumn morning in the bluffs above the river Saturday, Oct. 17 in Cottage Grove or Saturday, Oct. 24 in Pine Bend Bluffs near Rosemount. Sign up for the hayride and hike, join the buckthorn hauls — or both!
After exploring and restoring river-lands not normally open to the public, we'll celebrate our volunteer and community partners' impact on our local wildlife and waters. Thanks to Cottage Grove partner 3M and Pine Bend partner Flint Hills Resources, there'll be great food, raffles and other special activities. 
September 9
Long an industrial zone with little community access, the north and northeast Minneapolis riverfront is undergoing a much-needed transformation. After years of local advocacy and planning work, FMR is proud to host two hands-on fall events within a new portion of the Above the Falls Regional Park. Join us September 10 to help tend the Sheridan Memorial raingarden (pictured above) or October 8 to plant a showy trail-side prairie at Ole Olsen. Capacity is limited so sign up soon!
August 20
With 515 acres of hills and heavily wooded ravines, a small lake and a smattering of small prairies, Cottage Grove Ravine Regional Park features a beautifully diverse landscape. A glacial tunnel valley bisects the park, featuring 80- to 100-foot slopes which are home to a compelling array of vegetation and habitats. The ravine ends in a small lake where people enjoy fishing, birdwatching and picnics.
Location
Cottage Grove Ravine Regional Park
Cottage Grove
,
MN
United States
44° 48' 35.6472" N, 92° 54' 3.3516" W
Minnesota US
Giant piles of stacked buckthorn and brush from Cottage Gro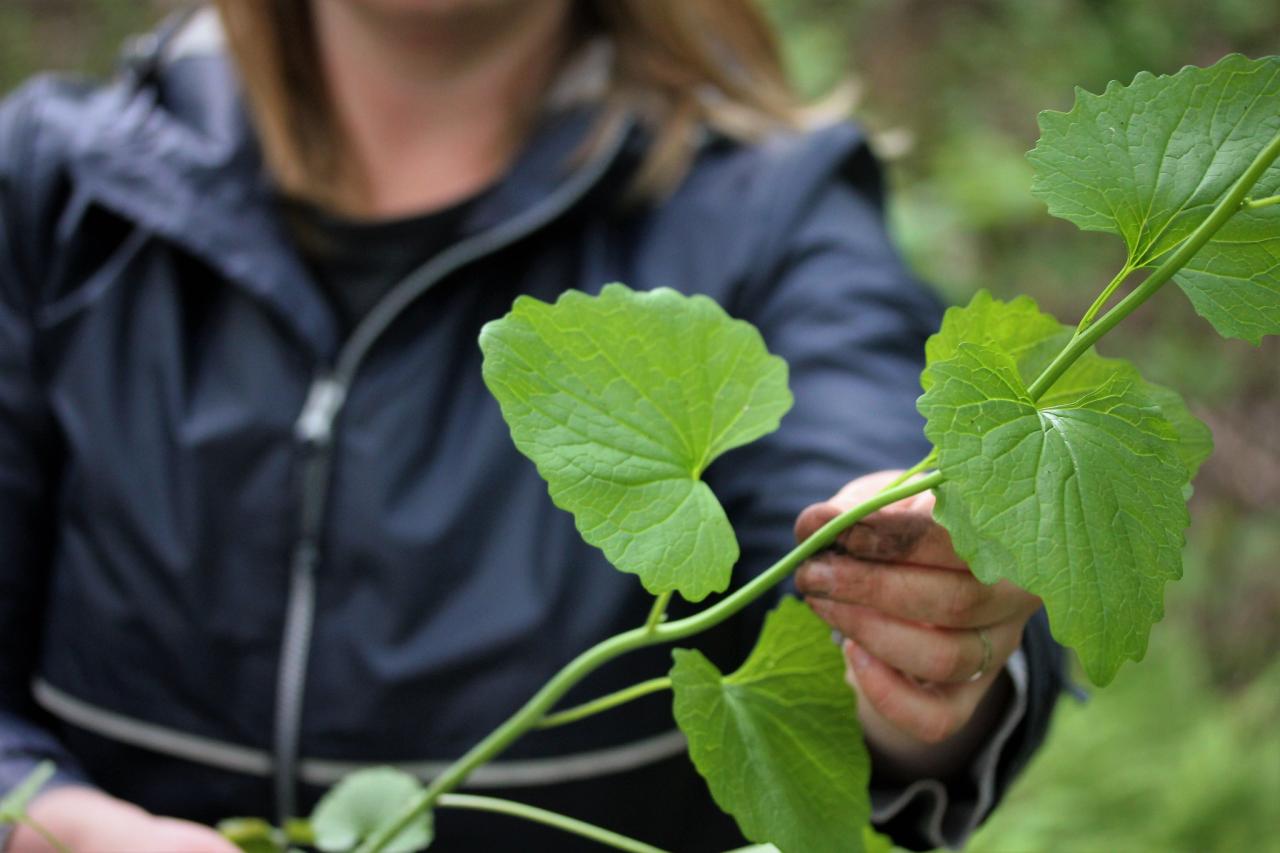 Garlic mustard is a delicious plant that can spread rapidly in woodlands, disturbed areas and along waterways in Minnesota. Look for it in early spring. (Photo by Rich Wahls for FMR)
 Learn more about garlic mustard and how you can help restore balance for wildlife and water quality by removing these plants before they flower.  >>
Pages