Time running out for historic Rock Island Swing Bridge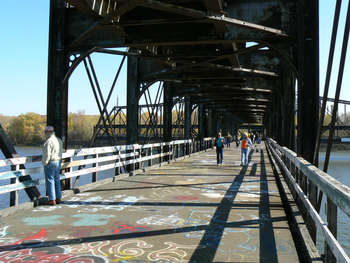 Time appears to be running out for the possibility of preserving some portion of the historic Rock Island Swing Bridge for pedestrian access. The unique double decker bridge which connects Inver Grove Heights and St. Paul Park was built in 1894 to carry rail traffic on the upper level and carriages — later automobiles — on the lower level. The bridge has been closed to traffic since 1999. Local history buffs and parks advocates had hoped to be able talk State and County authorities into saving at least some of the western section of the bridge but those hopes were largely dashed when a 200 foot section of the bridge fell into the river in late November.
FMR staff have been consulting with officials from the County and the National Park Service to determine if a strategy might be found to preserve the bridge and use it as a unique public river access point. The National Park Service hosted a very well attended public tour of the bridge in October and public interest in saving some of the bridge was building.
With further deterioration of the structure however, Washington and Dakota County officials have been pressed to take advantage of emergency bridge removal funds available from the State of Minnesota in order to avoid stabilization or demolition costs falling on County taxpayers.
For more info on the bridge and its history visit this Wikipedia entry on the bridge.