Lilydale considers new blufftop development
The proposed apartment building on Lilydale bluffs will include 126 apartments. This rendering shows the river-facing side of the building. (Image: ESG Architecture)
The City of Lilydale is reviewing plans for a potential new housing development at the former site of the River Bluffs Center and Moose Country bar. While the project would bring improvements to a blighted, vacant property, we're concerned that the building's height may have too much of a scenic impact. 
The site is near the intersection of Highway 13 and Lilydale Road, just east of Interstate 35E. The property has some challenging development constraints. It's fairly narrow, bounded by the edge of a very fragile bluff on one side and the highway on the other, and subject to setback requirements from both of these edges.
Sometimes features like parking or stormwater management facilities can be moved underground to make more space on a small property. But that's not an option on this site. Hard limestone sits as little as two feet under the soil surface, making it impossible to dig. 
A prior proposal to build senior housing here raised a lot of resident pushback. The proposed building violated both height and bluff setback requirements, creating serious concerns about bluff erosion, stormwater management and scenic impacts.
New project, similar questions
That project eventually fell by the wayside, and Bigos Management has stepped forward with a new proposal. Their development would bring 126 high-end apartments and nine townhomes to the site. The design has done a good job of managing bluff protections and stormwater runoff, and city leaders seem to think the concept is a good fit for Lilydale.
Just one issue remains: building height. The proposed apartment building will be 57-59 feet tall in most places, with the party room and elevator structure reaching 65 feet. Lilydale's own building code limits buildings to 35 feet, with an option to go as high as 50 feet if certain conditions are met. This building is roughly one story taller than that.
When it comes to excessive building height, FMR is more concerned with a "performance standard" than with a hard number. In this case, we're concerned about the scenic impacts if this building is visible to people enjoying the river. Visual analysis suggests that the building will be visible, but we've urged the development team and city to do further study to be sure. That should happen before any decisions are made.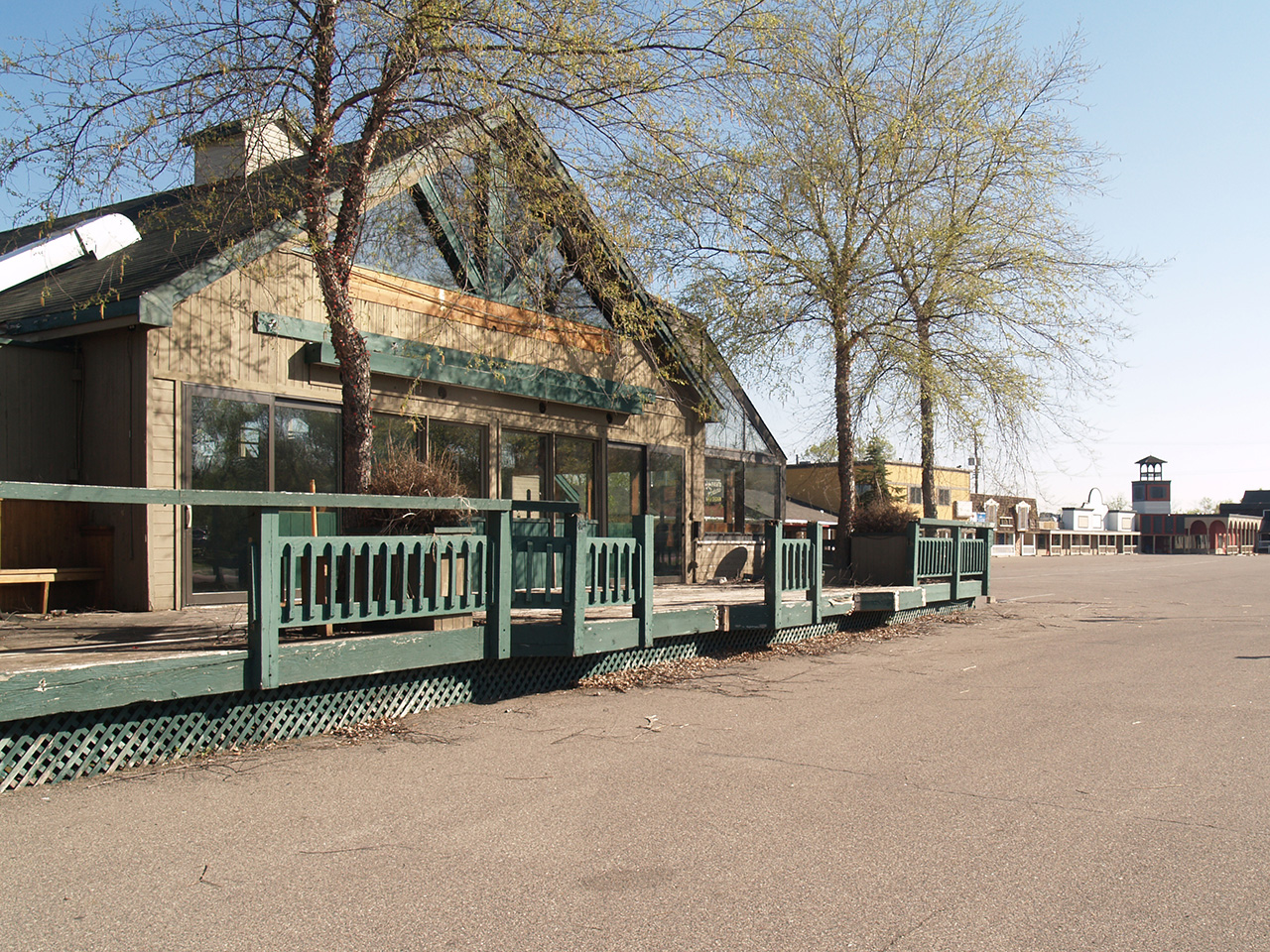 The closed Moose Country bar and River Bluffs Center strip mall currently sit on this site.
Preserving our scenic national park 
The Twin Cities' river gorge is the only gorge along the entire Mississippi River, and it's arguably one of the most scenic stretches of river between here and the Gulf. In many places through the gorge, you can't see human-made development if you're walking along the shoreline or traveling on the water.
That kind of natural experience in our national park is worth protecting. In Lilydale, much of the existing development is already too close to the bluff and too visible. We should hold ourselves to a higher standard for the future. A new apartment building shouldn't be allowed to further disrupt the natural views.
This is an important moment for Lilydale to stand up for the river features that make the city so special. 
Public meeting on November 29
The city will be voting on the development concept on November 29 at 4:30 p.m. at Lilydale City Hall. There will be a public hearing as part of this decision; community members are encouraged to attend and speak about their questions or concerns about the project. (See our quick tips for speaking at a public meeting if you're new to the process.)
If you have questions or want to get involved, contact our Land Use & Planning Program Director, Colleen O'Connor Toberman, at ctoberman@fmr.org or 651.222.2193 x29. She'll also be at the November 29 meeting and would be happy to meet you there.
Update: February 9, 2022
The Lilydale city council recently voted to approve this development. While FMR continues to question the project's scenic impact, the development team made positive changes to improve stormwater management and bluff protections. Read more in MyVillager.