Riverfront polluter Northern Metals violates laws... again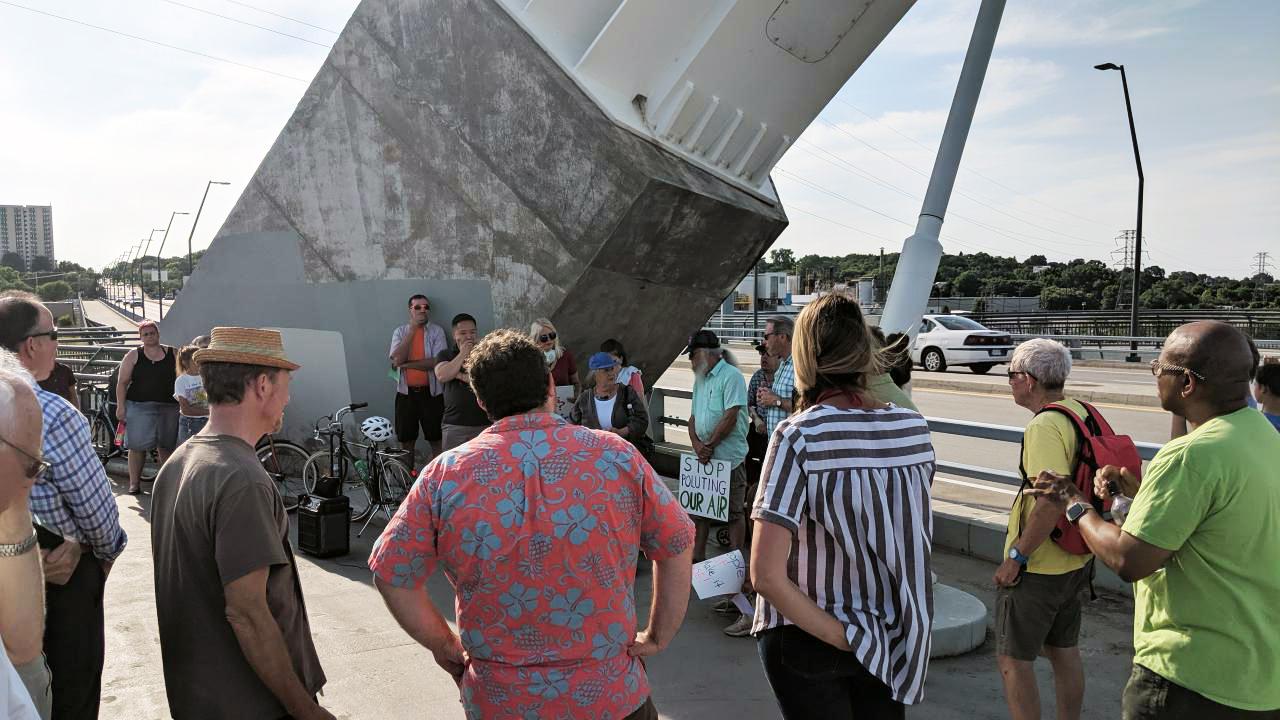 FMR staff participated in a community-organized rally on the Lowry Avenue Bridge near Northern Metal Recycling in summer 2019.
Until recently, Northern Metal Recycling operated a metal shredder on the North Minneapolis riverfront. After committing years of air-quality violations, including falsifying emissions records, Northern Metals shut down its riverfront shredder in September 2019 (weeks past their agreed-to deadline).
Credit for this long-awaited closure belongs to the North and Northeast Minneapolis residents who fought for years to eliminate this source of air pollution from a community disproportionately burdened by asthma and childhood lead exposure, among other health disparities.
Fire draws attention to violations
Northern Metals didn't end its operations; it moved to a new plant in Becker. The shredder at the new plant has yet to open, but last week a large pile of cars stored on the site caught on fire. The fire burned for five days.
Even from 45 miles away, the fire's smoke and fumes drifted back into the North and Northeast Minneapolis neighborhoods who had worked so hard to get this pollution out of their community.
It turns out that Northern Metals' Becker and North Minneapolis sites both had serious fire code violations, particularly for storing cars in piles far larger than permitted. Both sites have been ordered to cease operations and stop collecting metal until the safety violations are corrected and the Becker fire is cleaned up.
Strict oversight needed
Despite its poor track record, Northern Metals got another chance from the Minnesota Pollution Control Agency (MPCA) when it built a new plant in Becker. So far, though, Northern Metals doesn't seem any more deserving of the public trust.
As we shared with KSTP, we urge the MPCA to continue very strict oversight over this company.
Nearby Minneapolis riverfront issues
The stretch of Minneapolis riverfront where Northern Metals was previously located is rapidly changing. While many changes are for the better and have been long-sought by community members and FMR — such as fewer polluters, more parkland and improved public access — some local redevelopment may not be so positive.
Many are concerned, FMR included, that the redevelopment of the Upper Harbor Terminal, in particular, could lead to gentrification — meaning that the very neighbors who suffered from Northern Metal pollution could be displaced from their homes just as the river becomes more accessible.
Learn more about Upper Harbor Terminal. And become a River Guardian to hear from us when opportunities for advocacy on river-related issues arise.