ESI guest post: The impact of street salt on our environment
This is a guest post from Hanna Bjerkness and Harper Glaeser Allen, 2022 Environmental Stewardship Institute (ESI) fellows. ESI fellows design and carry out a capstone project during a six-week summer program. Hanna and Harper conducted a survey to find out what their community knew about road salt pollution, then created an infographic to help them learn more. (Note: Opinions expressed in ESI projects are those of the program participants and do not necessarily represent those of FMR.) 
* * * * *
We did a public survey asking people what they know about the effects of road salts, if they'd be willing to learn more, and how they would like to learn more. Then we created an infographic with the results of the survey, some basic information on the effects of road salts, and more resource for people interested in learning more.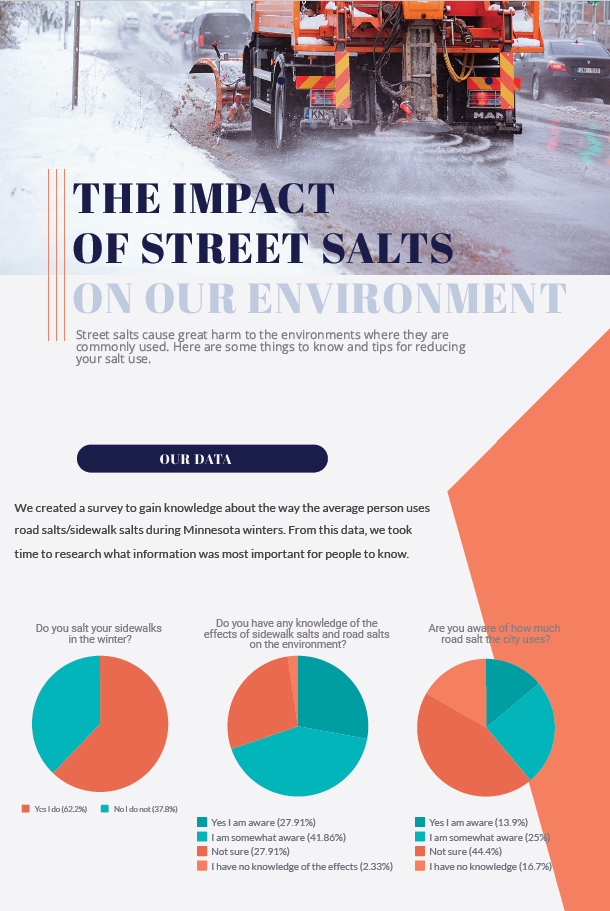 See our full infographic here.
Why we chose this project
We both knew a little about the negative effects of salt, but at one of the ESI meetings, we got a chance to see a vial of water that had been contaminated by salt. It was bright blue, and the striking visual caused both of us to choose to learn more and spread awareness about this problem. Minnesota is especially affected because of our winters.
What we hope you take away
There's no perfect solution for road salt pollution. It's necessary to have safe roads in the winter, but the damage it does to the environment is severe. It pollutes everything from land plants and animals to aquatic life and groundwater, and even human health.
Join us
FMR created the Environmental Stewardship Institute to address the gap between environmental education and a career path in the environmental field. We hold a summer intensive program and a school-year youth advisory council. Learn more about the 2022 ESI summer program, including other final projects.
FMR's Environmental Stewardship Insitute is part of our larger Stewardship & Education program. Check out our other opportunities for youth and for all ages to get involved with FMR.