Introducing FMR's Cultural Landscapes lesson
In our classroom lessons for grades K-12, we talk about watersheds, pollution, erosion and other environmental topics. As of this spring, we're talking more about people and relationships too.
FMR's fall 2020 stewardship and education intern Elia Engberg helped us craft our new Cultural Landscapes lesson, which aims to open up space for people to reflect on their own cultural identities and relationships with land, water and stewardship. The lesson also affirms and honors the ancestral homelands of the Dakota people (Očhéthi Šakówiŋ). (Check out the downloadable online lesson here.)
What the lesson facilitates
We piloted the lesson this spring with six groups, including J.J. Hill in St. Paul, Andersen United Community School in Minneapolis, and Students Eagerly Acquiring Knowledge (SEAK), an after-school science club for high school students.
Images, interactive activities, and movement sparked conversations about the importance of many sites we work near to the Dakota, such as Bdote, a sacred site of Dakota creation stories where the Mississippi River (Haha Wakpa) and the Minnesota River (Mnisota Wakpa) meet. (Learn more about confluences from FMR and the Memory Map.)
Students recognized the lasting strength of Indigenous cultures and their long stewardship of this place. Through the lesson, they considered the impact of settler colonialism on people and the environment.
Many students shared personal stories and family connections related to a specific park, a special tree or a place near the river or a body of water. Other students had traditions and cultural connections to water, land, specific plants and animals.
On our SEAK field experience to the Willowbrook wetland restoration site along the river in St. Paul, youth leader Christopher Dunham reflected, "It was without a doubt a phenomenal event and far exceeded my expectations, and the students had a great time too [...] participating in small group discussions reflecting on environmental equity and culture as we learned more about the Willowbrook restoration efforts."
Many students brought up the ways habitat destruction and pollution impact people and animals, and we explored the importance of seeing stewardship and ecosystems as interconnected. We concluded the day by taking action, collecting over 200 pieces of plastic pollution.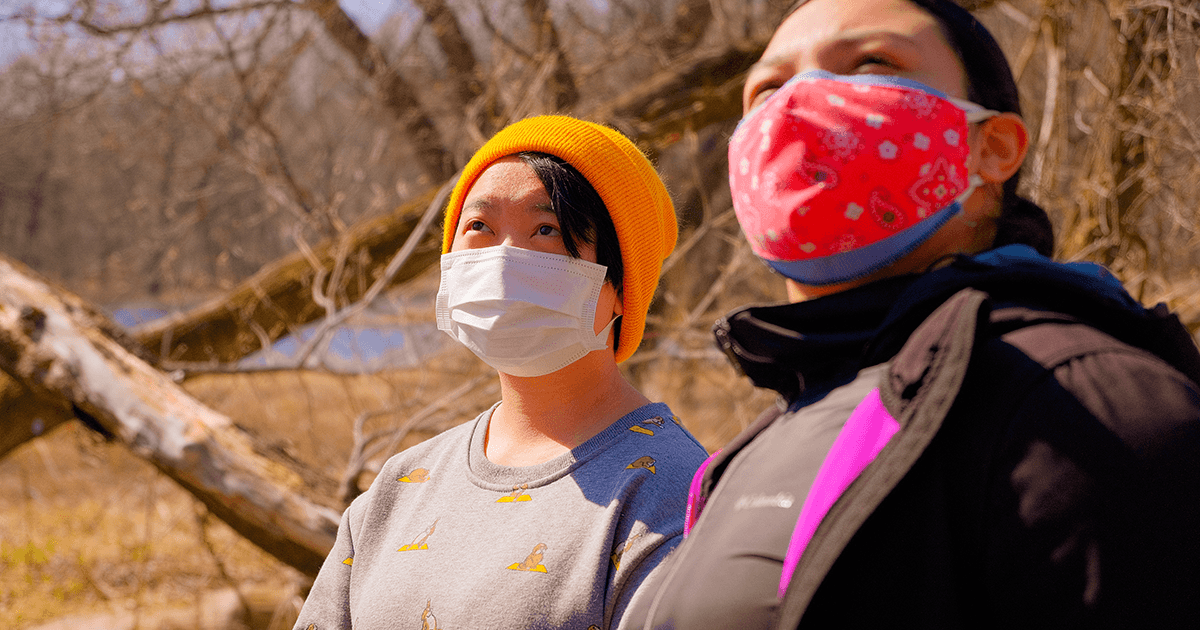 As our Students Eagerly Acquiring Knowledge group talked about birds, an eagle soared overhead. (Photo by Adrian Islam)
Staff are learning, too
This spring, FMR also committed to working more diligently toward Indigenous solidarity. (Read more in our Indigenous land acknowledgment.)
Over a virtual lunch, staff participated in the Cultural Landscapes lesson. Just like our youth participants, our coworkers enjoyed this opportunity to share more personal stories and cultural connections to the river and our local environment. The lesson helped us examine our own identities and privileges as we discussed the many layers of history of the places where we restore habitat and advocate for more equitable access to and development along the river.
We will continue to listen and learn from the communities we serve. We aim to hold equitable and inclusive discussions around the rich and complex cultural connections we all have in relation to the land and river. (Read more on our equity page.)
With support from partners like Lower Phalen Creek Project, we're reshaping all our lessons to include more cultural perspectives and community knowledge of the sites we steward. Through collaborative relationships and interviews with community members, Dakota, Ojibwe and others, we'll continue to integrate more voices and experiences to reflect the many communities connected to Haha Wakpa, the Mississippi River.
Learn with FMR
FMR offers a variety of free virtual and in-person education and volunteer opportunities for K-12 groups and individual youth. Questions? Reach out to the FMR education team, education@fmr.org.