Using Mississippi River water to refill White Bear Lake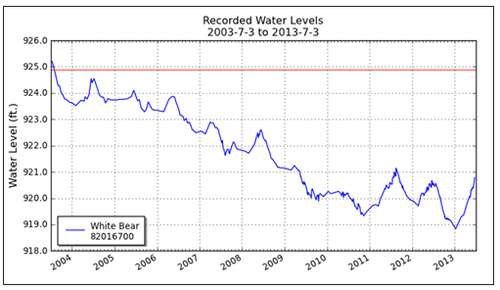 Image: The Metropolitan Council
The Star Tribune recently covered the growing call for action to refill White Bear Lake in the east metro area. The lake has lost 25% of its volume over the last decade, due primarily to unsustainable groundwater use in surrounding communities.
Pumping by public water systems in White Bear Lake and surrounding communities around the lake more than doubled from the 1980s to today, from 1.7 billion gallons per year to 3.7 billion gallons per year. This pumping stresses the Prairie du Chien-Jordan aquifer complex, which sits under White Bear Lake, has been identified as the primary cause for lost water levels in the lake.
Unfortunately, excessive groundwater use is no longer uncommon in Minnesota. This April, our friends at the Freshwater Society published "Minnesota's Groundwater: Is Our Use Sustainable," highlighting the pressure facing statewide water supplies.
For White Bear Lake, two solutions being explored involve pumping water from the Mississippi River to make up for excessive groundwater drawdown in the area.
One solution involves area communities simply tapping in to the St. Paul Regional Water Authority, which gets most of its water from the Mississippi River. The city's system has excess capacity available to supply east metro communities struggling with groundwater sustainability.
The other option involves pumping Mississippi River water directly into White Bear Lake to maintain water levels. While this strategy has been used on a much smaller scale in select areas, this approach does present some potential risks, and appears to ignore the underlying problem: excessive groundwater use in area communities.
The Star Tribune article features FMR Executive Direct Whitney Clark's comments on this issue.
"We would like to see [these communities] address the root cause of the problem, rather than addressing the symptoms. The problem with White Bear Lake is unsustainable groundwater use. When you're using water faster than the aquifer can replenish itself, that's a serious problem."
FMR will continue to monitor this issue and advocate for solutions to protect the Mississippi River and the state's delicate groundwater resources for future generations.