Vermillion Stewards have much to celebrate; join us in Hastings this fall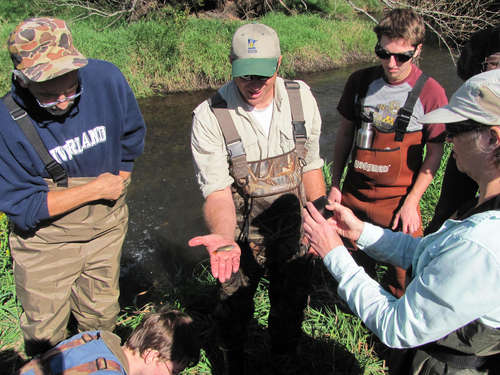 Photo: FMR
On a humid day in early September, a band of volunteers clad in waders experienced the joys of stepping into the Vermillion River, feeling the cool waters rush past while searching for brown trout. As part of the annual Trout Survey, these volunteers were accompanied by Mark Nemeth and TJ Debates of the Department of Natural Resources, who provided guidance and answered questions about various species' biological importance and distinguishing characteristics.
The event fills quickly with volunteers from our Vermillion Stewards Program who have helped at activities earlier in the year. Though it is a unique event in the Vermillion Stewards Program, the Trout Survey helps volunteers see the importance of their previous work at past clean-up and restoration events.
Standing knee- to waist-deep in the Vermillion River gave volunteers an up-close view of clear waters rippling gently towards the Mississippi, and helped them see an important connection between the health of the river and the fish species that live there. The brown trout, for example, is a great indicator of biological integrity, as is the Iowa darter. They also found a few bullhead, which can live in the murkiest of conditions, but not enough to cause concern.
Most Vermillion Stewards events don't call for waders, though they do afford similar views of natural beauty and a chance to help preserve and enhance the sites that hold them. In May of this year, volunteers gathered in the Hastings Scientific and Natural Area to rescue native plants where a road construction project was taking place. Though it rained steadily, our sturdy volunteers salvaged over one-hundred small containers full of native plants that will be planted on the September 21st event at the same site. And on a breezy evening in June, volunteers came out to pull cow vetch and spotted knapweed in the Sand Coulee Scientific and Natural Area. At both of these events folks from the Vermillion River area could see first-hand why their work is important.
Two additional Vermillion Stewards events were held indoors this year: a Make and Take Rain Barrel Workshop in June, and a State of the River Presentation in July. Both were packed to the brim with participants eager to learn and talk about water conservation, water quality protection, and ways to help improve water quality through personal behavior change.
The season isn't over yet! Volunteers are still needed to help continue the restoration and preservation of the Vermillion River watershed. Here are a few more opportunities:
September 21st, 9 a.m.-12 noon -- Woodland Wildflower Rescue Part II: The Planting. This is the second half of a first-of-a-kind event for Friends of the Mississippi River. Lunch provided.
September 28th, 9 a.m.-12 noon -- Vermillion Stewards National Public Lands Day Clean-up and Celebration. Volunteers will be transported from Schaar's Bluff to Lake Rebecca Park via bus to do a brief clean-up, then back to Schaar's Bluff for a celebration to reflect on all the great work done this year in the Vermillion Stewards Program. If you cannot do the clean-up but would like to celebrate, please let Lindsay know by emailing lhefferan@fmr.org, and join us at Schaar's Bluff at 11 a.m. to celebrate this year's accomplishments.
October 12th, 9 a.m.-12 noon -- the Seed Collection at the Sand Coulee/Rare Prairie has volunteers picking and plucking native prairie plant seeds so they can be used for future seeding events. This is the last Vermillion Stewards event for the, so make sure to join in!
For all these events and the others mentioned, we thank the Vermillion River Joint Powers Organization for providing funding support. The Vermillion Stewards Program is strong due to the support of our volunteers and funders alike, and we look forward to providing more opportunities in the coming years.