Write to the River — Fall 2020 prose & poetry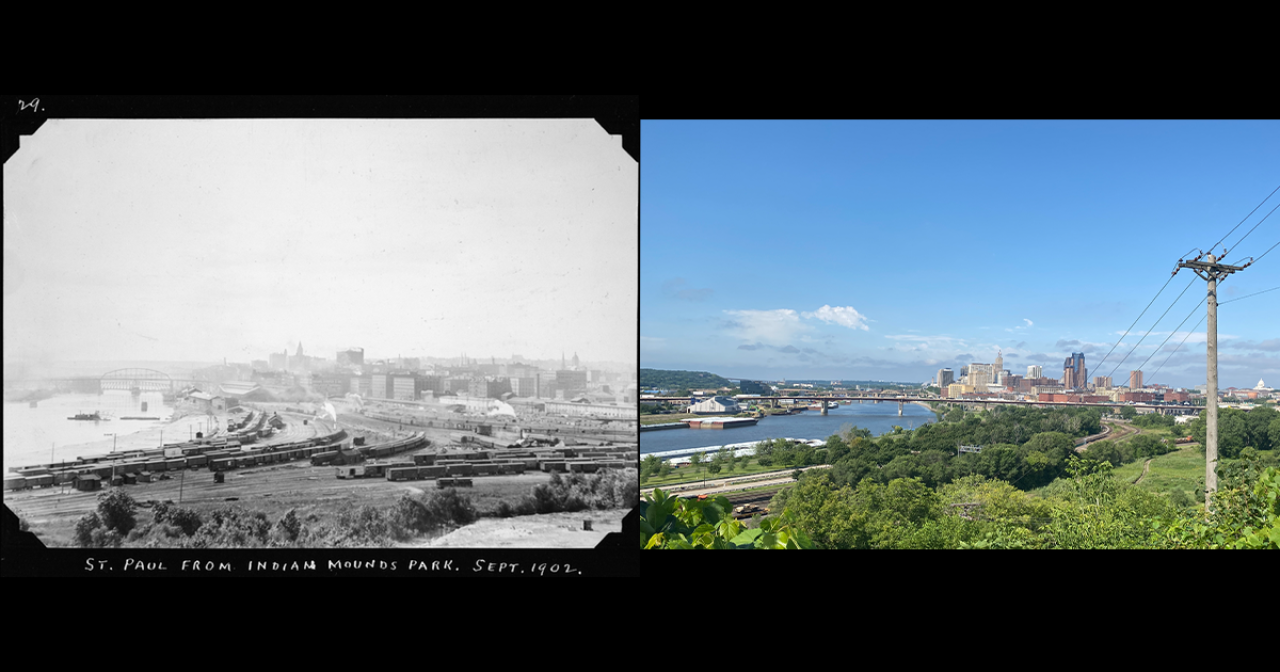 Then and now: The view from Indian Mounds Regional Park overlooking the Mississippi River, Bruce Vento Nature Sanctuary and downtown Saint Paul in 1902 and 2020. (Photo credits: Edward Albert Fairbrother, Minnesota Historical Society; Mishaila Bowman for Lower Phalen Creek Project) Learn more about this place at the end of this edition.
This season's prompt inspired moving writing with diverse perspectives. Each piece conveys human interconnectedness with the natural world and the importance of restoring land and water. We hope you enjoy reading and learning.
About the view in the photos above
Before we introduce the submitted prose and poems, we wanted to give some background on this place. Nestled between the bluff and the Mississippi River just east of downtown St. Paul sits the Bruce Vento Nature Sanctuary, where Native-led Lower Phalen Creek Project and partners have worked for years to reclaim the former rail-yard turned dumpsite, and to restore the land, while creating access to and understanding of this culturally significant place of power.
A former cave in this sanctuary is the Dakota people's Wakáŋ Tipi, or Dwelling Place of the Sacred. (The entrance to this cave was destroyed to make way for the railroads pictured above.) We highly recommend reading Lower Phalen Creek Project's recent essay "On Sacred Dwellings" to learn more.
We're working with Lower Phalen Creek Project on habitat restoration here, and we're excited about their vision for how to honor the site's history and ongoing importance to Dakota people in this restoration process and through the proposed Wakáŋ Tipi Center. 
We also want to acknowledge that there are many Dakota stories about this place that aren't represented in our submissions here. (Read and listen at Birchbark Books or Learning from Place Bdote tours.)
River poem 
Birds chirp
Trains whistle
The soft leaves
Warm breeze
The blackest coal you've ever seen and it smelled
Taste the breeze
We saw the world around us

By Sylvie Wolfson, age 5
 
I AM THE GREAT RIVER
I see you, Wakáŋ Tipi, my currents roll with ancestral rhythms,
Paddles in the morning mists stroke, clean and clear
While steamboats and trains clog these valleys with smoke.
I hear your drums beat along tracks meant to girdle my channel, littered with cinders.
I live despite attempts to harness and subdue these seasonal swells.
A sacred ecology dislodged by the inducements of modernization.
All is not well, yet I remain.
These are sacred waters, among sacred hills.
The newcomers conveniently forget, in the name of Progress. 
Their illness is Separation.
But it is not too late. The People know we are connected. Kin. 
Hills. Waters. Woods. Life. Inextricable.
The lifeblood of this great valley, where we join together.
Confluence of summer; gathering in the fall; retreat in winter; renewed by the spring.
Hear me on the wind. Here and now. 
Feel my currents swell. Call my name, in whisper or whoop.
Dance with me, make music. Like the migrating birds. Manifest. 
I remain true, Wakáŋ Tipi. We are here together. Dwelling. 
Wherever your footsteps tread. This is our sacred place. 
Be in the here-and-nowness; stay alive in the Becoming. 
Dynamic emergence is our bond. 
I am the Great River. Let us roll on forever. Together.

By James T. Spartz
 
Restoring
"Because I was a child of the slums,
unmannered, ill-bred, badly attired,
I knew I was not one of them."
— William F. 1912 *

Wave-battered and resilient, 
like the seaweed they harvested
off rented strips of rock and water,
they made it across the Atlantic.
Families cleaved from ragged shore,
their folktales and place-names
castaway, did they have hope?
Settling by a river, they swept
dirt off city streets and office floors.
Pounding railroad tracks,
they watched St. Paul grow tall
around them, bridges arching
to places beyond reach. From lean-tos
below the hollow, hunger wanes
slowly. Near Wakáŋ Tipi today
between white bluff and concrete pillar,
hawks soar, and Juneberry thrives
where once there was bull thistle.
Breath seeps out of sandstone,
stories—old as earth. I find hope
here, where sun welcomes stream.
With gratitude, mallet and chisel,
I engrave into wooden trestle; Uilliam,
child of the slums—kin to me. 

By Leslie Thomas
*After surviving famine, my great grandmother and her extended family emigrated from Ireland to St. Paul in 1883 via J.H. Tuke's assisted program. They lived near the Sanctuary on both sides of the Mississippi River — the West Side Flats and Connemara Patch. William (Uilliam in Irish) is my great grandmother's nephew. I found his letters at the Minnesota Historical Society.
Special student edition: School of Environmental Studies Writes to the River
The School of Environmental Studies 11th grade AP Composition students wrote to the river after visiting Bruce Vento Nature Sanctuary and Indian Mounds Park, learning about Minnesota's history of colonization and exile of the Dakota, and speaking with Dakota people working to restore the river and land. The students reflected and created these poems. Read their work here.
Many of the students wove Dakota words into their poems. If you'd like to learn more, check out Beginning Dakota and the Dakota Dictionary.
About Write to the River
Write to the River is a creative writing project to inspire artistic engagement with our river environment. We invite you to share an original poem or short prose response to seasonal images along the Upper Mississippi River. Our next seasonal photo prompt and call for creative writing submissions will be in an upcoming issue of our e-newsletter Mississippi Messages.