Write to the River — Spring 2017 Prose & Poetry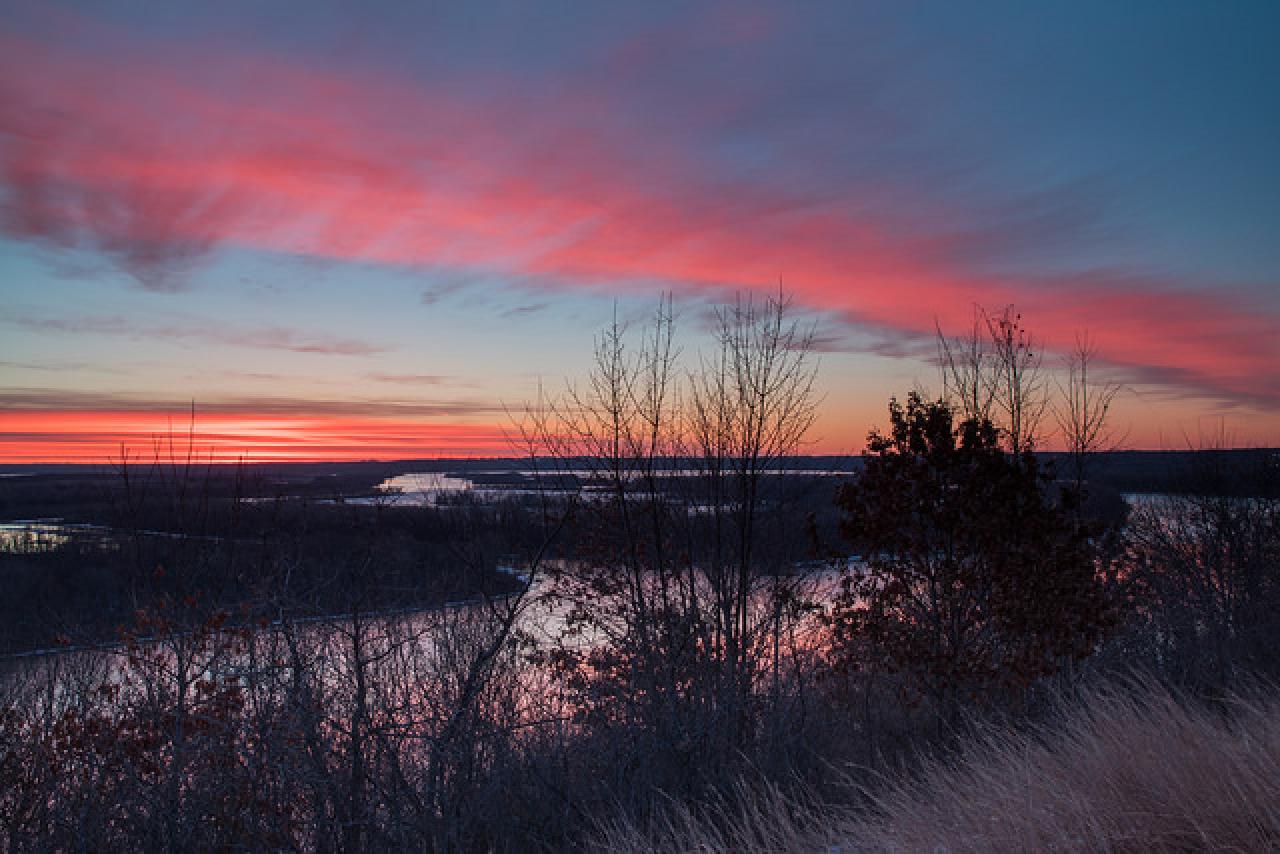 Our spring photograph writing prompt: "Morning Color" by Tom Reiter, taken at Pine Bend Bluffs Scientific and Natural Area in Inver Grove Heights, one of FMR's most popular protection and restoration sites. 
Write to the River is a new project and invitation to engage with the river and its watershed through creative writing. Our first call for poems and short prose was in March, where we asked people to write something inspired by the photo above. 
We were astounded by the quality and personal nature of each piece submitted and enjoyed reading what the river means to each writer. We hope you enjoy them too!
Our next photo prompt and call for creative writing submissions will be in the June issue of our e-newsletter, "Mississippi Messages."
River haiku
by Gary Schollmeier
Mississippi Grand
Glorious in all season
More than just water
 
Untitled
by Michael Daugherty
A place where my ancestors speak,
but there is no one left to listen.
Hush waters whisper to our souls
to remind us of what we're missing.
I want to stop and breathe in deeply
and try to smell the smoke of their fires.
I want to hear their songs in the creaking
branches, hoping that it will inspire
me to remember my blood.
O whisper to me the inspiriting beauty
of life that captivated my ancestors so
that they prayed and gave thanks!
Oh why can't I see the smoke
rising
above the trees.
 
River Haikus
by Pamela Jambeck
River running wild!
Sweeping embankments away
Calmly flowing on!
The rushing, raging
of the rivers in springtime~
Powerful omens!
Amble, ramble, swirl~
Kayak takes us upon it,
Gently cradle-ing.
RIVER: my home base~
Impermanent reminder.
Yet ever faithful!
 
Summer Breeze
by Mark Lindberg
We'd finished our dinner, which could have been an advertisement. Pastels dripped and waved over the hillsides afar, about to give way to dusk. Because it was calm you went down below and prepared the cabin for sleeping.
Meanwhile, quiet but unmistakable ripples ran across the water. Then I felt it on my face, the most sensitive part of our bodies. Bingo. This was a surprise.The weather service had predicted otherwise.
I unfurled the Genoa with the self-roller — what a gift to single-handed sailors this device was — and voila, we were off. It wasn't strong, just steady.
While you puttered and the colors faded in the west, I laid back against a stanchion, with literally one finger on the wheel. For fifteen minutes or so, a king's ransom couldn't have done better.
Mother Nature's summer breeze a gift ridiculously sublime,
as life stood still
and we sailed
into the Pepin sunset.
 
Enough Apathy (Mother River is Life)
by Annie Hejny
How strange is the choice
to separate from our source,
attach to synthetic
and maim the authentic.
How foolish to believe
we are impenetrable,
spared from the responsibility
of grateful reciprocity.
How numb we are
to the sensuous elements,
detaching from our wildness,
expanding the abyss.
Our Mother River speaks,
urges us to touch her waters
along her swelling shoreline
and reconnect with an honorable life.
 
Dear Mississippi River,
from Michael Bischoff
You are family to me, so you probably know my story already, but I'm writing to express my love and gratitude for you and all those who have cared for you, and loved you, as I do.
I found out a year and a half ago that I have an aggressive kind of brain cancer. We tried chemo, but it didn't work. The cancer grew while I was taking the chemo. We tried a new experimental treatment, but yesterday my doctor told me that treatment was ending because it hadn't produced enough results. So, I've turned to you, dear river, as my primary healer. A year ago, I made a commitment to myself and you, that I would come slowly walk and sit by your banks every day. I committed to receiving the healing, wisdom, and grace you wanted to offer. You've been my most faithful and generous healer. I trust you, and I will be faithful to you. 
This week you guided the great blue herons to an island in the middle of your waters, close to my house. I sit at your edge and watch the herons flirt and fight in their nests, above your patient waters. My wingspan is the same as the herons. As they stretch their wings, I hold out my arms, gliding with them over your waters. I want to share their intimacy with you, flying so close to you, getting to know your length. 
You've been so generous with me, nourishing me, washing away cancer and anxiety. If I believed medical statistics guided my body, my life would be over tomorrow. But I know that your water fills and guides my body more than medical statistics. I know that I am a small part of your watershed, and that after my body stops breathing, I will still be a part of your wholeness. 
Today, and every day, I will sit at your side, watching the ice melt into your wholeness, hearing the woodpeckers knock pieces of the trees down closer to you. As my body declines, may I also fall into your wholeness, resting in the grace you carry across this continent that we call home. 
  Mississippi
by Bill Barry
Turmoil
raised where the river anchors us
to a place,
a history of muddy water
a new chapter
each spring,
a caveat each January
a drama so far within us
there is no way to see where the murky water ends and the blood begins
Dare to swim in the darkness,
dare to cross in winter
each a leap of faith,
only a person with this place in their veins would risk it
only those
who know the shape of the current
when miles from the shore
will understand
if it were to take our life
we would only be going home
earlier
then planned