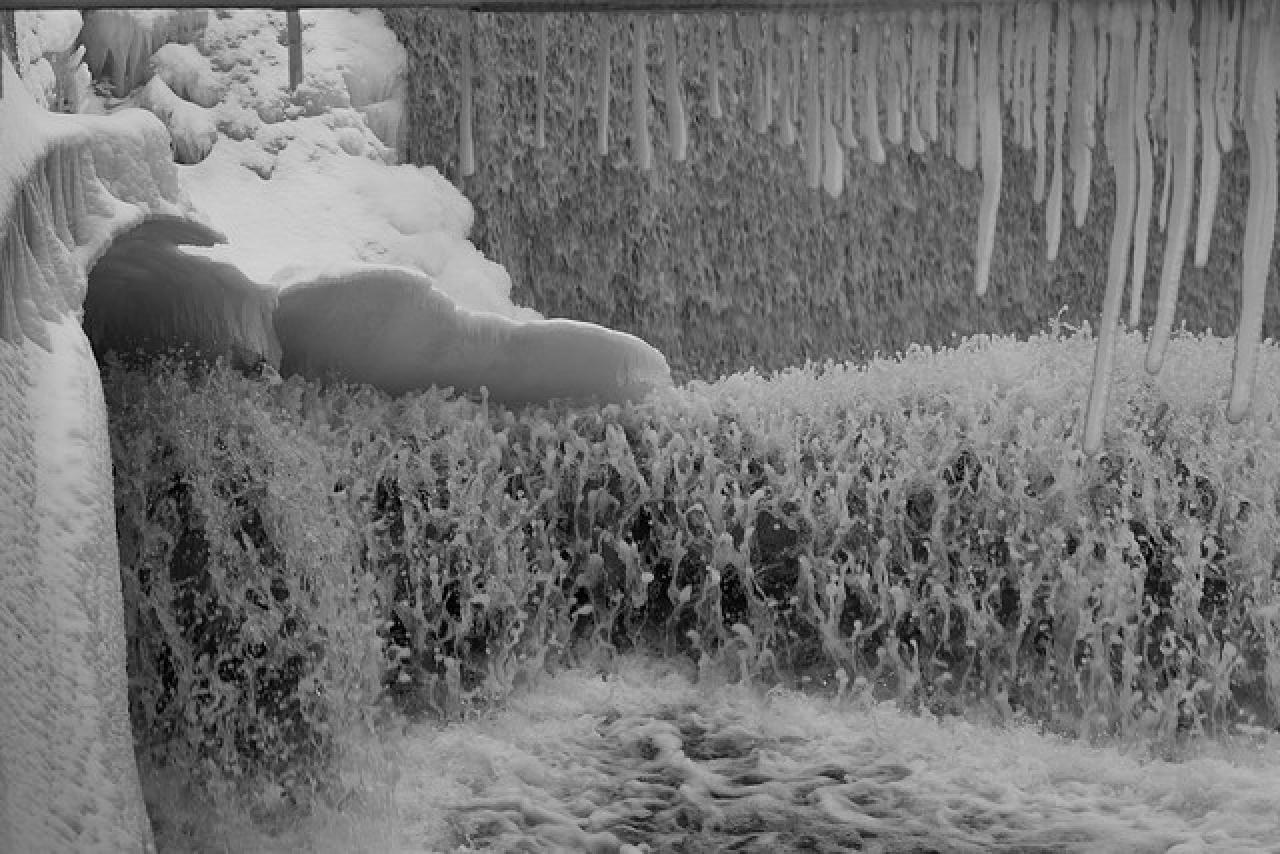 Inside the Frozen World; water takes on new form and fascinating texture as snow and ice. Photo taken at Coon Rapids Dam Regional Park in Coon Rapids, MN by Tom Reiter.  
Bears sleep deeply in their dens, groundhogs hibernate in winter burrows, and life in the river slows down under a layer of ice. For some, cold signals a change of pace. How does the changing nature of the winter river impact you? In what ways does its ice and snowy landscape inspire you? We'd like to know.
Write to the River is a creative writing project to inspire artistic engagement with our river environment. We invite you to share an original poem or short prose response to seasonal images along the Upper Mississippi River. Our winter 2018-2019 photo prompt by photographer Tom Reiter features a dynamic scene of water in its many forms.
No previous creative writing experience is necessary and all ages and styles are welcome — short prose works, free verse, formal verse, your own verse!
All submissions will be published in our fall edition online. We may also showcase some submissions in future issues of Mississippi Messages, our biweekly e-newsletter. Sign up to get each season's prompt and news of edition releases.
Need a few ideas or prompts to get started?
-  List the first words that come to mind.  
-  What story is being told? What is the subject?
-  What feelings are evoked? Does it remind you of a past experience?
-  Imagine being here — what sounds, smells and tastes might you experience?
Ready to share?
Email your piece to writetotheriver@fmr.org by February 1, 2019. Please include your name and address (or at least city and ZIP). And if you're under 18 years old, please include your age and a contact number where we can reach a guardian or parent in case we're able to publish your work.
Submit your piece in whatever fashion works for you, in the body of the email or attached as a .pdf, .doc or .docx. Remember, this is a friendly call for submissions. There is no grading, only appreciation.
Happy writing to the river! We look forward to hearing from you.