Write to the River — Winter 2018 / 2019 Prose & Poetry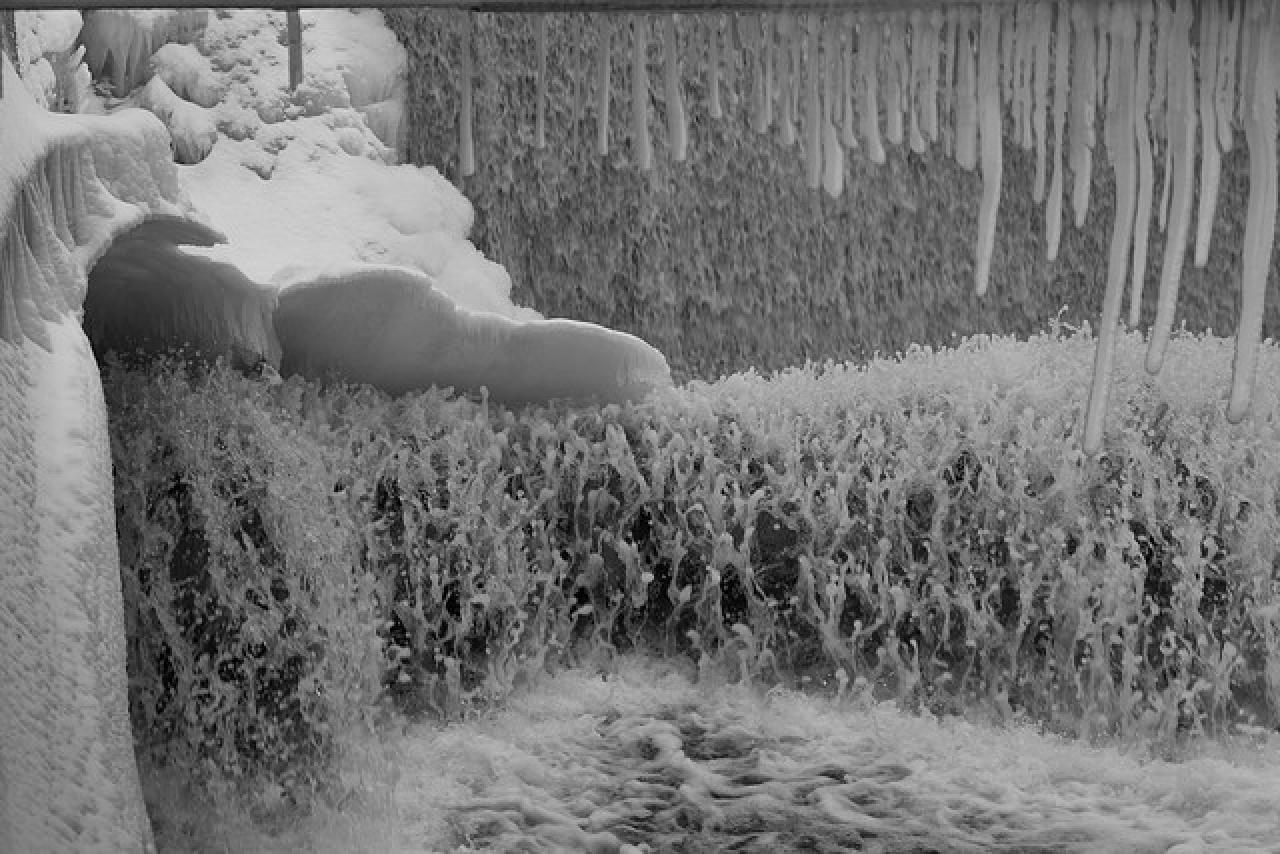 Inside the Frozen World; water takes on new form and fascinating texture as snow and ice. Photo taken at Coon Rapids Dam Regional Park in Coon Rapids by Tom Reiter.    
Our winter 2018-2019 photo prompt by photographer Tom Reiter features a dynamic scene of water in its many forms. The frozen Mississippi River invites us to pause for a closer look, and our winter submissions eloquently capture the unique aspects of the river through winter's lens.
We invite you to delve into this season's writing and discover some of the ways our river speaks and inspires deeper connections.
Write to the River is a creative writing project to inspire artistic engagement with our river environment. Each season, we invite all readers to share an original poem or short prose response to seasonal images along the Upper Mississippi River. Our next photo prompt and call for creative writing submissions will be in the March issue of our e-newsletter "Mississippi Messages."
Frozen River Song 
water laced
falling state
chaste flow 
droplets dropped by fate
awaiting latent pow'r
hard and impenetrable
by light
melt-able 
this crush, a flood,
a deluge come spring
lace undone
a torrent freed to sing 
By Christine Yaeger
The Big River
Its waters are music—moving, but still.
Ripple by ripple, note by note flowing,
But only present, each note at a time.
 
Its waters are film—emulsifying 
The mood of each season: red ochre
In autumn. In winter white, like bolt steel.
 
It sponges the marshland, sending it south
In a serpentine ribbon that never
Spools out—a sentence unfinished until
 
It finds its mouth. It has only one mind, 
To move and keep moving; relentlessly
Stirring everything in its path. Its banks
 
Are a border It disdains to obey;
Levees collapse at its watery will.
It haunts my sleeping, the ghost of a thought—
 
Almost eternal, like a god, or rock.
By Paul Wilson
Winter Magic
Icy chaos frozen in time winter's magic.
Dancing slowly gaining speed patiently waiting 
Crisp and pure full of life race to shore.
Deafening silence Summers no more.
By Raynette Prince 
Water Conditions 
Halfway between Autumn and Spring, 
halfway between the equator and North Pole, 
and halfway along a rock ledge, 
the water has a decision to make… 
vapor, or liquid, or crystalline. 
The possibilities all dance together 
in the spill of the river. 
On the other hand, why choose? 
If you can decide both ways 
and get the middle too… go for it 
before conditions change. 
Water gets magical results that way. 
I've tried shape-shifting a few times. 
It's harder than it looks. 
By Jim Larson
The River in Winter
The river in winter…
Floating ice, like fine French lace,
Swirls and twirls
  looping this way and that
  forming strong yet delicate patterns
Moved by unseen forces of current and cold.
Circles, spheres, angles,
Jut from frigid waters,
Sometimes touching,
Sometimes joining,
Before breaking, cracking, disconnecting 
  on their way downstream.
Like the humans watching from shore,
Faces wrapped in wool against the weather,
The frozen doilies long for warmer climes
Where freedom is released into 
  dancing and flowing form.
From the barren tree limbs, 
The eagles watch this movement 
Marking the days with their piercing eyes,
Watching, waiting for the spring
  that will arrive in its own time.
Winter's River, Coyote Road
from 
black bark 
n' river gray 
betwixt 
cold form n' 
shadows made
on hard ground
n' trail betray'd
by ice n' storm
n' cold rays:
burnt leaves
brushed 
th'r backs
they cut 
for course
long legged
n' lean
n' stop amid
held fast frozen 
waves n' faced the 
wind brave n'
unafraid
Motion in Stillness
River,
We are frozen.
Too cold for anything but huddling under blankets of snow
Waiting for Spring.
River,
We are moving
Dreaming crystalline dreams
Scheming crystalline schemes
Waiting for Spring.
By Eli Effinger-Weintraub
Pancake Ice
I walked across the Lake Street Bridge yesterday morning with a stiff wind blowing in my face. I was late to visit a friend on the other side, but stopped to look over the railing for a minute anyhow - because pancake ice was forming! 
From more than 60' above the water, I could see how the ice crystals crashed into each other, connected, and then grew bigger. I could see how they became round and oblong plates of ice with pretty, curled edges. The pancakes ranged in size from a few inches across, to a few feet. They were separated by ribbons of cold, dark water. 
I watch the Mississippi River every day: its relentless flow, steep slopes, towering trees, and soft grasses.  In winter time, it is as alive as ever. Ice forms, thickens, thins, and melts away. The river is never stagnant. If we're lucky, snow piles up along its shores and is sculpted by the wind. Animals nest, burrow, and breathe. Eagles, owls, and songbirds swoop. I come to the gorge when I need to be still: walking down the slippery limestone steps at 27th Street, and stepping over the chain link fence with the grace of a lumbering bear. 
Truthfully, I often like it better down here than in the world above. To live in a big city, and to live well, many of us need these bumpy trails that lead into the gorge. To be able to enter this place where we can watch ice forming on a winter day; to witness the changing seasons; to be quiet and small and free. 
By Margie O'Loughlin
Untitled
WHITE.
              WATER.
                          SUSPENDED IN AIR.
THICK.
               ICICLES.
                                 DANGLE FROM A LAIR.
FROZEN.
                BACKGROUND.
                                         OF SPLASHES.
                                                                     WHO SHARE.
                                                                            A TOPPING OF SNOW.
                                                  SHAPED LIKE A HAT.
                PROTECTING ALL
THAT LIVES BELOW.
By Kim Carpenter
Frozen Dance
Frozen dance captured gasps regaled enthrall picture it all
Black and white blend to blue fading in the hidden hue
Crystalline cold rigid flow timeless in its final throw
Warm eyes peering not diminish till stole away,  by warm of a new day
By John Thomas
Interested in submitting your work? See our main Write to the River page for our seasonal open calls.