Your input sought on North, NE Minneapolis riverfront plans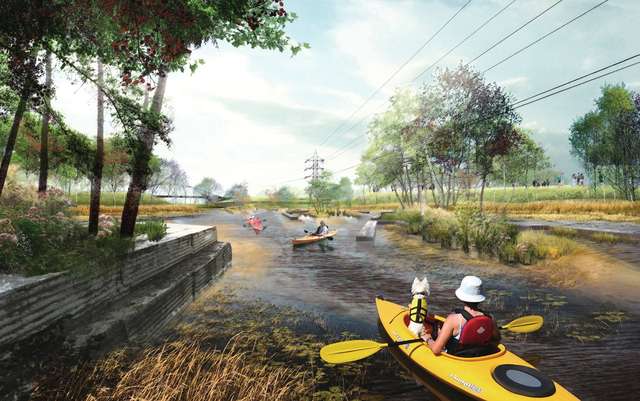 Graphic by TLS/KVA
The Minneapolis Park & Recreation Board wants to hear what you think about a set of proposed new riverfront parks and trails for north and northeast Minneapolis known as Minneapolis Riverfront Design Initiative or MRDI.
This February, the RiverFIRST proposal from partnering firms Tom Leader Studio and Kennedy & Violich Architecture (TLS/KVA) won what was then known as the Minneapolis Riverfront Design Competition. Upon its selection, the project shifted from "Competition" to "Initiative" mode, becoming the "MRDI." Over the past three months, MRDI designers have been meeting with community leaders and stakeholders to further refine RiverFIRST.
Since, the designers have narrowed the scope to four potential demonstration projects (described briefly below and in more detail on the MRDI website), developed an online survey and set up a trio of public meetings this July and August.
Overview of the four demonstration projects
Scherer Park
A new park located on 10 acres on the east side of the river, just north of the Plymouth Avenue Bridge. The MRDI Scherer Park concept includes a restored Hall's Island, a large sunny beach, canoe and kayak access, a swimming barge, stormwater-treatment features and mixed-use development on the east side of the property.
Farview Land Bridge Connector
Designed to connect north Minneapolis residents with the river, the Farview Land Bridge Connector would provide a green, pedestrian-friendly route from a high point at Farview Park to the river's west side. A large land bridge would cover I-94 from 26th to 28th Avenues North and enhanced connections along 26th and 27th Avenues North would create trail access through an improved industrial park to a public fishing pier.
Wetlands/Green Port
The Wetlands/Green Port demonstration project would include major changes to the Upper Harbor Terminal, a 48-acre site owned by the City of Minneapolis currently in use as a port for transfer and storage of commercial products. The MRDI concept calls for creating a restored wetland park with innovative use and stormwater treatment on the property's southern half with port operations consolidated on 12 acres at the northern end.
East Side Riverfront Park
The East Side Riverfront Park concept looks at incremental but substantial changes to the riverfront from the railroad bridge at approximately 16th Avenue Northeast to the Xcel plant at approximately 28th Avenue Northeast. Changes to the riverbank topography would incorporate day-lighted stormwater "creeks" and ravines, punctuated by dramatic river overlooks. Existing parks — Gluek, Edgewater, Marshall Terrace — would be connected by trails and existing businesses would be incorporated into the plan or gradually replaced.
Full descriptions of the demonstration project concepts can be viewed on the MRDI site.
FMR's perspective
FMR has been an active participant in the MRDI process and is largely supportive of the RiverFIRST proposal. We believe it has generated a lot of energy and enthusiasm for moving forward with new riverfront parks above St. Anthony Falls in Minneapolis.
In early July, we submitted a comment letter on the proposed demonstration projects. Many complimentary comments were included, lauding RiverFIRST's emphasis on getting people to the water, improving access for canoes and kayaks, restoring wildlife habitat, and enhancing water quality through innovative stormwater treatment. We also offered constructive suggestions to modify the proposals in some cases, and provided possible alternatives.
For FMR, the top two priorities are Scherer Park, along with the surrounding park and trail connections and the designation of new parkland at the city-owned Upper Harbor Terminal. In our comments we suggested that Scherer, BF Nelson Park and Boom Island parks should all be part of a larger, unified park design that better connects the Central Riverfront to the river north of downtown. We also expressed concern about the "Green Port" concept, preferring to stick with current city and park board policy, which anticipates closing the Upper Harbor Terminal and redeveloping the site for parks and housing. We also explained that although we love the idea of a land bridge to connect the city's northside to the river, we would want to see a range of alternatives and locations for doing this so it is cost-effective.
FMR's comment letter is available here. If you have questions about any of FMR's comments, please contact River Corridor Program Director Irene Jones at 651-222-2193 ext. 11 or by selecting her name under "Category" on our contact form.
Contribute your voice
Attend an upcoming MRDI public meeting: "What's up on the Upper Riverfront?":

July 19, 7-9 pm, North Mississippi Regional Park, 4900 Mississippi Court
July 28, 7-9 pm, Bottineau Park Recreation Center, 2000 2nd St. NE, or
August 4, 7-9 pm, Farview Park, 621 29th Ave. N

A PDF flyer for the meetings is available here.
For more information
See the MRDI website for a slideshow of the project, for more information on upcoming meetings, agendas and minutes from previous meetings and more.
Download FMR's comment letter to the MRDI.
Contact River Corridor Program Director Irene Jones at 651-222-2193 ext. 11 or by selecting her name under "Category" on our contact form.