Cottage Grove Ravine Regional Park — South Washington County Stewards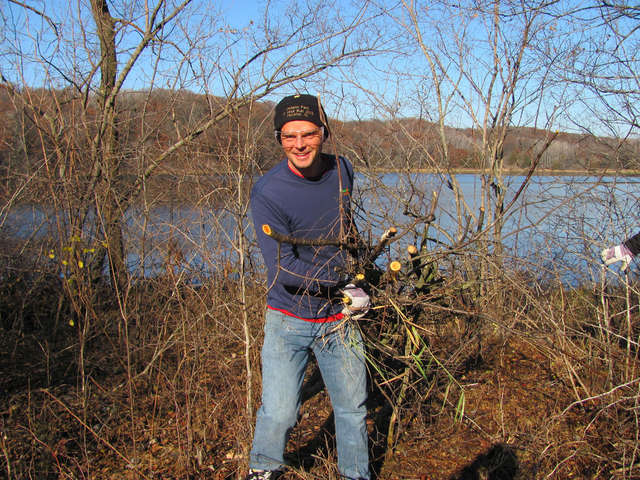 Located in southern Washington County, Cottage Grove Ravine Park is a beautifully diverse landscape consisting of 515 acres of hills and heavily wooded ravines, with a smattering of clearings of old field and prairie. Due to the park's varied topography, its slopes receive a variety of sun exposures, creating a compelling array of vegetation and habitats.
Ravine Park is predominantly a buried glacial tunnel valley formed by melting water that flowed under the ice sheet during the Wisconsin Glaciation. The ravine for which the park is named is about a half-mile wide with 80- to 100-foot slopes, and bisects the park north to south before ending in Ravine Lake. The lake, boasting of walleye and largemouth bass, is a pleasant place to fish, as well as a great location for birdwatchers to spot herons, egrets, hawks and eagles. Additionally, Ravine Park offers a year-round shelter with restrooms, hiking trails, paved trails, cross-country ski trails and a play area, all of which engage a number of park users throughout the year.
Importance of Ravine Park
Cottage Grove Ravine Park connects to properties owned by 3M, creating a pattern of natural areas across the landscape that forms a green corridor connecting to the Mississippi River. This corridor provides important habitat for wildlife and aids in protecting water quality. Ravine Park also has a nice diversity of habitats that are important to preserve and restore for a greater variety of wildlife.
Issues at Ravine Park
Historically, the slopes at Ravine Park were covered by oak woodland and savanna. Nineteenth-century accounts of pre-settlement vegetation suggest the park formerly was dominated by hardwood forest made up of primarily basswood, elm and oak. However, this historical vegetative cover in the park continues to decline due to proliferating invasive species. Outcompeting native plants for nutrients, light and space, invasive species inhibit the growth and health of native species. The degradation of native habitats adversely affects wildlife as they struggle to adapt to an unnatural landscape.
Specific invasive species of concern in Ravine Park include: buckthorn, black locust, garlic mustard, honeysuckle, Kentucky bluegrass, reed canary grass and smooth brome.
Restoring Ravine Park
In 2012, Friends of the Mississippi River began work to help restore the park back to a more healthy and self-sustaining condition. The park is currently overgrown, so we have focused on and will continue to focus on invasive woody removal. The larger picture of our work includes restoration of oak savanna and prairie throughout the park.
In the 2013 season, FMR offered public tours of the park, as well as volunteer opportunities to continue the restoration of this breathtaking site. While not part of Ravine Park, there is also a nearby prairie and oak woodlands area vollunteers will be invited to tour and restore on the 3M-owned end of the same tunnel valley formation. 
If you''d like to be notified of upcoming events in or near Cottage Grove Ravine Park please let us know! Contact FMR Volunteer Coordinator Amy Kilgore at akilgore@fmr.org or 651-222-2193 x31.