Bite Back: An edible invasives potluck
Thursday, May 30, 2019 - 6:00pm

to

Friday, May 31, 2019 - 7:45pm
Water Bar & Public Studio, Minneapolis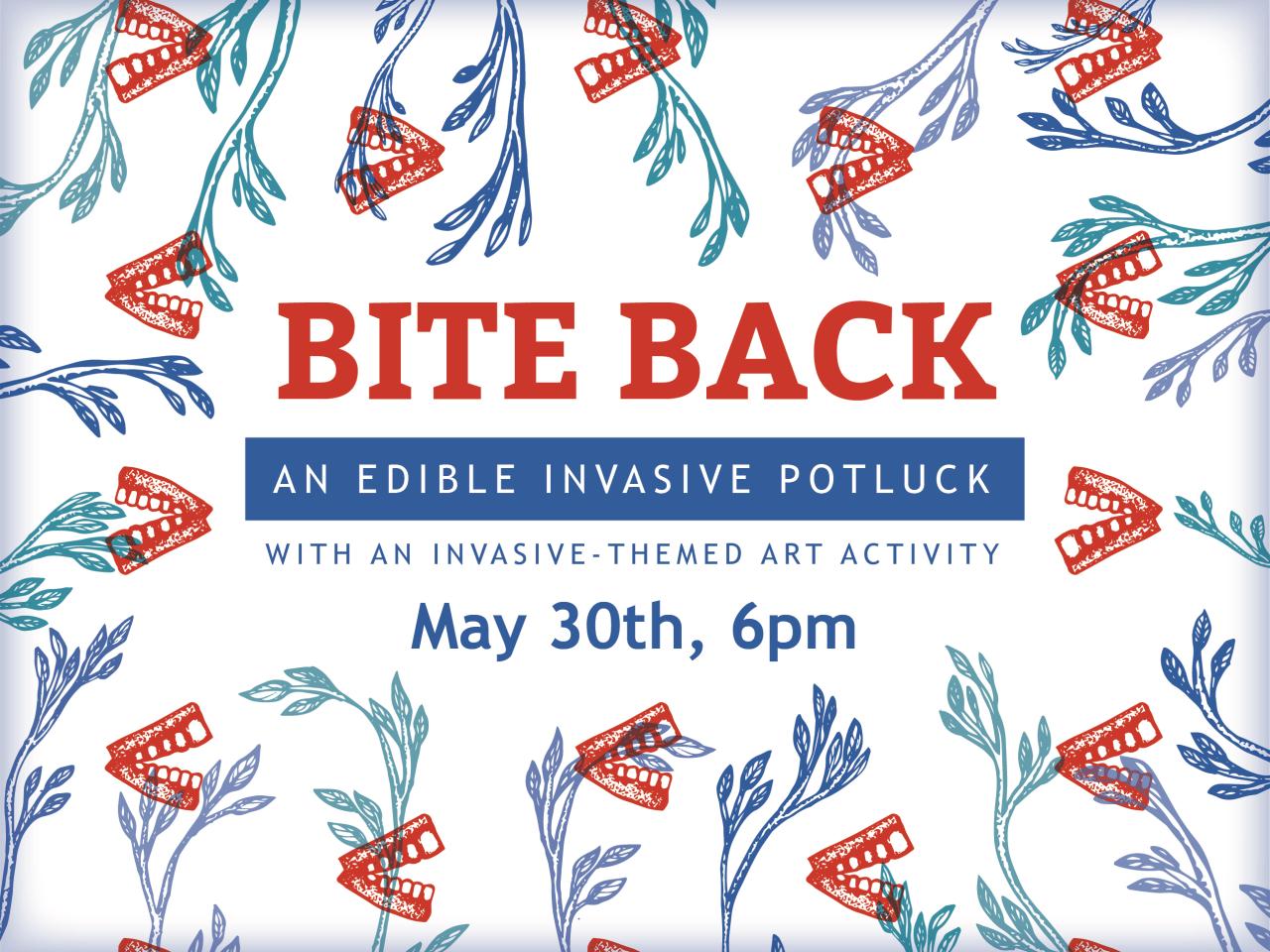 It's garlic mustard season, so we're throwing a potluck to bite back at the spread of invasive species.
Bring food to share (edible invasive dishes encouraged, but not mandatory), your own plate and utensils, and an edible invasive recipe to contribute to our crowd-sourced invasivorism cookbook, designed by local artists and event hosts Kimberly Boustead and Emily Sauer. We're teaming up with Kimberly and Emily to hold this event at Water Bar & Public Studio (2518 Central Avenue Northeast in Minneapolis).
While we feast on homemade garlic mustard pesto, quiche and more, Friends of the Mississippi ecologist Alex Roth will tell us how garlic mustard and other invasives impact the Mississippi River and local ecology.
Get ready for invasive-themed art projects, awards for all, a Bite Back photo station and more. We're excited to see what you cook up!
Please RSVP here so we have seats at the table for everyone. It's free! If you're under 18, we'll need your parent or guardian to sign a waiver. Questions? Email erogers@fmr.org.
***
Not sure where to start? Here are a few local edible invasive species:
-Garlic mustard
-Burdock
-Mullein
-Japanese Knotweed
-Lamb's quarters – naturalized species that doesn't pose many issues
-Dandelion – naturalized species that doesn't pose many issues
-Common and Asian carp
And here's a recipe collection care of Eat The Invaders to inspire.
Want to know more about invasive species and their impact on our local habitat and wildlife?
Invasive species: Why do they matter? 
Invasive species walk: a quick video tour of four invasive plants in the Twin Cities
Where can you find edible invasives? 
Invasive plants are common. Learn to identify one and you're likely to see it locally soon after. In fact, many people spot them in their own backyard, a friend or family member's property or in a community garden. These are great places to pull invasives, where you can easily get permission to pull. You don't have to feel shy about bringing your trash bags with you. (Both for hauling your bounty and to prevent accidental spread of seeds or plant parts; always dispose of unused invasive plants properly in the trash for material containing flowers or seeds.)
To learn to identify and pull garlic mustard — a plant that's especially common, easy to spot and has been described by the New York Times as "Evil, Invasive, [and] Delicious" — consider signing up for a "Garlic Mustard May" volunteer outing with ecologist Alex Roth and other staff from FMR.
We can pull some for you! Swing by Water Bar and pick up some fresh garlic mustard greens Friday 5/24 from 10:00 a.m. to 4:00 p.m. or Saturday 5/25 from 10:00 a.m. to 12:00 p.m.
Note: By attending this event, you acknowledge and assume the risk associated with your voluntary participation in this event, where food is provided by participants. You assume full responsibility for your health and wellbeing and for any bodily injury or illness associated with the consumption of any such food products. These products are homemade and not subject to state inspection.
Thank you to our partners and funders:
Water Bar & Public Studio + Local artists Kimberly Boustead and Emily Sauer