St. Paul approves Ford site plans without additional parkland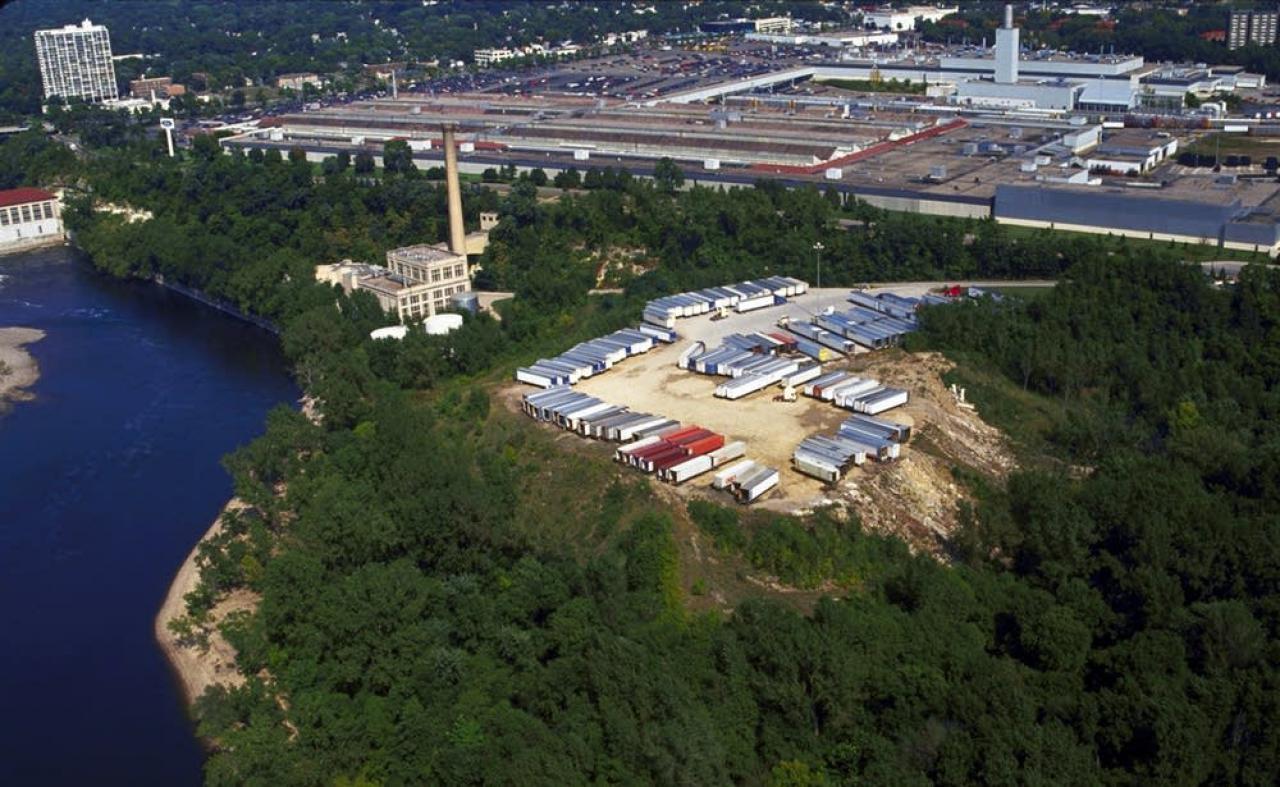 Although FMR supports the overall plans to redevelop the Ford manufacturing site, we're disappointed the city declined to add more river-bluff parkland. (Photo used with the permission of the Metropolitan Design Center. ©Regents of the University of Minnesota)
October 15, 2017
This September, the St. Paul City Council approved the zoning plan for the Ford site, giving the go-ahead to redevelop the 135-acre river-bluff site without requiring additional parkland.
FMR has been involved in the Ford planning and public engagement process for 10 years and supports many of aspects of the plan, such as its density, green design and innovative stormwater features. But, along with many Highland Park neighbors, we had asked the city to seize the opportunity to expand Hidden Falls Regional Park. In our proposal to the city we called for additional acreage at the blufftop and the realignment of Mississippi River Boulevard eastward at the southern end of the Ford site.
As this would be an expansion of a regional park, the city could likely access regional funding for a portion of the acquisition costs, thus freeing up local dollars to increase neighborhood parks throughout the site.
While the Ford Task Force and planning commission voted to include our parks proposal in the plan, the city declined, arguing that it should not be shown in zoning documents since acquisition funds for the blufftop parcels could not be guaranteed.
"We're disappointed," said FMR Executive Director Whitney Clark. "Inclusion of the park expansion in the plan would have sent a strong signal that the city understands that the river belongs to all of us and public access to the river will be a priority when this site is redeveloped."
FMR will continue to advocate for the park expansion alongside community members. When Ford sells the property to a developer, a development plan will have to be submitted to the city for approval, providing a potential opportunity to revisit the issue.
Toxic dump investigation ongoing
FMR also continues to track the investigation of the toxic waste dump known as "Area C" on Ford's river parcel below the bluff. Home to solvents, paint sludge and other industrial waste, the dump is on the floodplain of the Mississippi River. Currently capped with a concrete pad, it is being investigated by Ford under guidance by the Minnesota Pollution Control Agency.
"Private interests are going to reap handsome rewards from this redevelopment," said Clark. "We want to make sure the public gets something too. Cleaning up the toxic waste and creating a new blufftop park seem like the least we can do."