Swing Bridge Park: Our newest restoration & volunteer site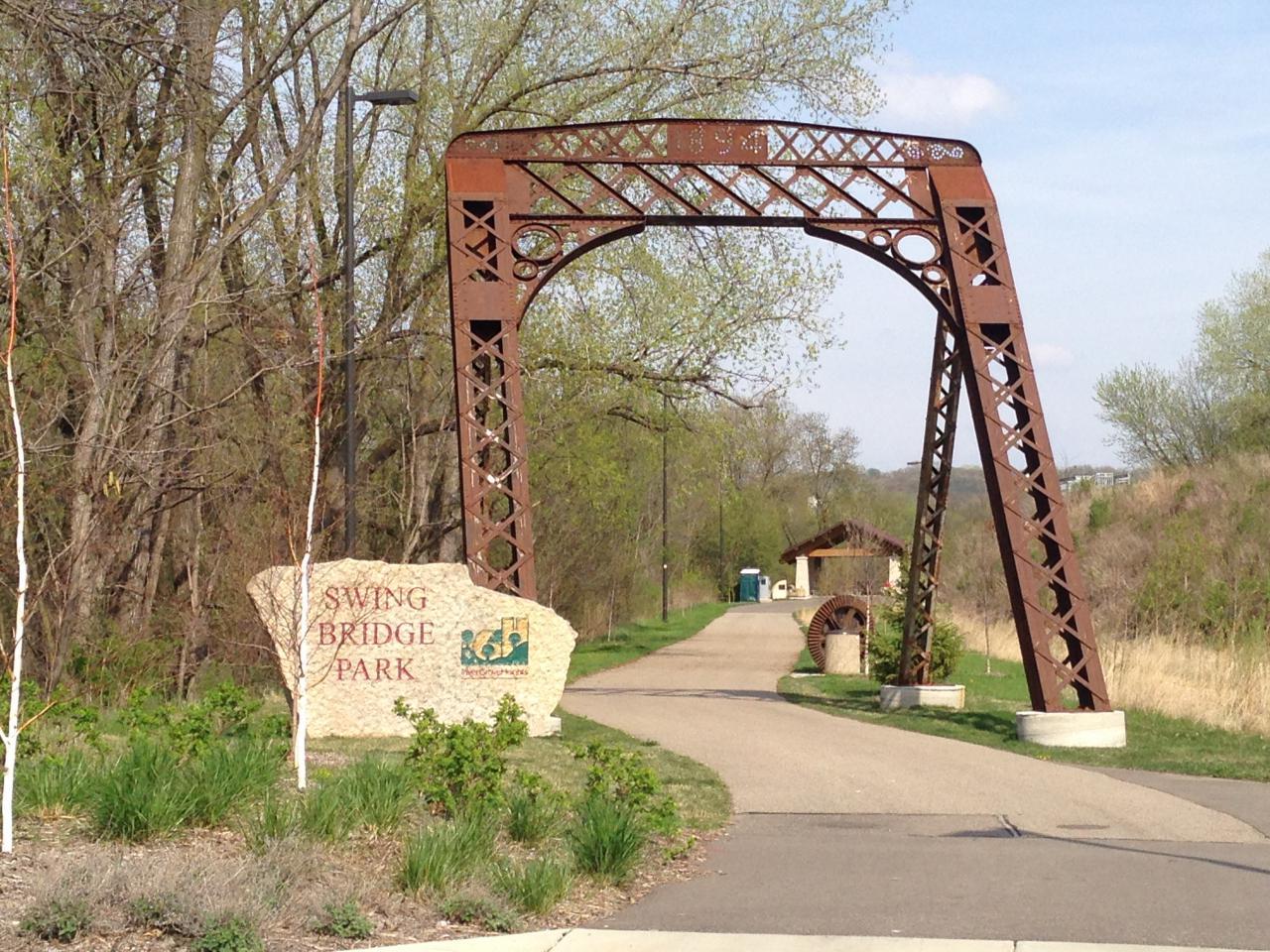 Rock Island Swing Bridge Park provides a unique river experience, combining historic preservation and ecological restoration along today's working river.
Located just 15 minutes south of St. Paul along the Mississippi River in Inver Grove Heights (map), the park features a span of the original Rock Island Swing Bridge. Constructed in 1894, this unique bridge was originally a double-decker, supporting trains on an upper deck and automobiles below. Over the years it deteriorated until closing for good in 1999. Neglected, sections of the bridge finally crumbled, literally falling into the river and along the riverbank in 2008. Thanks to community members and local officials, with a little support from FMR River Corridor advocacy staff, a portion of the bridge was preserved as an observation pier and a new riverfront park was developed complete with sections of track and an archway from the original bridge to honor the site's history. 
From the pier, visitors can experience a variety of facets of river life: a modest marina, home primarily to smaller boats, the silver stacks of a nearby refinery, small islands and backwaters, and a floodplain forest full of chorus frogs, eagles, cormorants and other wildlife. 
In 2012, FMR began writing a natural resource management plan to guide ecological restoration at the park. Work to restore the floodplain forest and nearby prairie stretches began in 2013. Invasive shrubs like buckthorn and honeysuckle have now been largely removed, thanks to professional crews, with native plants installed and seed cast to help re-establish the plant communities that once thrived here. In April 2016, the prairie unit was burned, helping the native plants continue to establish and to keep buckthorn and other invasive species at bay.
Over the past few years Inver Hills Community College students have assisted FMR ecologists with special projects, including an experimental floodplain restoration project to establish young cottonwoods near the swing bridge and collecting native plant seed from a nearby natural area to cast at the Swing Bridge site.
Now FMR is excited to host our first public volunteer event at our newest riverfront restoration site! Saturday, June 4, 9-11 a.m. volunteers are needed to work with FMR staff, helping to haul and remove buckthorn and other invasive species, tend native prairie plantings, and complete other important tasks as needed. All supplies are provided, but registration is required as capacity (and tools) are limited. Sign up with FMR Volunteer Coordinator Amy Kilgore, akilgore@fmr.org, for directions to the correct meeting spot and further details. And if you can't make it but would like to be informed of future volunteer activities at this site, Amy would be happy to add you to the list for next time!