Young river stewards hit it out of the park once again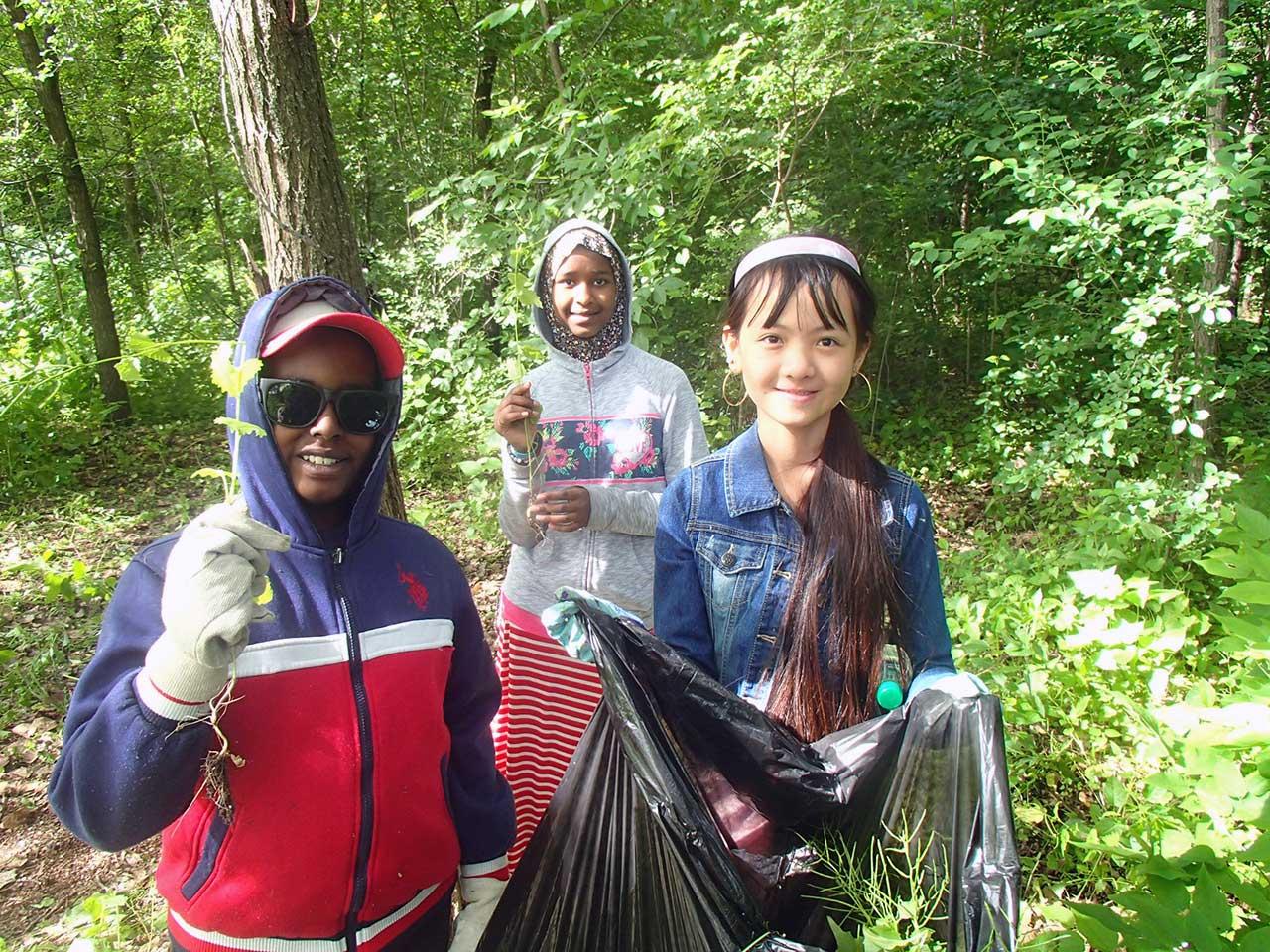 Andersen United Community School students have removed garlic mustard from the Minneapolis gorge for the past three years. This year, they beat the FMR record for amount of plants removed at one event. In two hours, 82 students removed 23 bags of garlic mustard.
November 8, 2018
This year, young FMR volunteers stenciled over 2,200 storm drains with educational messages, distributed over 5,500 related educational flyers, collected trash throughout Twin Cities parks, and helped not only restore habitat along the river, but research the best ways to keep it healthy in the future.
Thanks to these young river stewards for all they contributed through our education and stewardship programs!
Stenciling for water quality in St. Paul
Stenciling messages next to storm drains is an effective way to spread the message that our storm drains are directly connected to the river.
Seeing "Keep 'em clean, Drains to river" painted on our street corners reminds us all that there is no magic filtration system — whatever we see along the curb, gutter or roadside gets carried into the river when it rains.
Road salt and cigarette butts are some of the worst pollutants. But leaves, grass, fertilizers, pesticides, oil, gas, paint, antifreeze and everyday trash pollute the river too. As volunteers stencil storm drains, they also clean the area around them and distribute flyers to nearby homes and businesses full of pollution reduction tips.
Despite a rainy season, we stenciled 2,224 drains this year and distributed 5,738 flyers. That means we stenciled 10% of the drains in St. Paul, exceeding our goal for the year.
Many small groups used our stenciling kits to pitch in. Other larger groups came out accompanied by FMR staff. A special shout out to the six volunteers who checked out a kit and worked around Metro State University, stenciling 88 drains and handing out 210 flyers.
Invasive species removal
Students pulled invasive willow and gathered data for FMR's ecologists at Indian Mounds Park.  
As many FMR supporters are aware, invasive plants have drastically changed Minnesota's landscape. FMR volunteers often remove garlic mustard and buckthorn throughout the metro area. 
This year 399 youth donated their time to help maintain areas with invasive species. These youth spent 833 hours battling buckthorn, garlic mustard, Siberian elm and new plants on the scene. 
Spring was garlic mustard removal season. For the third year in a row, fifth grade students from Andersen United in Minneapolis topped the charts. They removed 23 bags of garlic mustard from the river gorge. This puts them ahead of their own record of 15 bags from last year.
Upriver, students from DeLaSalle GREEN Team removed garlic mustard from along the bike path on Nicollet Island. This was the first event for our restoration area on the island. Thank you to the GREEN Team for helping to kick off events in the area.
Some groups decided to combine a few of our program offerings. One Longfellow Girl Scout troop even tabled at our Earth Day cleanup on West River Parkway. After learning about garlic mustard from FMR staff and creating displays and presentations, the scouts brought their knowledge to share with other volunteers.
Of course, they were determined to get their hands dirty too. The scouts pulled four bags of garlic mustard from the gorge.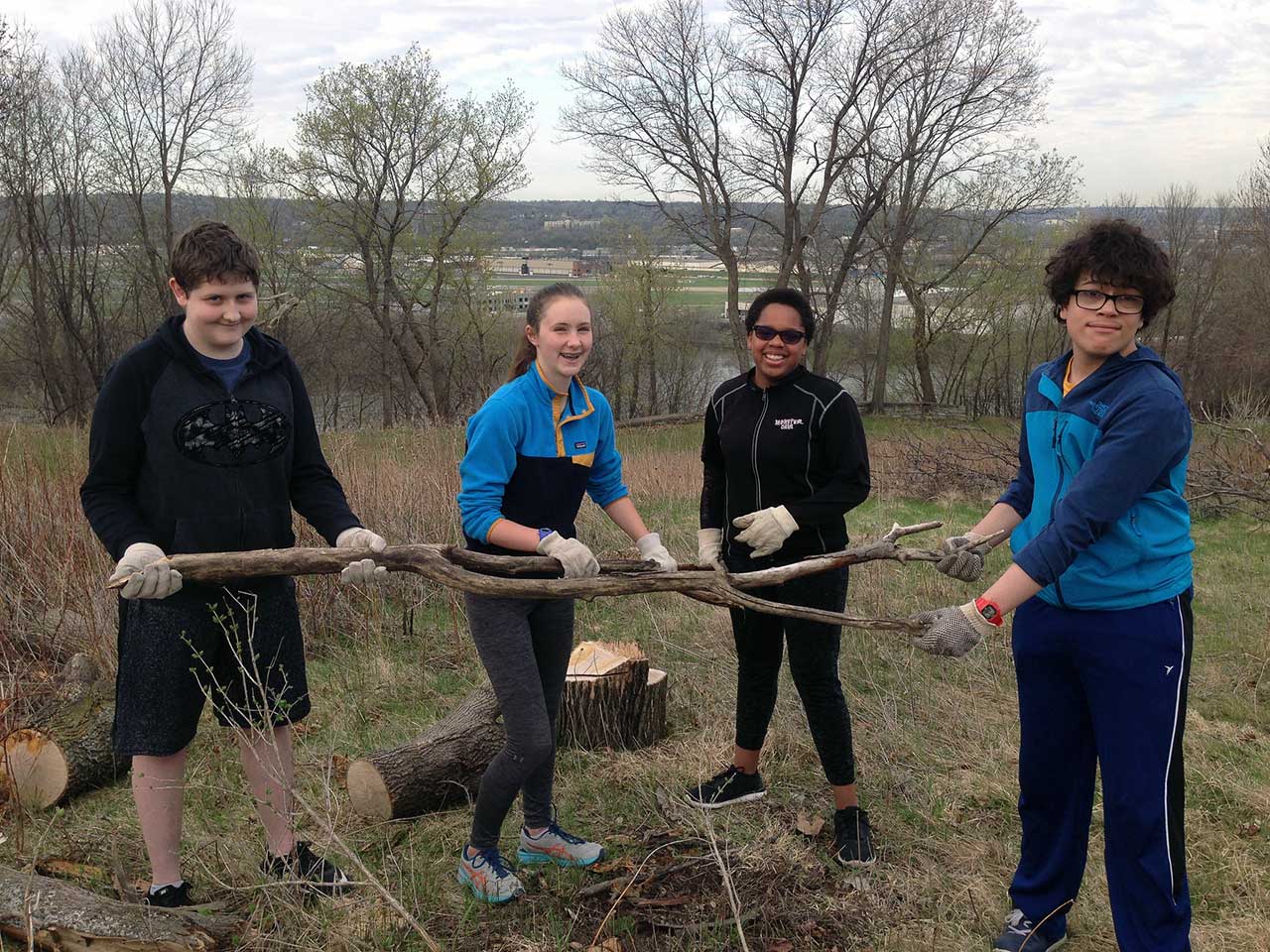 Open World Learning Community (OWL) students prepped Indian Mounds Park for planting in May.  
Cleanups along the river
In addition to our annual Earth Day events, FMR helped organize cleanups in St. Paul and Minneapolis for three youth groups.
Over 80 young people donated 137 hours to help remove litter that would otherwise wash into the river. Many of these students were from the University of Minnesota. For the second year in a row, they volunteered to hold riverside cleanups. Some of these students even organized a second outing with our staff, volunteering twice this year. A big thank you to these dedicated students at the U.
Classroom education
While we always enjoy the outdoors, FMR spends plenty of time inside classrooms too. So far in 2018, we've engaged over 1,300 students in indoor programs about watersheds, wetlands, invasive species and erosion.
Many of these students also stencil, clean up trash or help restore habitat, putting what they learn into action.
Team up with us this winter
Even though the outdoor event season is over, if you'd like to connect about an indoor program for a classroom or youth group, let us know! Most programs are an hour long and include a hands-on activity. To learn more, check out our menu of offerings or contact FMR Youth Coordinator Kate Clayton at kclayton@fmr.org.