Nicollet Island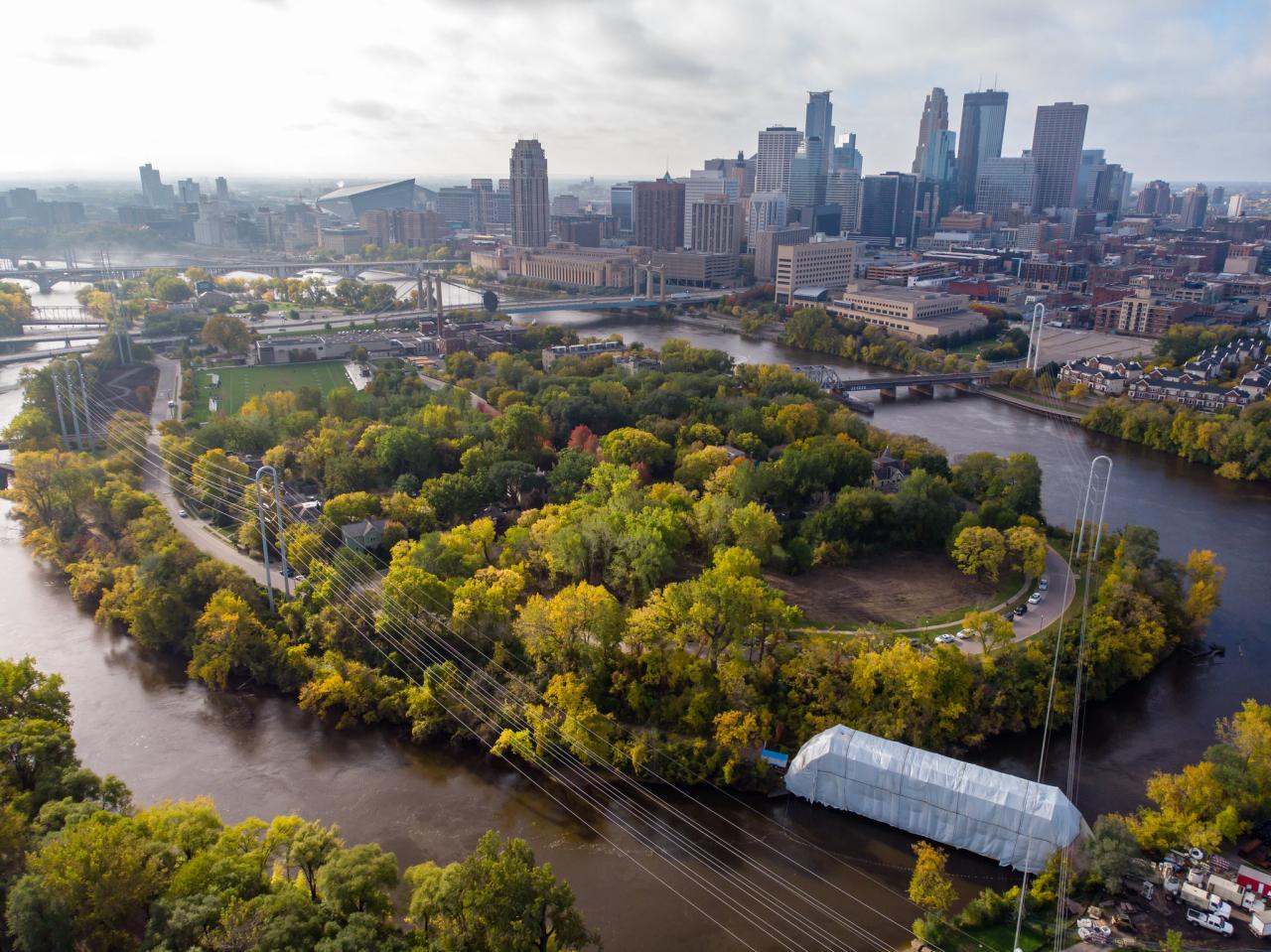 Where is Nicollet Island?
Nicollet Island is a partially naturalized island in the Mississippi River near downtown Minneapolis, just above St. Anthony Falls. A network of trails and bridges connect the island with St. Anthony Main, downtown Minneapolis via the Hennepin Avenue Bridge and Boom Island in northeast Minneapolis.
We're restoring over 7 acres of prairie and forest habitat on the north half of the island, all owned by the Minneapolis Park and Recreation Board.
Nicollet Island is just downriver from another of FMR's urban habitat restoration projects at Orvin "Ole" Olson Park, and upriver from FMR's restoration at Mississippi River Gorge Regional Park.
The public is welcome to visit Nicollet Island Park. (See the Minneapolis Park & Recreation Board website for more info.)
Our work takes place on Dakota homelands. Learn more.
What's special about Nicollet Island?
Firsthand records from before European colonization reference dense maple forests and open pockets of grassland on the 48-acre island, in addition to the typical oak savanna and terrace forest common along the banks of the upper Mississippi River. While the forest and grassland habitat types would have been unique in the area, their occurrence there makes sense — the island's position in the Mississippi River would have shielded it from fire, creating the opportunity for denser forest to grow.
That maple forest on Wita Waste, or Nicollet Island, long provided maple sugaring sites for Dakota people before European colonization. We're dedicated to restoring maples here. When Europeans took that land, they created a hub of industrial and residential use dating back to the 1800s. Since the industrial boom on the island subsided, the north half of the island has become primarily a natural area once again, shared with historic homes.
Nicollet Island Park was designated in the late 1970s and has become a favorite place for people to stroll, picnic or catch a show. Residents and park-goers can enjoy the trails and forests on the island while taking in views of downtown Minneapolis.
The island has also provides habitat to foxes, beavers, turtles, herons, pollinators and more. In a place surrounded by dense urban development, it's all the more critical that we enhance this habitat so that wildlife can thrive in the city.
Our work at Nicollet Island
Continually changing land uses over the last century have resulted in the spread of invasive and weedy plant species, as well as erosion and other ecological issues at Nicollet Island.
We began planning our work here in 2017 in partnership with the Mississippi Watershed Management Organization (MWMO) and the Minneapolis Park and Recreation Board. We wrote a natural resources management plan for the natural areas on the island's northern half in early 2018. With additional funding from MWMO, the National Fish and Wildlife Foundation, and the Nicollet Island-East Bank Neighborhood Association, we began restoration the following year.
The goals of our restoration work are to remove invasive species, enhance degraded forest areas through increasing diversity and adding climate-adapted tree and shrub species, create new, diverse habitat — including 2 acres of native prairie — tackle erosion projects, and re-create the pocket of maple forest historically present on the island (mentioned above). This work will grow pollinator and wildlife habitat, increase climate resiliency, improve recreation, and help to reduce sedimentation and nutrient transfer, improving water quality.
Prairie restoration and demonstration prairie boxes
By replacing invasive shrubs and herbaceous plants with diverse and deep-rooted native grasses, wildflowers, shrubs and trees, we're restoring a degraded grassland and an abandoned gravel and turfgrass area to prairie. Creating two prairie nodes, each an acre in size, will drastically improve the available habitat for pollinators, birds and other island wildlife. The deep roots of native prairie species will also help to retain and filter water from roads and neighboring development before it enters the Mississippi River.
In the prairie across the street from DeLaSalle's stadium, we built a pedestrian trail to help connect the current trail from Boom Island down toward the Merriam Street Bridge. The trail winds through the prairie and will improve the recreational use of the island. If you visit, you'll be able to better experience the prairie and view the east channel of the river.
In 2019, FMR volunteers planted over 600 native prairie plants in demonstration prairie boxes along that trail, adding pollinator habitat and beauty to the island. The demonstration prairie boxes are also educational — identification plaques give park visitors the chance to learn more about the stunning array of species coming up throughout the restored prairies on the island.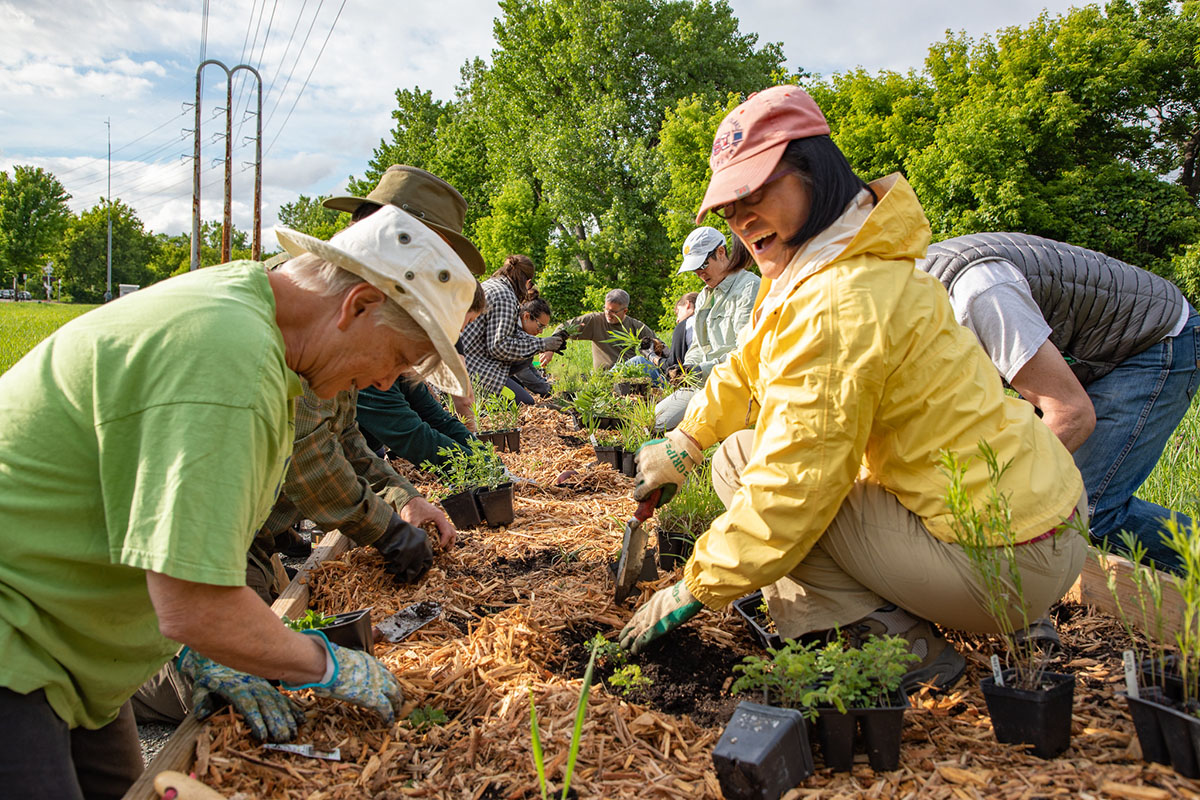 Thank you, volunteers! (Photo: Tom Reiter and Will Stock for FMR)
Forest restoration
In the island's forested areas, we're continuing to plant climate-adapted shrubs and trees — species like bitternut hickory, catalpa and American sycamore. This mix not only increases diversity but also adds near-native species predicted to increase their range as the climate warms. These species will help maintain a healthy ecosystem as the makeup of Minnesota forests changes.
To better honor the history of the island's native plant communities, we also planted a grove of sugar maple trees on the island's north tip. These maples will eventually provide opportunities for maple syruping and education, paying homage to past Native uses of the island.
Erosion control
Replacing buckthorn with native grasses and wildflowers in the forest understories also stymies erosion. To further protect fragile slopes, subcontracted crews installed natural wood erosion bars from material harvested on-site. These bars catch sediment and plant materials, building up the slopes. In 2021, we further shored up five erosion gullies on the island's east side using clean sand, rock and topsoil. We've seeded native grass and wildflower there since and will plant additional trees and shrubs.
Find out more and get involved

Monarchs and other pollinators find quality habitat in the heart of the city, thanks to our volunteers and partners. (Photo: Rich Wahls for FMR)
Partners and funders for our work at Nicollet Island
This work is made possible by BNSF Foundation, Fair State Brewing, Friends of the Riverfront, Hennepin County, ExtremeTerrain's Clean Trail Project, Marathon Foundation, Minneapolis Park and Recreation Board, Minnesota Environment and Natural Resources Trust Fund as recommended by the Legislative-Citizen Commission on Minnesota Resources (LCCMR), Mississippi Watershed Management Organization, National Fish and Wildlife Foundation, Nicollet Island-East Bank Neighborhood Association, RBC Wealth Management and Xcel Energy, and by our generous donors like you!