Think spring: Schedule your service and educational programs now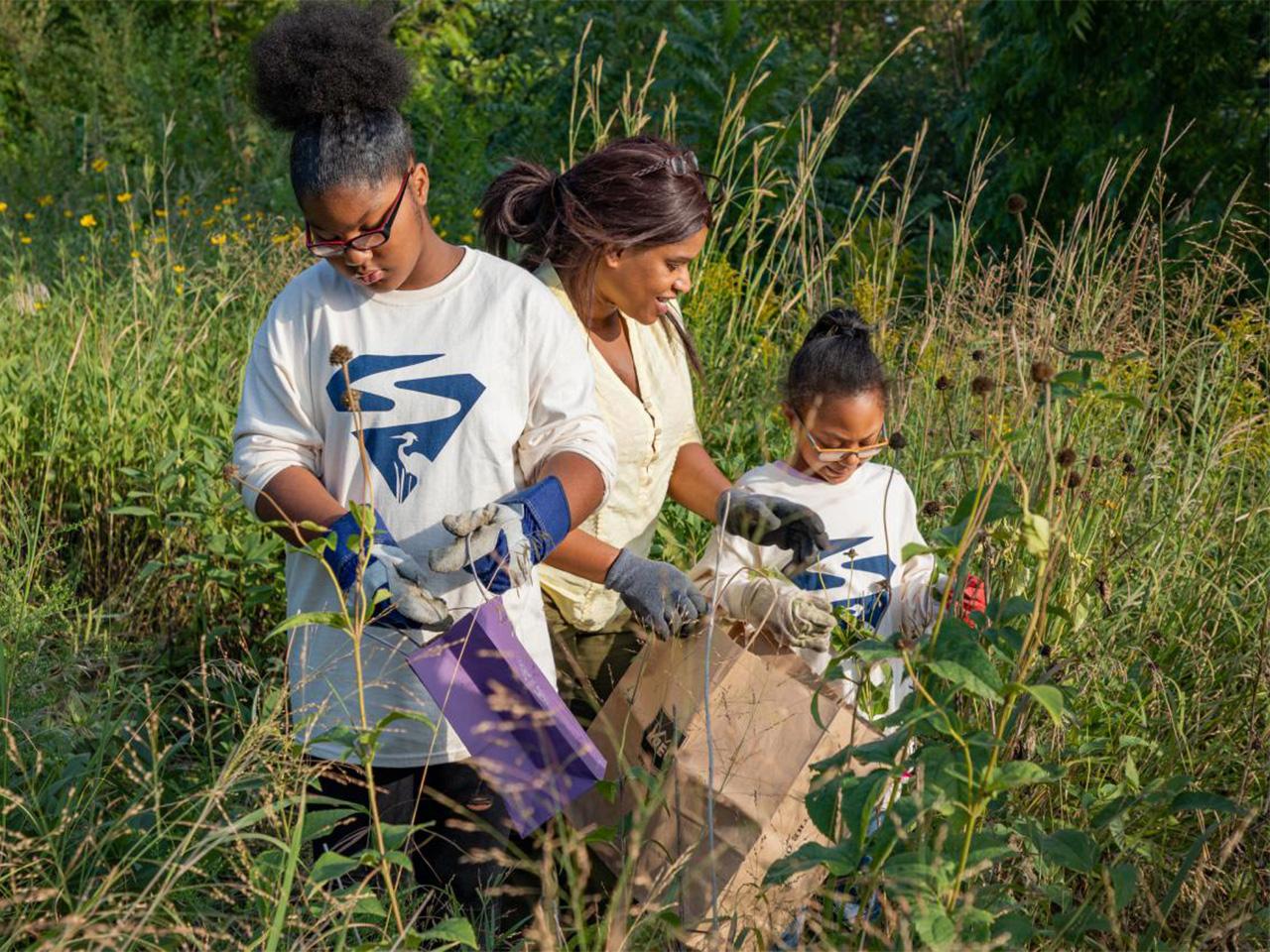 FMR works with many youth and service groups each year. Groups learn about and take care of the river through stenciling outings, cleanups and educational programming. (Photo by Tom Reiter)
February 20, 2019
Looking forward to warmer weather? We are too. FMR is looking ahead and booking for youth and group spring programs. Our education staff offers opportunities for hundreds of people each year to learn about and contribute to the health of the Mississippi River. If you're a teacher or a group looking for a service project, we'd love to work with you! Here are three ways.
Stenciling outings for groups
Storm drain stenciling is a great activity for families, clubs, classes and groups to get outside and help the Mississippi River.
Pieces of trash large and small (especially cigarette butts), winter road salt, leaf litter and grass clippings all contribute large amounts of pollution to metro waters. To reduce this pollution, FMR coordinates the storm drain stenciling program for the city of St. Paul.
Volunteers mark drains with messages about how the drains connect to the Mississippi. Then they distribute related educational materials to neighborhood residents. A typical stenciling outing lasts 1.5-2 hours and needs to take place when the streets are dry. We're now scheduling these outings for spring and summer 2019.
Learn more or schedule your outing today. 
• If you have a group of 20 or more, you can arrange a stenciling outing led by FMR staff by filling out our • stenciling request form or contacting Program Assistant Daurius Mikroberts at dmikroberts@fmr.org.
• If you have fewer than 20 people, we can help you coordinate your own outing with the FMR storm drain stenciling kit.
Trash cleanup
We're happy to work with your group to choose a St. Paul park or green space, either along the river or close to your preferred meeting location, to help keep our river clean. 
Many plastics degrade and leach toxins into our waters, harming wildlife. Often, fish, turtles and birds mistake small bits of glittery potato chip bags, bits of straws and even cigarette butts for food, causing internal damage. In addition, old tires, plastic bags and a whole assortment of unsavory items make it more difficult and more expensive for municipal water services to filter pollution here and downstream.
Groups of any size are welcome. FMR will provide trash bags, gloves and an informational introduction. If you are interested in coordinating a cleanup with FMR, please contact either Program Assistant Daurius Mikroberts at dmikroberts@fmr.org or Youth Coordinator Kate Clayton at kclayton@fmr.org.
Educational programs
Though all FMR outings feature educational content, we've also developed hands-on lessons about the river. FMR staff visit groups in St. Paul and youth groups in Minneapolis and the Vermillion River Watershed to conduct hands-on indoor activities. We cover topics like watersheds, runoff pollution, erosion and sedimentation, wetlands, invasive species and other water quality issues. Presentations are approximately one hour long, are age-appropriate and can be customized for your group.
These programs do need to be indoors or have access to electricity. To schedule a program (available year-round), contact Youth Coordinator Kate Clayton at kclayton@fmr.org.