A good sign for habitat: Hastings high schoolers make their mark in the park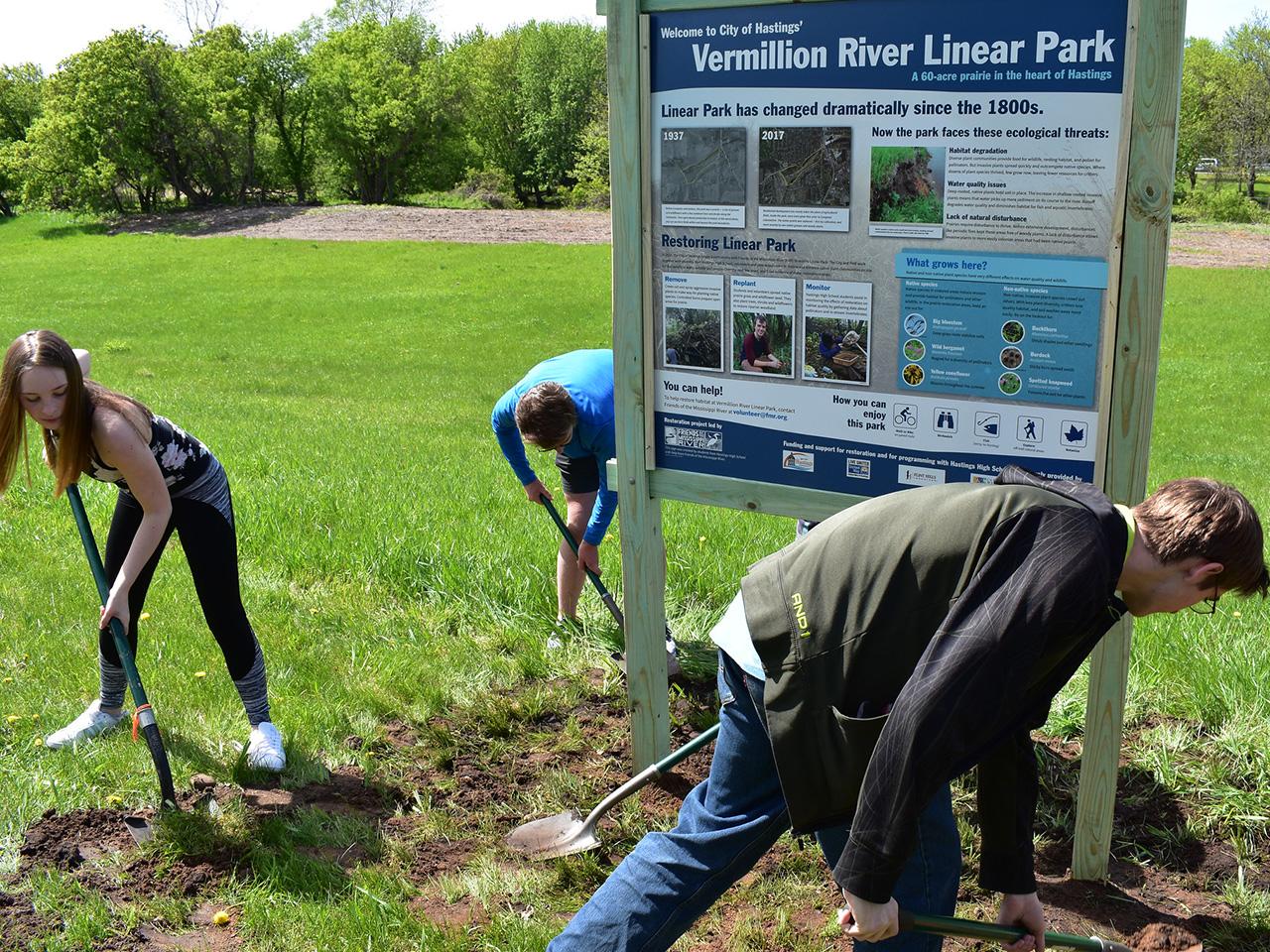 (As originally published in Hastings Star Gazette)
This summer, a native prairie right in the heart of Hastings will blossom black-eyed Susans and wild bergamot, attracting pollinators and enhancing Vermillion River Linear Park. For five years, Hastings High School field biology classes led by teacher Joe Beattie have teamed up with Friends of the Mississippi River to help restore and monitor its habitat.
Vermillion River Linear Park: A hidden gem
The city park — a 60-acre strip between the 10-Mile Scenic Circuit and the Vermillion River as it runs through the heart of Hastings west of 61 and south of Vermillion Road — is part-way through its multi-year ecological restoration. Its blooming native prairie and woodlands along the river provide more wildlife habitat and keep the river cleaner. But even Hastings residents might not know this park exists.
"The challenge is that people bike by and walk by on the paved trail, but they don't know this is a park, they don't know it's being restored, and they don't know there's been so much student involvement in that restoration," says Mr. Beattie.
So this year, in addition to invasive species removals and native planting outings, Mr. Beattie assigned another project to his field biology class: the creation of a park sign.
Students teach in their last lesson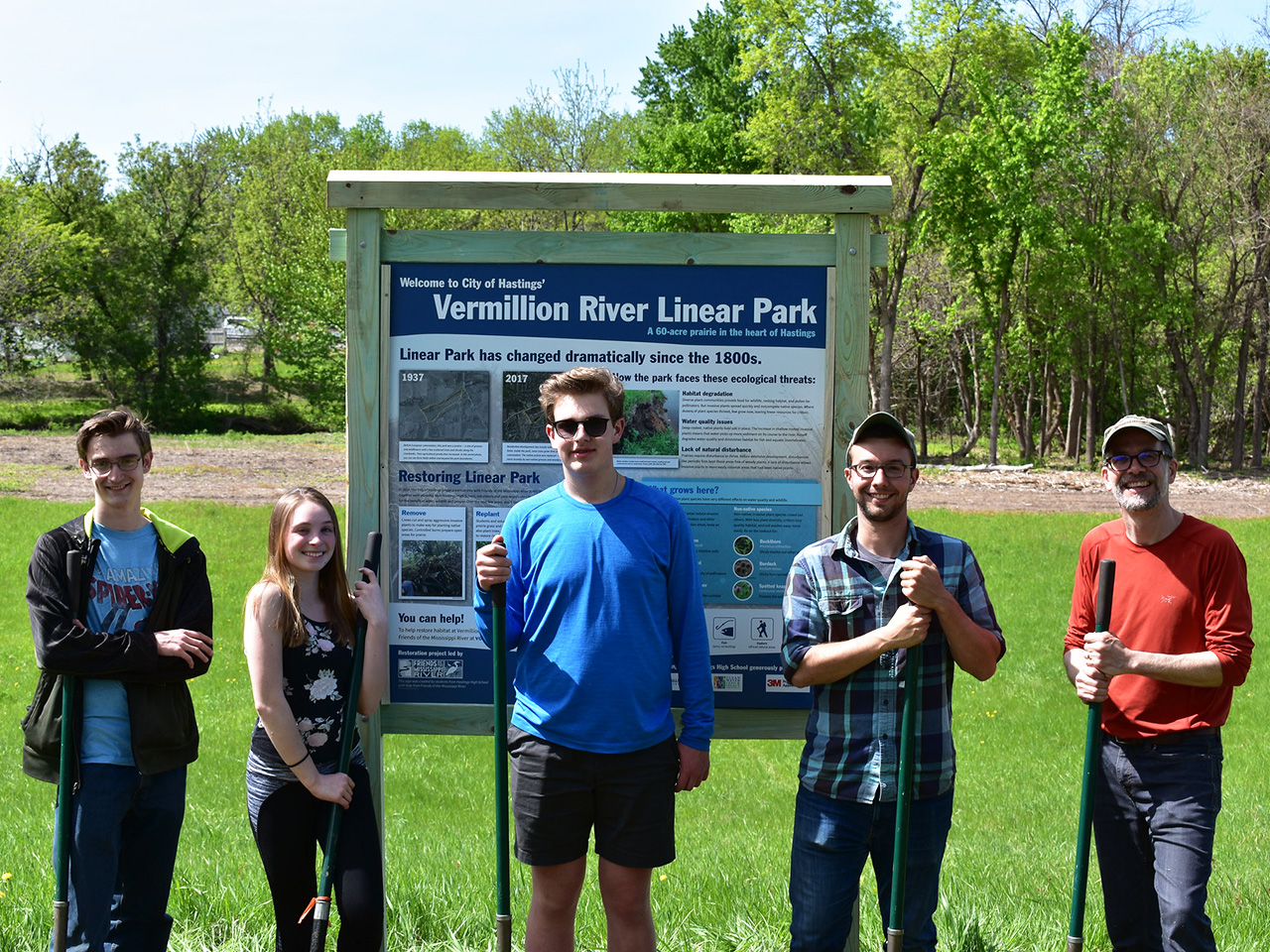 Hastings High School students, FMR ecologist Alex Roth and Hastings High School teacher Mr. Beattie, pose with their finished park sign.
In a culminating assignment, students reflected on all they'd learned about Vermillion River Linear Park: how it had changed over the centuries, what ecological threats the Vermillion River now faces, and how their restoration work helps protect its waters.
Students designed their own signs using photographs taken on their fieldwork trips, and wrote clearly for the public about the complex issues they'd encountered in their class, like the way invasive plants not only degrade habitat but also contribute to water quality issues.
Three students from Erik Dietz's wood shop class constructed the sign kiosk. And on May 20, students got to place the final sign, a composite of their design projects finalized by Friends of the Mississippi River, in the ground. Isaac Samuelson, one of Mr. Beattie's students, hadn't seen the final product before that afternoon: "We put in a lot of work on this sign. I'm glad it paid off."
Getting the sign in the ground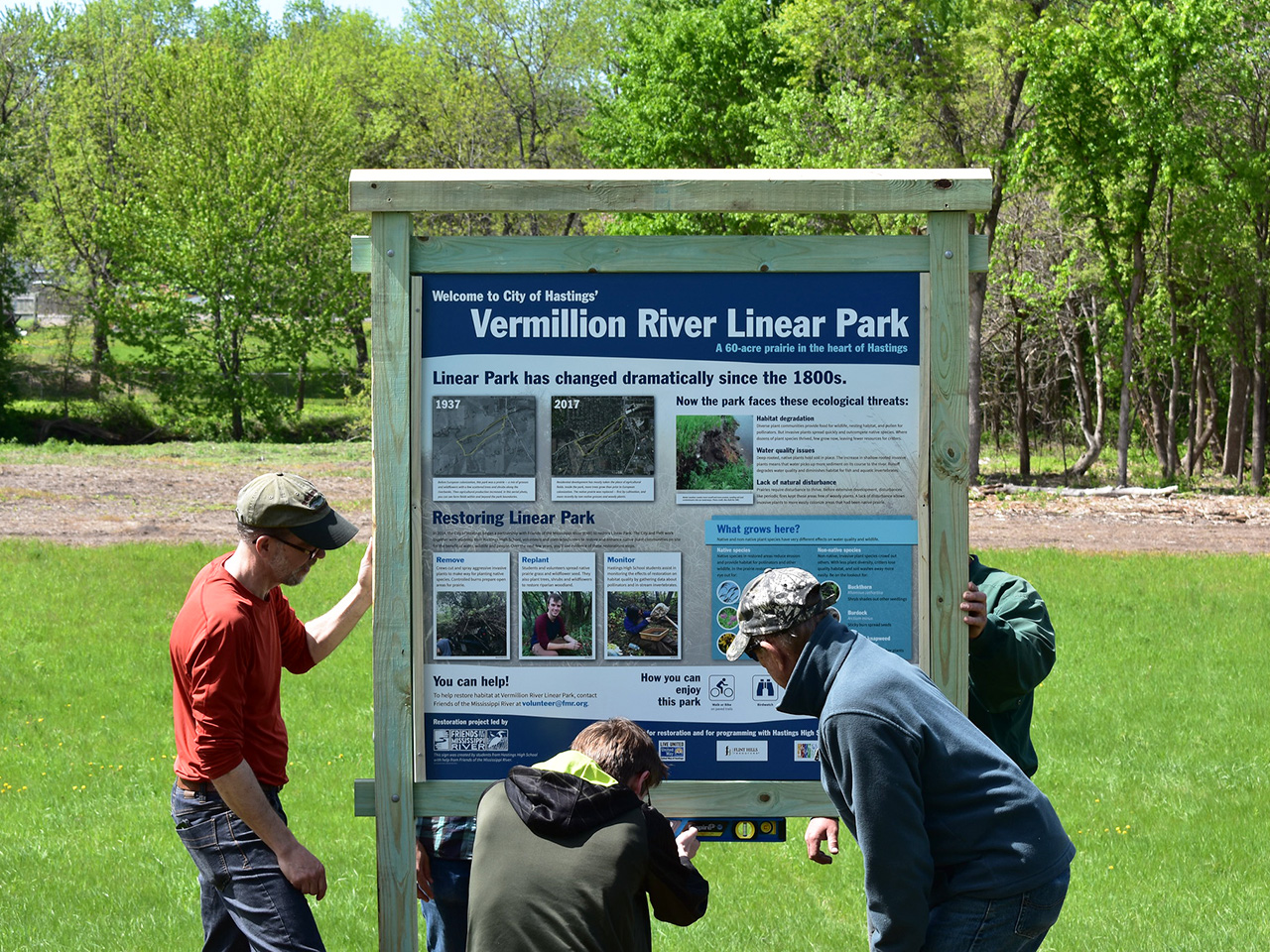 Hastings High School student Malachi Deutsch helps level the new park sign. He also took photos of the park used in the final design.
Friends of the Mississippi River ecologist Alex Roth, City of Hastings Parks and Recreation Operations & Maintenance Supervisor Cory Likes and Phil Vieth, at-large director of Hastings Environmental Protectors, also helped the students shovel the sign into place.
Vieth congratulated the students on their fieldwork, but also stressed the importance of communicating about it: "You can do all the good restoration work you want, but you also have to let people know about it to increase awareness and help them realize the value of native plantings."
As Mr. Beattie's classes conducted surveys in the past year, they found more pollinators in the new native prairie than had been present before. And the deep roots of those native plantings will enhance water quality by keeping soil erosion at bay as well.
Beattie and his field biology class hope that passersby stop and learn what they've learned and come to appreciate the place they've worked to enhance. You can see the sign midway along the paved trail that runs parallel to Bohlken Drive through Vermillion River Linear Park.
The work in the park and on the signs has been a community-wide investment. Additional project partners and funders include the United Way of Hastings, the City of Hastings, 3M Cottage Grove, Flint Hills Resources, the Outdoor Heritage Fund as part of the Clean Water, Land and Legacy Amendment.
Get involved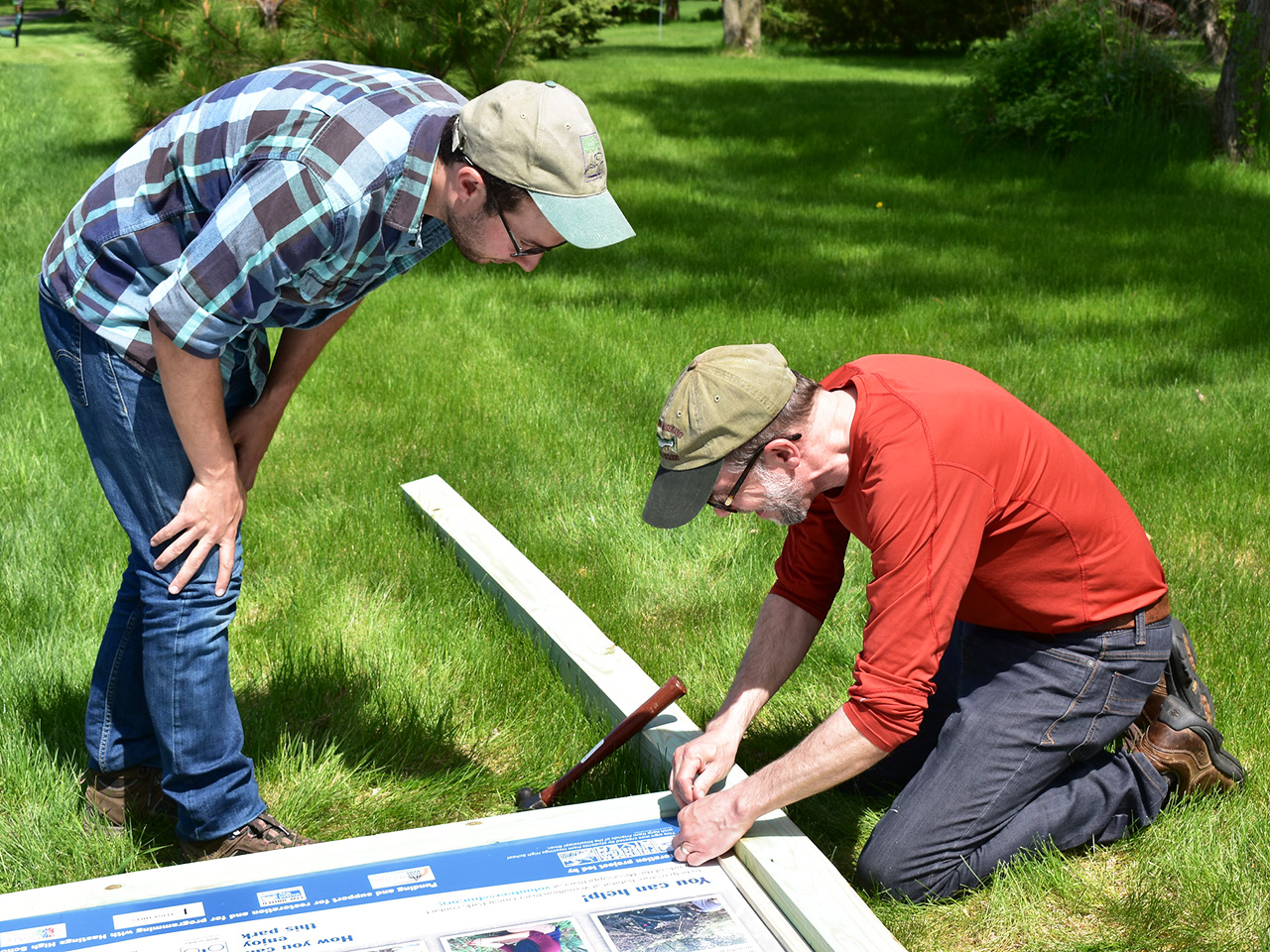 FMR ecologist Alex Roth and Hastings High School teacher Joe Beattie hammer the final nails. Mr. Beattie's partnership with FMR is a win-win: His field biology students get real-world experience, and our restoration sites get more helping hands.
Beattie and his students also help restore and protect other areas along the river by participating in Vermillion River Stewards events with FMR and the local watershed district, the Vermillion River Joint Powers Organization. To receive notices of upcoming local stewardship and habitat restoration events, email Amy at volunteer@fmr.org.