Thanks Akia, our shared summer intern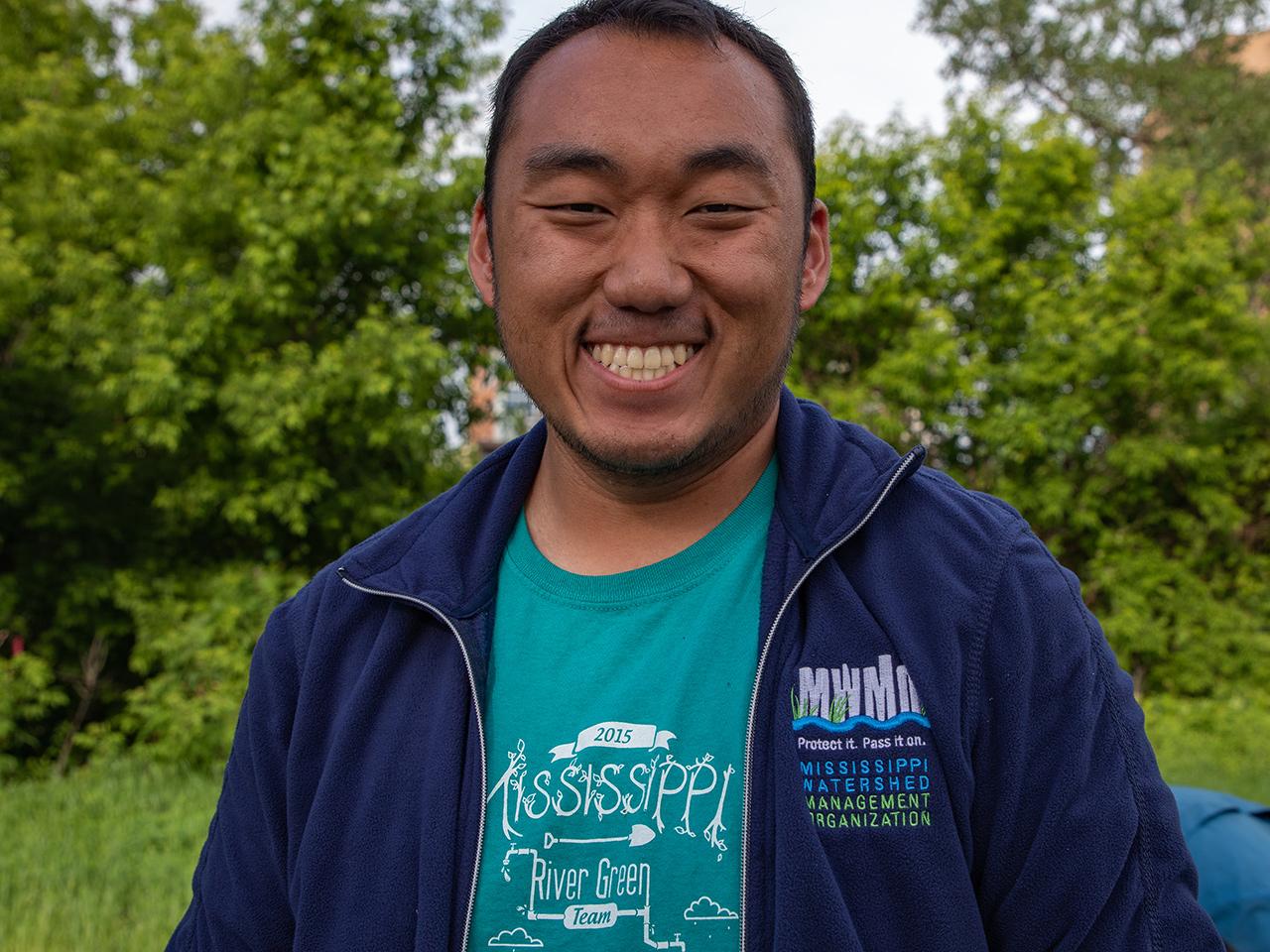 Akia Vang, our Green Team Alumni summer intern, did a little bit of everything in our office and out in the field, all in two short weeks. (Photo: Tom Reiter and Will Stock for FMR)
July 11, 2019
Navigating college and choosing a career can be a daunting task. Even when students have an idea of what they want to do, it's tough to gain experience and really find out if they're on the right track.
That's why we're happy to host students like Akia Vang, a junior environmental science policy and management major at the University of Minnesota and our Green Team Alumni intern this summer.
Sometimes more is better
Akia wasn't only our intern this summer.
He spent the season at a variety of Twin Cities environmental organizations, learning skills and gaining exposure to potential opportunities through multiple two-week stints.
Since 2017, FMR has had the pleasure of partnering with the Green Team Alumni Internship of the Mississippi Watershed Management Organization (MWMO).  The district hires alumni from their Mississippi River Green Team program, which they created with the Minneapolis park board to provide summer work experience in the environmental field to high school students from North and Northeast Minneapolis.
When college-aged, these alumni can become interns and cycle through short placements with FMR and other nonprofits as well as government organizations like the City of Fridley and Minneapolis Public Works. Along the way, they build a wide variety of skills and gain valuable insights into how these different organizations work.
What can an intern do in only two weeks?
In two weeks, Akia got a sense of what it's like to work at a place-based nonprofit with a sizable staff and four departments. Although he primarily worked with FMR's land conservation team, he also assisted stewardship and outreach staff.
Akia took part in vegetation, bird and pollinator surveys. He helped build survey plots, maintain plantings and seed restoration areas. He supported volunteer stewardship events, helped volunteers stencil storm drains, met with city partners and attended our a few of our department and team meetings.
You might even read some of his writing here on FMR.org or on our invasive species trading cards. If you take part in our stream health evaluation program, thank Akia, as he may have put together materials for you.
He woke up early to find breeding birds. And he stayed late at volunteer events like the demonstration garden planting at Nicollet Island. Like many staff here, he did a little bit of everything, all in two short weeks.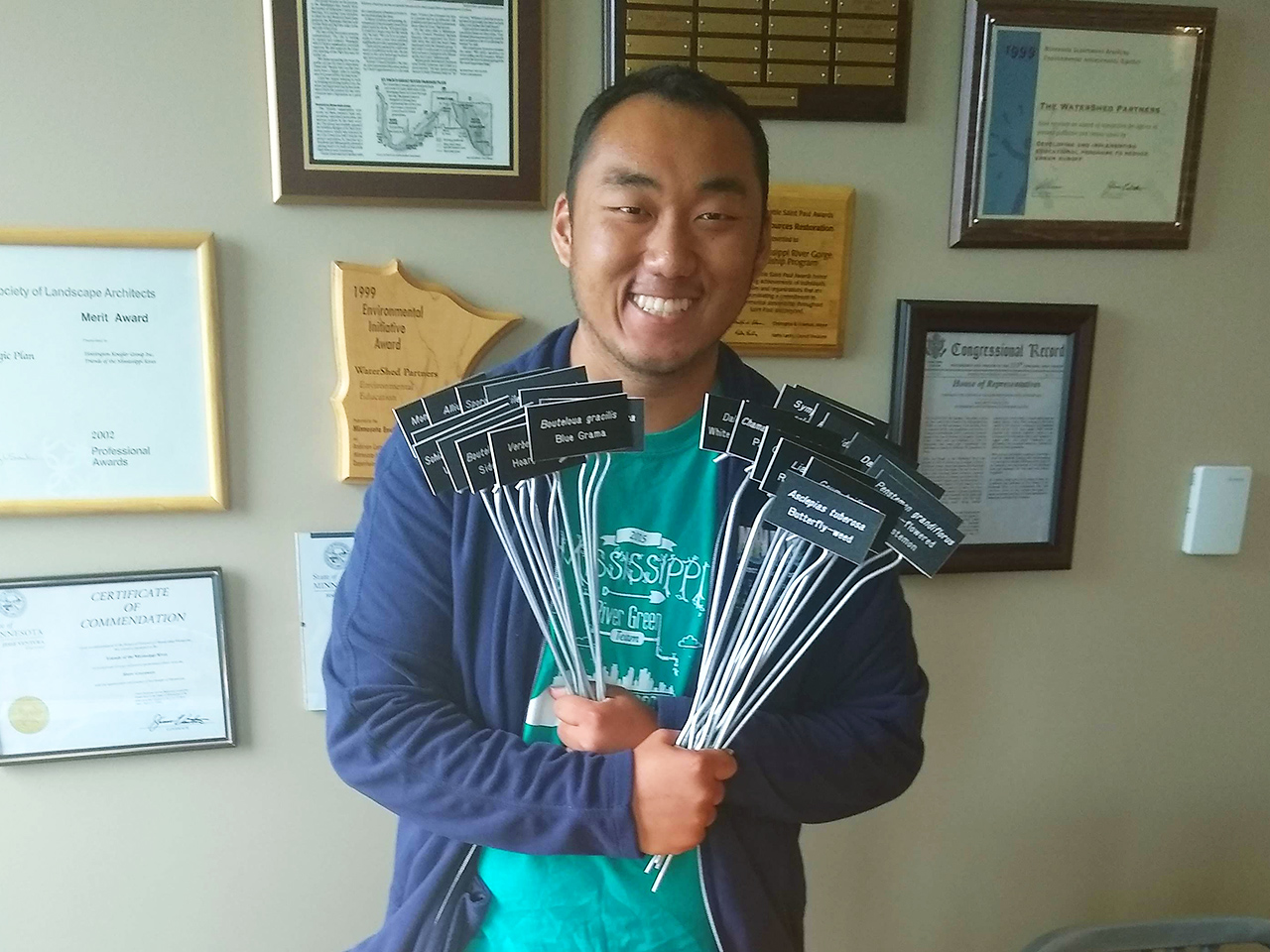 Akia poses with dozens of plant identification tags he helped put together for the Nicollet Island demonstration garden planting in June. Akia's knowledge of native plants and animals grew during his short time with us.
The future's looking bright
Of his time with FMR's ecologists, Akia noted that "the field methods I engaged in were a growth from my previous experience of mainly identifying invasive species to now including native species identification, bird surveys and monitoring of monarch butterflies."
While we may not have succeeded in pushing him toward a career as an ecologist or stewardship staffer — his true passion, it seems, is water quality and stormwater management — Akia's time at FMR was a valuable experience that will help him in his future job searches.
He's open to future careers at groups like FMR because, as he said, "Partnerships, collaborations, engagement with the community and lobbying of policies go hand in hand with fieldwork to protect the environment. It has been a great learning experience."
We're grateful for Akia's time with us and his hard work and great attitude. And we look forward to knowing Akia as a colleague in the field.