FMR welcomes two new board members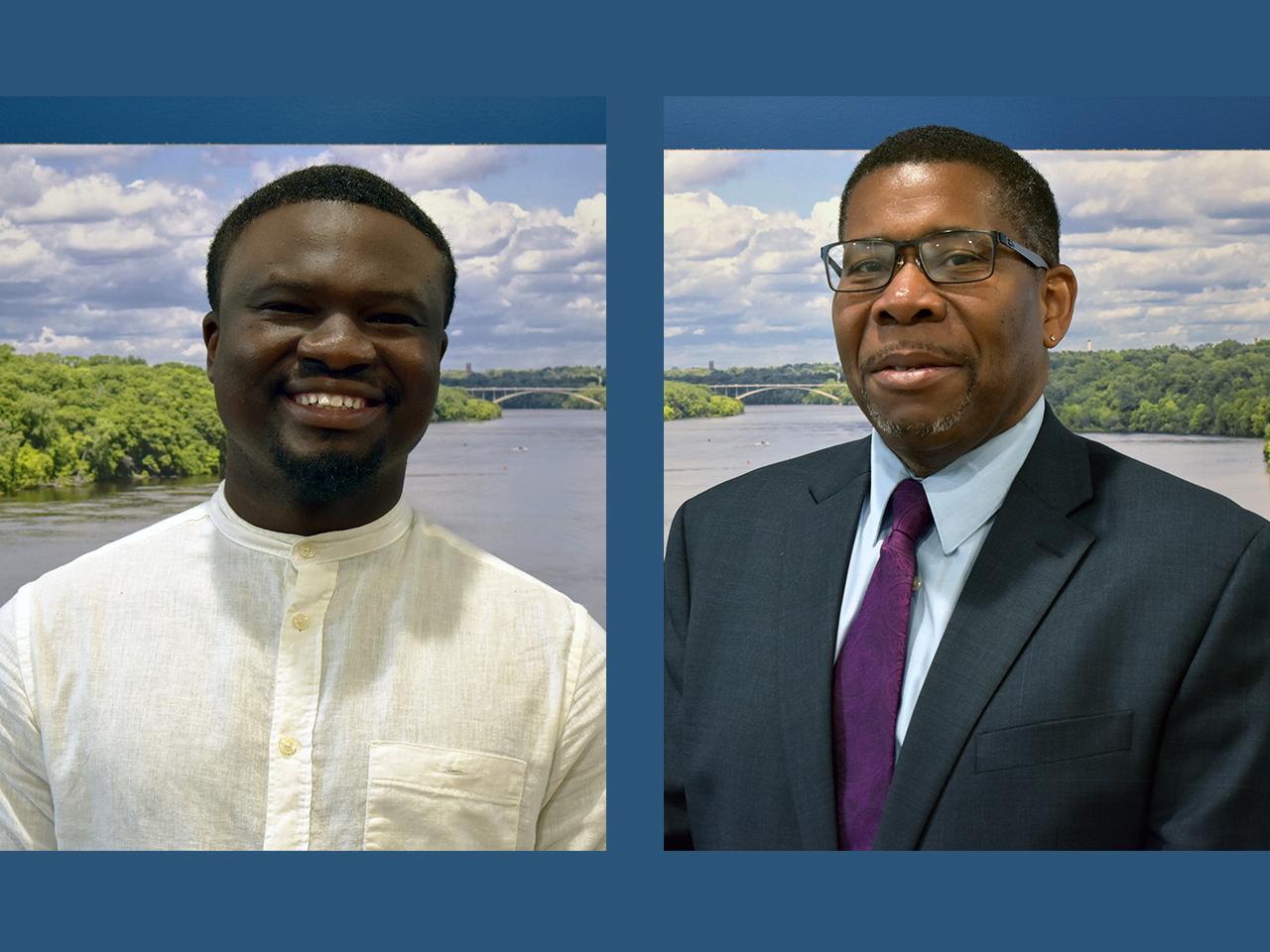 Jeff Aguy (left) and Paul Bauknight (right) are the newest members of the FMR Board of Directors.
July 16, 2019
FMR's board of directors is thrilled to welcome two new members to the team. Jeff Aguy and Paul Bauknight join the board with a wealth of experiences, passion and expertise.
Welcome, Jeff!
Jeff Aguy spent his earliest years in a small village in Haiti. "We didn't have running water or flushable toilets. In fact, we were lucky if the electricity came on for a few hours a day," says Aguy. "Innovation was not a buzzword used by business people; it was the difference between life and death."
These childhood experience gave him a deep sense of purpose, love for community and passion for solving complex problems.
At 21, Aguy became the youngest CEO of a strategic planning firm in the United States in 2012. He has served in a number of leadership roles; he has chaired boards and steering committees, directed student research at his alma mater and served as executive director for a business development nonprofit. Most recently he served as the vice president and economic development chair for the Minneapolis NAACP.
Aguy is a co-founder for NCXT, a design and technology modernization firm serving mid- to large-size companies, and a managing partner of his family's small business investment arm Aguy Innovation Group. He manages programs at Lunar Startups, a new model for startup incubation that specializes in growth, connection and innovation for women, people of color and other high-potential entrepreneurs.
Jeff also has deep roots in community service. In the past, he's served as an active member of the Environmental Justice Coordinating Committee, board member of Village Credit Union, youth director of Minneapolis First Seventh-day Adventist Church and executive director of Let's Bridge The Gap.
When asked why he chose to join FMR's board, he explained, "I believe strongly in the equity efforts of FMR. For too long we have seen a homogeneous effort on conservation and environmental prosperity while ignoring the peoples who suffer most from the negative impacts of pollution and other man-made environmental issues."
Welcome, Paul!
Always building something, drawing or doing other art projects, Paul Bauknight decided to be an architect in sixth grade. He grew up in New Jersey, where his parents organized the local African-American community and involved their family in these activities.
Paul attended Virginia Tech, and earned a major in architecture and minor in history. There, his love for cities and all things urban grew. He's been working at the intersection of physical space and economic, political and social systems ever since.
Paul came to Minnesota in 1989, started his own design firm in 1991, and is the principle designer behind many North Minneapolis projects including the Urban League, the renovation of the Plymouth Avenue Townhomes, Plymouth Christian Youth Center, Seed Academy and others.
Over his career he's served as the project manager for the African-American Men Project for Hennepin County, interim executive director for A Minnesota Without Poverty and director of urban place-making for Urban Homeworks. Throughout, he's strengthened his understanding of the connection between economic and social systems and our built environment.
Today, Paul is the project implementation director for the Minneapolis Parks Foundation and a fellow at the Minnesota Design Center at the University of Minnesota. He lives in North Minneapolis with his wife.
In addition to his FMR board service, Paul is also a former board member of Habitat for Humanity, Project for Pride in Living (PPL), NorthPoint Health & Wellness Center, Minneapolis Parks Foundation and A Minnesota Without Poverty. He's currently a member of the Upper Harbor Terminal Collaborative Planning Committee and the first board chair of Northway Community Trust.
Here's why Paul joined FMR's board: "My recent work with FMR on the Upper Harbor has shown me that they are an organization that is looking at the much larger definition of environmentalism. The willingness to take a risk and to challenge the status quo has also given me a different perspective on what an environmental organization can be as it works with the community to make a difference."
Paul and Jeff, we're so glad to welcome you aboard.