FMR graduates its first Youth Empowerment Program participants
If you visited the FMR office on a Tuesday in early August, you might have seen monarch butterflies, caterpillars and chrysalises in mesh cages. You might have spotted a baby painted turtle nestled in a yogurt container, jars of Mississippi and Minnesota river water and pictures of aquatic invasive species. 
All of these represent our first-ever Youth Empowerment Program (now the Environmental Stewardship Institute) participants' capstone projects. Over the course of eight weeks this summer, FMR staff worked with a group of high school students to explore environmental topics, increase job skills, meet professionals in the environmental field and complete their own independent projects. And of course, we topped off the experience with a canoe trip down the Mississippi.
Why we started the Youth Empowerment Program
We created the Youth Empowerment Program to address the gap between environmental education and a career path in the environmental field.
While many high schools offer green teams or eco clubs, young people often don't have many chances to explore what a real career in the environmental field would look like. As an environmental organization, we wanted to use our resources to help address that gap, in turn growing a stronger, more equitable movement.
We wanted to provide paid job experience and foundational learning to a group of students who were curious about an environmental career path. Our hope was that, by completing the program, participants would be more prepared for continued schooling in environmental subjects and have real work experience to lean on for future job opportunities in the field.
Our first participants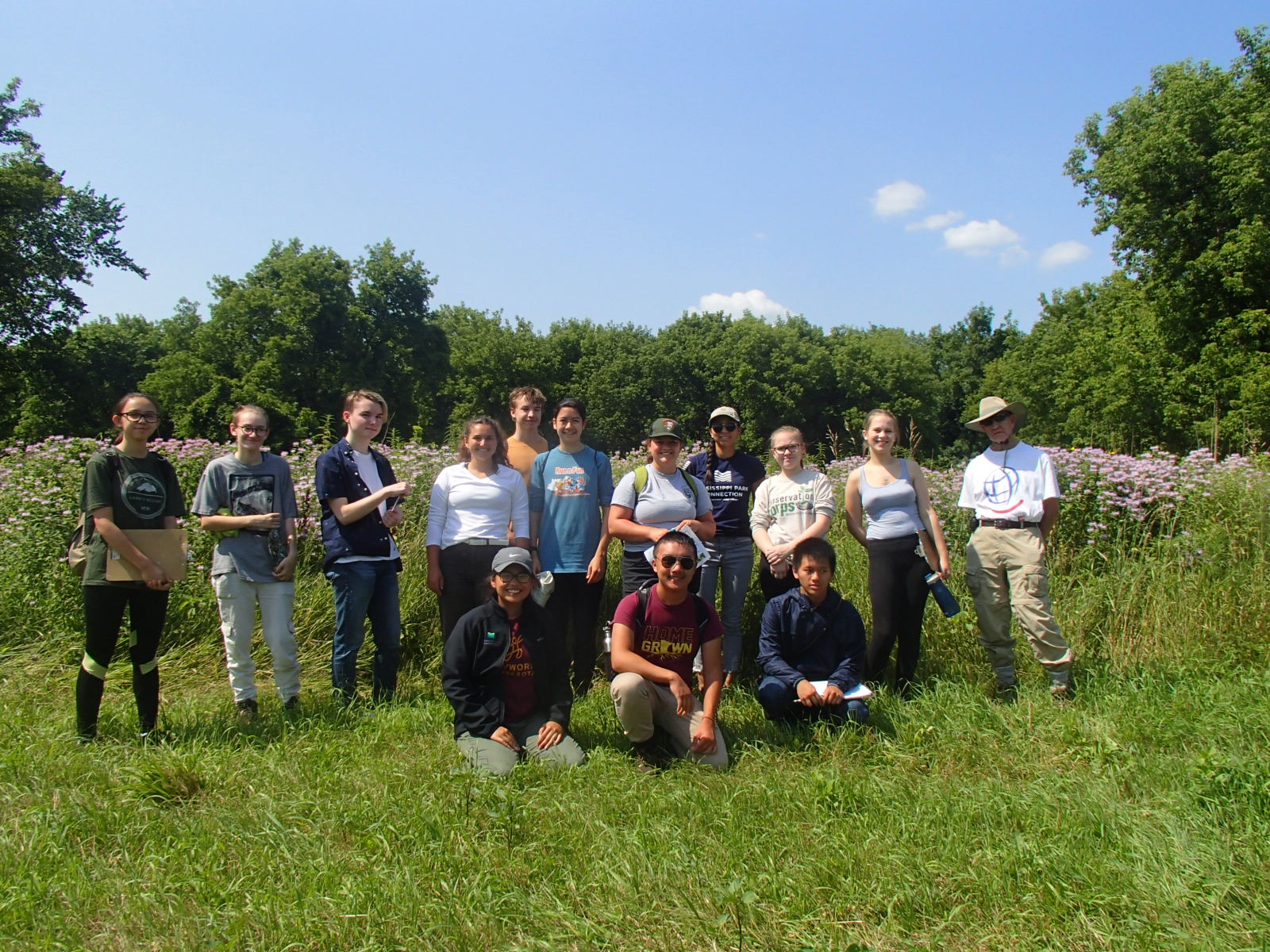 Our participants joined National Park Service fellows for a pollinator survey at Vermillion Linear Park in Hastings. True field trips like this one gave students hands-on ecological experience.
Our group for the first year of this program consisted of 11 students from schools across the metro. They brought a diverse range of work experience, interests and extracurriculars.
At the beginning of the program, the students brainstormed ideas that they wanted to explore over the course of the summer. These included topics like pollinators, climate change and environmental justice, as well as job skills like crafting resumes and cover letters, networking and working in an office. Their input shaped the following weeks.
"Because the spirit of the program was empowerment, we wanted to make sure that the participants had a strong voice in whatever we did," said Kate Clayton, FMR Youth Coordinator who created content for the program.
Summer school: water testing, pollinator surveys, environmental justice
Each week we addressed one job skill and one environmental topic through a variety of speakers and field trips.
FMR staff members spent time with the group to discuss agriculture, ecological restoration and personal finance. We visited Dr. Sarah Hobbie's lab at the University of Minnesota and got a behind the scenes look at testing for nitrogen in our local waterways. We also hosted a discussion on environmental justice with Karen Solas and Jose Luis Villaseñor, past and current environmental justice coordinators for the Minnesota Pollution Control Agency. 
Students also got out into the field with us. Visiting Trout Brook Nature Sanctuary allowed us to see a water quality testing station in action (courtesy of Capitol Region Watershed District) and pull invasive species in the FMR-restored prairie. At Vermillion Linear Park in Hastings, we waded into tall prairie plants to identify and count bees for a pollinator survey. We'll be able to use the data the students collected in our ongoing series of pollinator surveys there.
Culminating projects
Over the course of the summer, students also worked on their own chosen projects. These individual projects encouraged them to deepen their understanding of an environmental issue in their community, as well as build research skills and reach out to professionals with expertise in their project topic.
They chose a wide variety of issues and formats, ranging from research projects to interactive presentations to hosting volunteer events. Students connected with experts to answer questions about their topic, and ended up with well-researched, interesting projects and presentations.
One presented on aquatic invaders in Minnesota and another wrote an article on eutrophication as a local and global issue. Some students worked with wildlife. One student raised dozens of monarchs over the summer in a butterfly booth, and another student rescued a baby painted turtle, piquing her interest in threats to urban turtle populations.
You can see these students' projects (including a video of the baby painted turtle) here.
Bright futures ahead for these young leaders
To end the summer, we paddled from Hidden Falls to Harriet Island, accompanied by the National Park Service fellows. This trip was the first time in a canoe for some, and the first time on the Mississippi for many.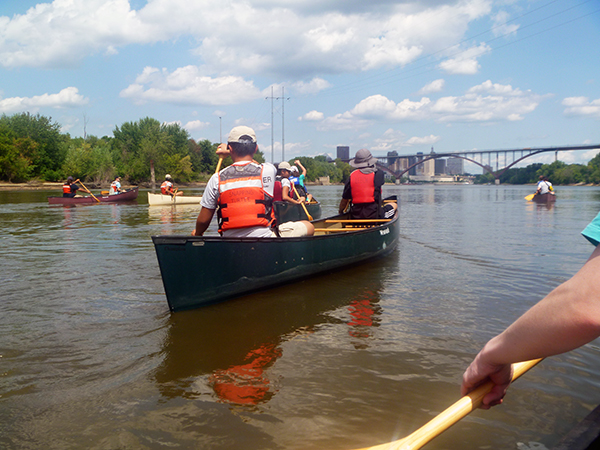 We're grateful to all our participants in the first year of this program, and to all the partners who helped us pull it together. We hope all the students agree with their fellow participant Nora, who said the program was "an amazing opportunity to grow life skills and knowledge."
And more than that, we hope these bright leaders make their way back into our sphere of colleagues soon. We look forward to crossing paths again in the years to come.
Interested in our education program?
We're already planning what the Youth Empowerment Program will look like for its second year, starting next June. We'll be reaching out to teachers in March to encourage their students to apply. If you're interested in applying for the program, or if you want to know more, contact FMR Youth Coordinator Kate Clayton at kclayton@fmr.org.
This fall, we're already busy working with youth in an out of the classroom to pull invasive species, stencil storm drains, conduct pollinator surveys and more. Learn more about how you can participate in our education program and service-learning.