Thank you, fall 2021 interns!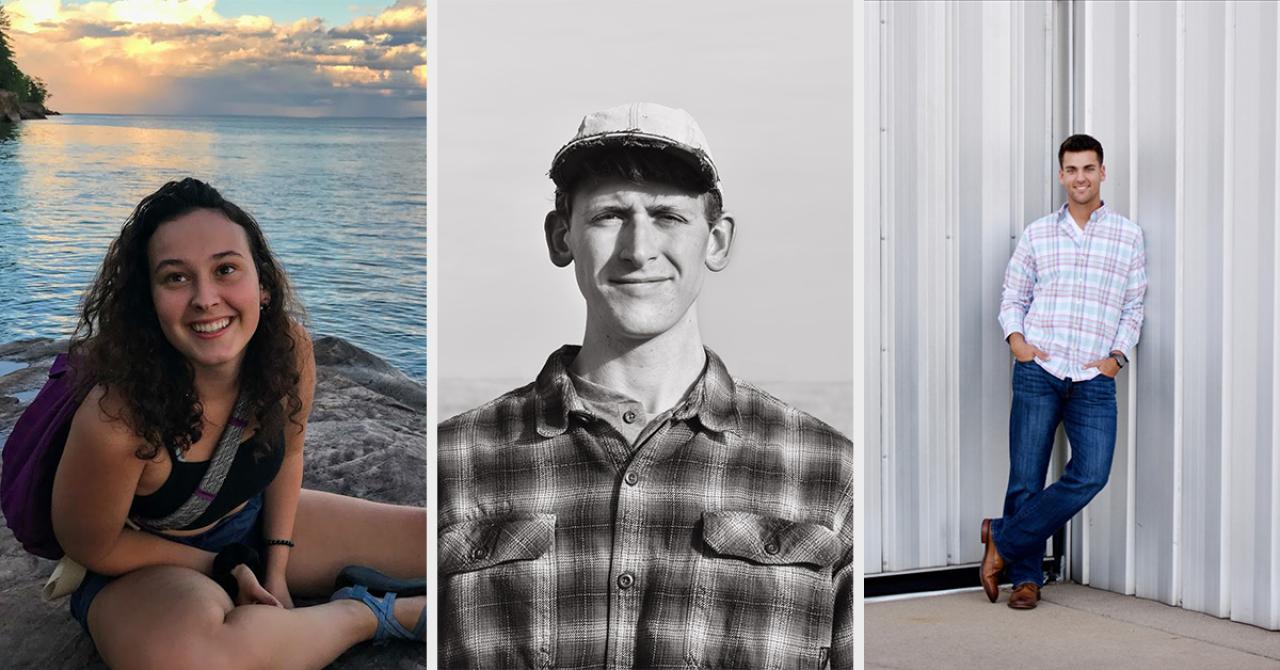 We're grateful to our fall 2021 interns: Stewardship & Education program intern Megan Daniluk (left), Land Conservation intern Nick Jacobson (center), and Finance department intern Owen Campbell (right).
December 30, 2021
FMR is committed to supporting the next generation of environmental leaders. We aim to create valuable experiences for our interns, and we're always amazed by the ways our interns reciprocate — inspiring us with new perspectives, taking on exciting projects, and deepening our efficacy.
We want to spotlight and express gratitude for our three fall interns from 2021.
Stewardship & Education program intern: Megan Daniluk
U of M sustainability intern Megan Daniluk created original lessons and planted a pollinator garden with J. J. Hill Montessori, supported our internship and career pathway program for high school students, co-created content for our storm drain stenciling video (coming soon!), and helped draft and expand our curriculum content for our Cultural Landscapes lesson. We were especially grateful for her transcription skills of our community interviews. Thank you, Megan!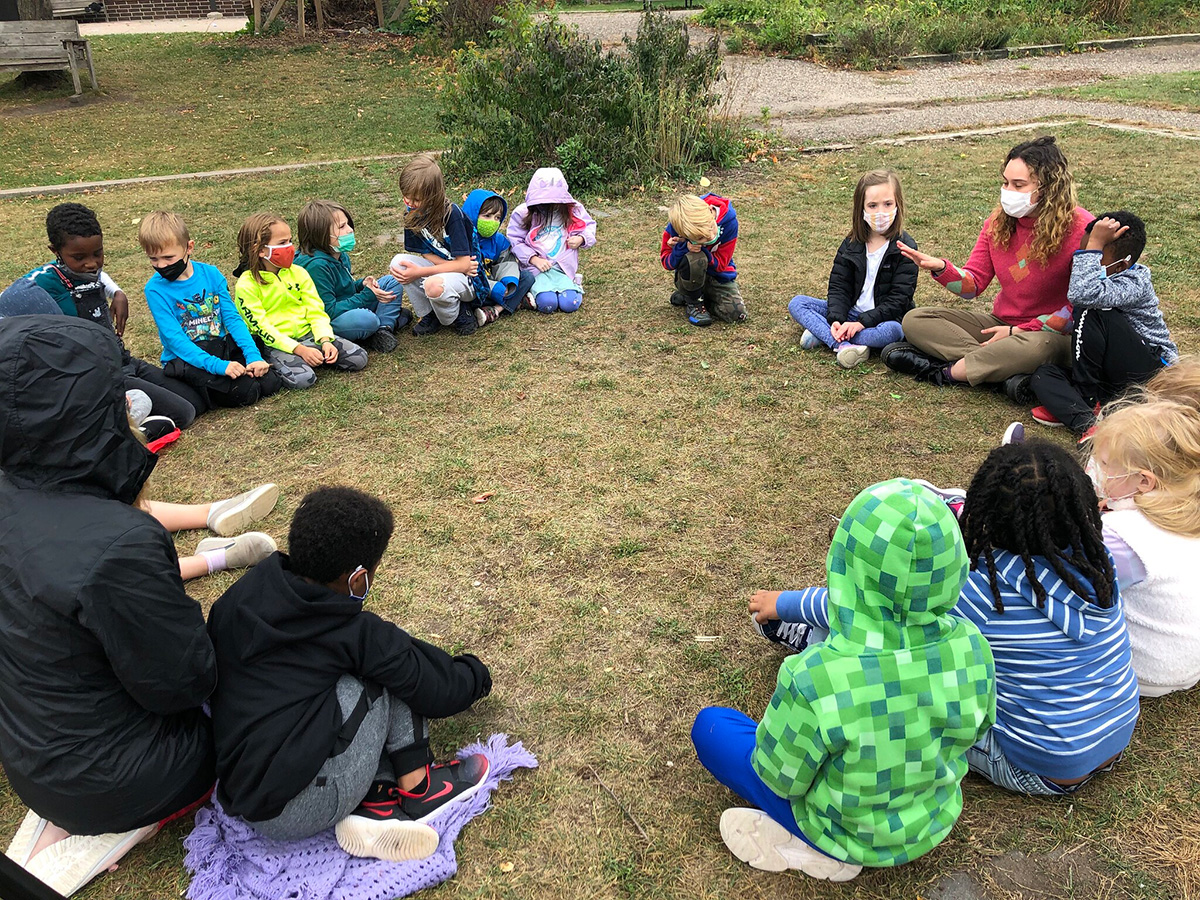 Megan's reflections
"From my first conversation with Laura Mann Hill, FMR's Stewardship & Education program director, I knew that Friends of the Mississippi River was the best place for me to achieve my goals for this semester. Throughout my whole experience, I have received support, guidance, and a genuine desire to advance my education from every staff member I was lucky enough to get to know. The mission of this organization is clearly and purely demonstrated in the work that they do, and I cannot express how grateful I am to have been able to collaborate with and learn from the best.
I was involved with several projects during my time working with the Stewardship & Education team, ranging from curriculum development to storm drain stenciling outings. But my favorite contribution this semester was the pollinator garden project in partnership with J.J. Hill Montessori school. I learned so much about leadership, flexibility, and ways to bring my creativity into the classroom (and garden!).
I will be entering the second semester of my junior year this winter and will continue to study plant and microbial biology with the intention of applying these skills to improving the health and wellness of our natural spaces. I am also entering a teaching licensure program which will continue to develop both my skills and love for science education."
Land Conservation intern: Nick Jacobson
Nick brought his excellent Geographic Information Systems skills to a major project that identified and mapped priority areas within four metro-area counties for FMR's land protection efforts. His work will help FMR in our outreach with willing private landowners who are interested in protecting their land's biological qualities. Nick has made an outstanding contribution to our work, and so impressed us with his skills, motivation and insight. We enjoyed working with him and appreciate all he did on behalf of the river!
Nick's reflections
"My internship focused on the selection of strategic parcels around the metro area that align with FMR's goals for land conservation but have not yet seen conservation action. Much of this work was done in GIS software, which provided an excellent practical application for skills learned in my second major at Macalester, geography.
Although my internship was almost entirely remote due to the ongoing pandemic, I did have a few opportunities to interact with the rest of the staff at FMR and was struck by what a passionate and exciting group they are to be around.
This was in line with other experiences with small, conservation-focused organizations I've had in the past, and once again confirmed to me that this is the sort of work and workplace I hope to be contributing to after my time at Macalester wraps up. Thanks for a wonderful few months, FMR!"
Read more about Nick's project.
Finance department intern: Owen Campbell
Owen assisted us in exploring more efficient methods for analyzing, comparing and tracking our gifts and grants. He was practical in his data work and friendly as a coworker. Thank you, Owen!
Owen's reflections
"I am a junior at the University of St.Thomas. I am currently a finance major hoping to work in the mergers and acquisitions field or run my own business. I was first introduced to FMR through St. Thomas' Business 200 service-learning program.
After reaching out to Barb Heintz, FMR's accountant, I learned I would be the first finance volunteer that FMR has ever had! Through the fall semester, I had the opportunity to work primarily with Barb and Monica, FMR's administrative assistant & bookkeeper, to help with donation campaigns and data analytics, specifically making sure internal files matched up with each other.
This was such a great opportunity to learn about nonprofits and get to apply some of my college skills to real-world situations! Everyone at FMR was great, and I would 100% do it again!"
Learn more about our internship program
We're currently expanding our capacity for hosting paid opportunities for youth and young people. If you're interested in our internship program, sign up for our e-newsletter Mississippi Messages to get news about opportunities and more.