New 'Wishbone' walkway proposed for Minneapolis riverfront
March 4, 2020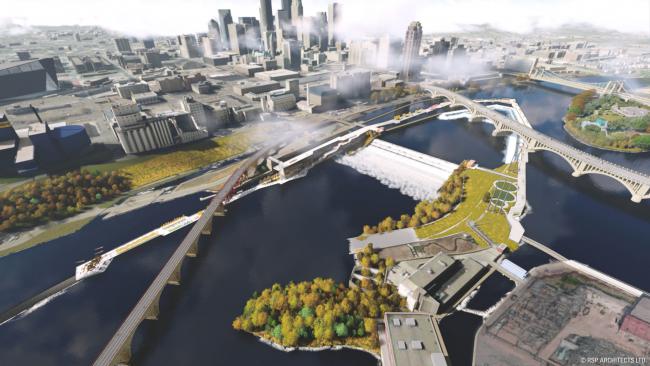 The proposed wishbone-shaped promenade would be roughly three-quarters of a mile in total length. (Image from RSP architects)  
The Wishbone, a new proposal to expand the public realm along the Mississippi River in downtown Minneapolis, has drawn attention in recent weeks. The proposed walkway across the Mississippi River near St. Anthony Falls would offer visitors a new opportunity to engage with the river near the Mississippi's only waterfall.
The V-shaped walkway would span the river just upstream from St. Anthony Falls and the Stone Arch Bridge, resting upon a mix of existing and new pilings. On the west (downtown) side of the river, it would connect to the Upper St. Anthony Falls lock. On the east (St. Anthony Main) side of the river, the walkway would end at the existing Water Power Park.
Further study and engagement needed
It's always exciting to consider new opportunities for people to connect with the power and beauty of the Mississippi River. In this early conceptual state of the project, however, many questions remain to be explored. We need to consider technical feasibility, cost and environmental impacts.
The geology of the St. Anthony Falls is delicate; the riverbed has collapsed many times in this area and is stabilized with artificial structures. It's not yet known whether the new pilings and walkways proposed for the Wishbone could damage the fragile riverbed. The structures could also snag flood debris or cause ice jams. These concerns all need further study.
Clarifying community priorities
Should the Wishbone prove technically feasible, community members need to be invited into an open dialogue about this and several other proposed or under-construction riverfront park projects in Minneapolis.
In the central riverfront area, in addition to the Wishbone, this includes Water Works and The Falls. 
Upstream in the Above the Falls area (North and Northeast Minneapolis), in-progress projects include the River Link 26th Avenue overlook, a new park at Upper Harbor Terminal, and continuing improvements at Hall's Island/Graco Park.
In comparison to the rest of the city, the Above the Falls area sorely lacks riverfront parks and trails. Future projects like the Great Northern Greenway bridge aim to close the gaps in riverfront trails.
With each project in need of funds and political championing, community members will need to advise on priorities.
We're glad to hear that Wishbone planners have been working with leaders from Dakota tribes, from whom this spiritually significant area was stolen through unjust treaties.
We'll be watching for all proposed riverfront projects to include robust engagement processes. 
Join the River Guardians
If you'd like to be notified of opportunities to weigh in on local riverfront plans or protect the river's health, sign up to be a River Guardian.