'Once key to industry and transportation, Mississippi River poised for makeover in Minneapolis'
September 16, 2019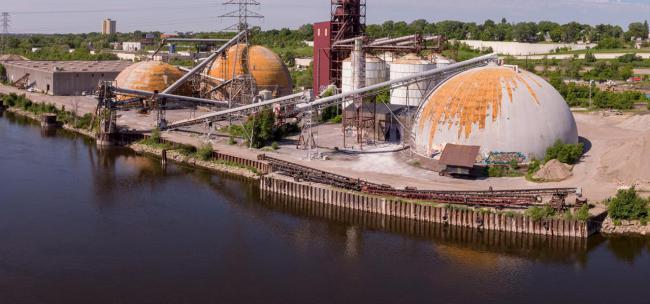 The closed barge terminal known as the Upper Harbor Terminal (above) plays a central role in the redevelopment of the Northside riverfront. 
As many blog and Mississippi Messages readers know, the riverfront north of St. Anthony Falls in Minneapolis is changing rapidly. What was once solidly industrial is now interspersed with parks and trails, and plans are in the works for more green space and additional mixed uses.
Two things played a key role in these changes: the closure of the lock in downtown Minneapolis and community activism.
In this Star Tribune feature, "Once key to industry and transportation, Mississippi River poised for makeover in Minneapolis," September 14, 2019, Janet Moore unfolds this transformation from a transportation perspective, tracing riverfront changes from the days of Dakota trails to bustling barge traffic to the relatively recent (2015) closure of the lock in downtown Minneapolis.
Now, rentable kayaks, bike trails and water taxis have sprouted up where barges once passed. And even more changes are afoot – including the redevelopment of a key piece of this rapidly shifting riverfront: the city of Minneapolis's former port, a.k.a. the Upper Harbor Terminal. 
The Star Tribune story does an excellent job of placing the redevelopment of the closed barge terminal in context, illustrating both its size and long-term importance. It also makes a brief but important nod to the complications and conflict surrounding this pivotal project.
Community activism
Years ago, community advocates and organizations, including FMR, worked with the city and park board to put forward a new vision for this industrialized stretch of the river, one where community members could access the types of parks, trails and community-benefitting developments that exist in other areas of the city.
Together, we created the award-winning Above the Falls Master Plan (see archival article). Now, many pieces of that plan are being put into effect.
But how much community members will benefit is up for debate, especially when it comes to the Upper Harbor Terminal.
More choices needed  
Instead of working with residents to develop a suite of riverfront redevelopment options that would benefit both their neighborhoods and the city, as suggested in the Upper Harbor Terminal redevelopment study, the city of Minneapolis has advanced a single redevelopment proposal put forward by First Avenue and United Properties, i.e. the Pohlad family, prominently featuring an outdoor amphitheater.   
As Colleen O'Connor Toberman, FMR's river corridor program director, pointed out in the Star Tribune piece, this approach puts the earning potential of the publicly owned site in the hands of a few wealthy individuals.
Since this is public land, and public funds ($20 million) are being sought to subsidize the project, the city has a unique opportunity to give the public — including the community that they say will benefit from the redevelopment project, especially Northsiders — a voice in its creation.
Instead of being asked to weigh in on what to name the arena, community members should have the opportunity to imagine and assess additional development options. 
Alternatives abound
As we've written before, FMR isn't opposed to a performing arts venue at Upper Harbor Terminal. Every neighborhood deserves a great place to showcase their talents and enjoy music, dance, theater and poetry. The natural beauty and power of the Mississippi riverfront can be a great complement to that.
The community should have the opportunity to consider a much smaller amphitheater, scaled and oriented to the river, with the benefits of ownership and revenues flowing to the public — among other alternatives. That's the conversation we need to be having.
For more about Upper Harbor Terminal, follow our UHT Twitter account, check out our blog, or contact Colleen O'Connor Toberman, River Corridor Program Director, at ctoberman@fmr.org or 651-222-2193 x29.
Minneapolis residents, take action now. Urge the mayor and city council to ensure equitable benefits to the Northside community.
You can also become a River Guardian to hear from us when opportunities for advocacy on this and other river-related issues arise.