Star Tribune highlights Upper Harbor dissent
December 19, 2019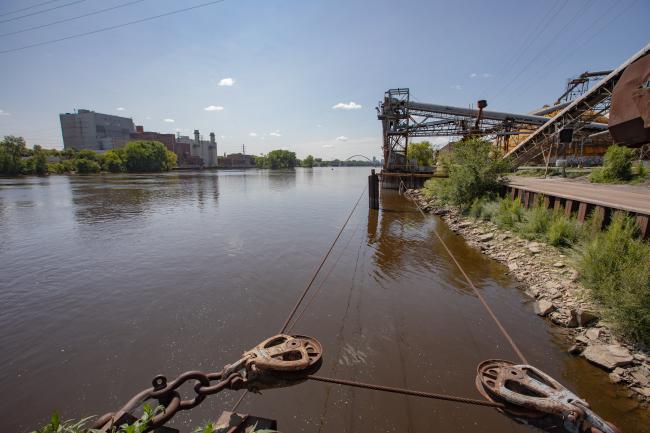 The city-owned Upper Harbor Terminal site stretches for nearly a mile along the North Minneapolis riverfront.
A recent Star Tribune article by Miguel Otárola highlights the community dissent over the Upper Harbor Terminal project on the North Minneapolis riverfront.
The city's Collaborative Planning Committee (CPC), which consists of residents appointed by the Minneapolis mayor and council, has been in the center of widespread disagreement about whether and how the large-scale redevelopment project will serve Northside residents' interests.
As we've shared before, two committee members (including FMR board member Paul Bauknight) recently resigned, citing their concerns with the planning process and anticipated outcome.
Shortly after, remaining committee members removed Alexis Pennie from his role as chair. Members cited the previously elected chair's disposition and views (see "Letter from the Chair"), with some stating that anyone who objects to the city and development team's plan should resign from the committee.
More than 'process' at stake
People not following the issue closely might be tempted to dismiss these developments as "just another community process" dustup that only affects a few people — but they would be wrong.
Community members are continuing to raise serious questions about aspects of the development such as displacement, economic development, wealth creation, affordability, the sale of public land, and the use of state subsidies for privately-driven development. We share these questions and concerns about this once-in-a-generation development.
Get involved
Minneapolis residents, take action now. Urge the mayor and city council to ensure equitable benefits for the Northside community at Upper Harbor Terminal.
For more about Upper Harbor Terminal, follow our UHT Twitter account, check out our blog, or contact Colleen O'Connor Toberman, River Corridor Program Director, at ctoberman@fmr.org or 651-222-2193 x29.
You can also become a River Guardian to hear from us when opportunities for advocacy on this and other river-related issues arise.