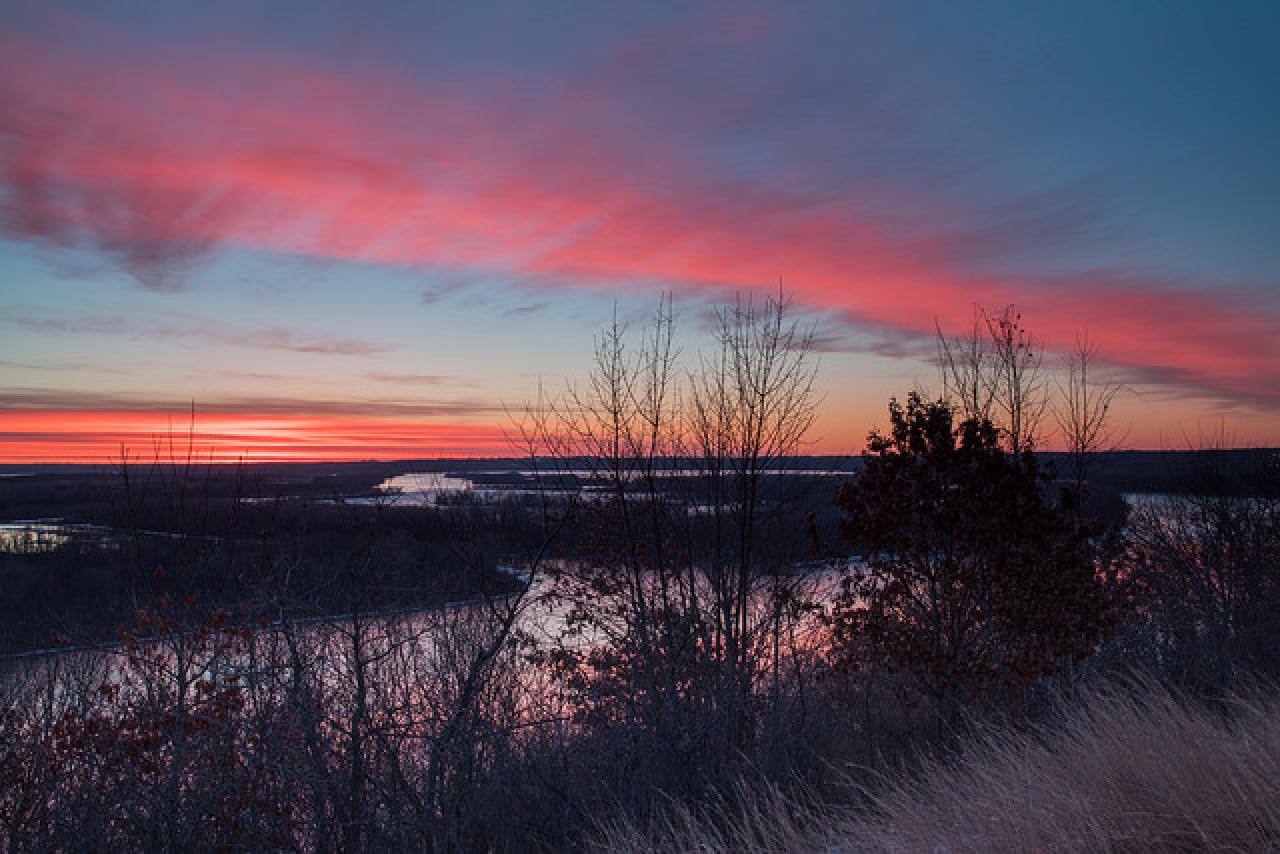 "Morning Color" by Tom Reiter, taken February 15, 2017 at Pine Bend Bluffs Scientific and Natural Area, a beloved natural area that FMR helped to permanently protect several years ago and which we continue to restore and manage for ecological health. This expansive view features a partially frozen, meandering Mississippi River reflecting vivid hues of the daybreak sky. Leafless shrubs extend their branches from the riverbank. 
Have you ever felt inspired by the Mississippi? You're not alone. America's River has shaped the metro area both physically and culturally, inciting creative works for as long as us humans have been around. 
Now FMR wants to know: What does the Mississippi River mean to you? Sharpen your creative writing pencils, we're launching 'Write to the River,' a new project to feature "Mississippi Messages" readers' works inspired by our great river. 
We're kicking off this new project with a call for prose or poetry inspired by the photo above, "Morning Color" over Pine Bend Scientific & Natural Area by Tom Reiter.
Now more than ever we need your voice to help protect the Mississippi River and water in Minnesota. April 19, join us for a day of public action and advocacy to let lawmakers know we care about our water and how they can help protect it.
Join the rally, learn about water issues, meet with legislators — whatever works for you and yours! 
FMR has been working to plan for and reshape the Above the Falls riverfront for nearly two decades with the goal of encouraging parkland and trails along both sides of the Mississippi River in N & NE Minneapolis and improved public access to those lands.
The "State of the River Report" presentation is coming to south Minneapolis! Join FMR Water Program Director Trevor Russell to learn about the health of the Twin Cities stretch of the Mississippi River. 
Whether you're interested in a smaller native planting or want to transform your whole yard into a force for clean water, this FMR workshop can help jumpstart your spring planning. We'll also touch on practices to make your yard (and sidewalks) river-friendlier this winter.
Taught by FMR River Stewardship Coordinator Adam Flett, this presentation receives rave reviews from participants, who also appreciate the high-quality and concise take-home materials.
How is the health of the Mississippi River? Can I safely swim in it? Can I eat the fish I catch? What can we do about silver and other invasive carp? How are bald eagles faring? 
In the '70s, from the deck of his boat The Turtle, St. Paul resident and community leader Tom Kelley fell in love with the Mississippi River. Looking beyond its polluted waters and industrial banks, Kelley saw both what it once had been and could be again: America's river and the thrumming heartbeat of the Twin Cities. He pulled friends and colleagues aboard The Turtle, sharing his favorite river stretches and passion, and slowly, steadily built a small community of supporters. These river visionaries worked locally, then nationally and across party lines.
Once a dumping ground, now a national park: the Twin Cities stretch of the Mississippi River.
Join us at Fulton Taproom on Tuesday, August 2, beginning at 5 p.m. to celebrate the release of 72 Stretch, a limited-edition Fulton gose brew benefiting Friends of the Mississippi River.
How is the health of the Mississippi River? Can I safely swim in it? Is water pollution improving? Can I eat the fish I catch? What can we do about Asian carp? Do I need to be concerned about bacteria in the river? How are bald eagles faring?
At FMR we hear questions like these all the time. That's why we've partnered with the National Park Service's Mississippi National River & Recreation Area unit (MNRRA) to update "State of the River Report," first released in 2012, for a current look at the river.
Join us for the highly anticipated release of the updated "State of the River Report" at the Science Museum of Minnesota, Thursday, September 22! (Tickets are free but capacity is limited.)
Pages