A recent Star Tribune article celebrated the return of paddlefish, sturgeon and other river species as a result of dam removal projects across the state. Could this kind of restoration be possible for the metro Mississippi? >>
December 6
Invasive carp present a growing threat to Minnesota waterways. A recent forum considered several strategies to stop their spread. We'll need to use all of them to protect the Mississippi River.  >>
July 12
A recent invasive carp round-up on the Mississippi in southern Minnesota is a reminder that these fish pose an ongoing threat to Minnesota's waterways.  >>
April 20
A record catch of invasive carp in the Mississippi River in southern Minnesota has raised concerns about the species' spread upriver. How is Minnesota responding?  >>
August 7
A new deterrent system installed 50 miles north of our border with Iowa is a promising effort to stop invasive carp in Minnesota. But a dozen invasive carp were found in the Mississippi and St. Croix rivers this year, further evidence that these destructive fish are growing in numbers in our state. Can we stop them before it's too late?  >>
September 26
Staff and leaders from the National Park Service, FMR, the Minneapolis Park Board and other allies gathered to celebrate the closure of the lock.
The closing of Upper St. Anthony Falls Lock is good news for Minnesotans. It will help ensure that invasive carp are not able to migrate upstream of downtown Minneapolis. Unfortunately, last week's good news for the Mississippi was mired by the bad news about Bighead carp arriving in bigger numbers in the St. Croix River as far north as Stillwater. >>
June 12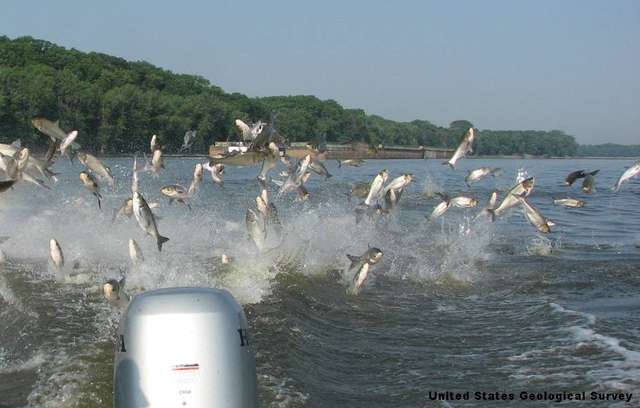 First the good news: Rep. Keith Ellison had succeeded in adding language to a larger water resources bill that would close Upper St. Anthony Falls lock. 
Now the bad: Another silver carp (one of four species of invasive carp) was found in Minnesota last month – further north than the one found a little over a year ago near Winona. >>
Traces of DNA from silver carp (above) were recently detected farther upriver than many experts expected. >>
The non-native silver carp has been found in the Mississippi River near La Crosse, the Wisconsin and Minnesota Departments of Natural Resources reported in early December. >>