St. Paul Academy students sample for earthworms, an invasive species in Minnesota, at Crosby Farm Park in St. Paul. Our work there helps us understand the impacts earthworms have on native plant diversity, so we can refine and prioritize our habitat restoration efforts.
FMR has worked to restore over two thousand acres in the Mississippi River's metro watershed. Our hope is that diverse natural communities of plants and wildlife will return and thrive. And so far, our surveys and studies point to a positive connection between our habitat restoration work and the plants and animals our work is meant to support.  >>
After hearing from dozens of community members (including many FMR River Guardians), the Inver Grove Heights city council unanimously voted to save River Heights Park on Monday, May 14.
The council had been considering carving up and selling the 7.5-acre undeveloped natural area as three 2.5-acre lots for housing developers. Instead, the city, FMR and neighbors are going to work together to make the park more accessible — adding a park sign and bench, with details to be determined — while keeping it a natural area and restoring important bird habitat. >>
September 19
Identifying scenic vistas, like this view of Hastings from Cottage Grove, is an important component of the local river corridor planning now underway.
Cities up and down the metro Mississippi are busy finalizing their local river corridor plans, but there's still time to weigh in. Some deadlines to submit comments are fast approaching, including July 17 for Cottage Grove and July 22 for Minneapolis. Learn where your city's at in its process and how you can have your say in the shape of your future local riverfront. >>
April 9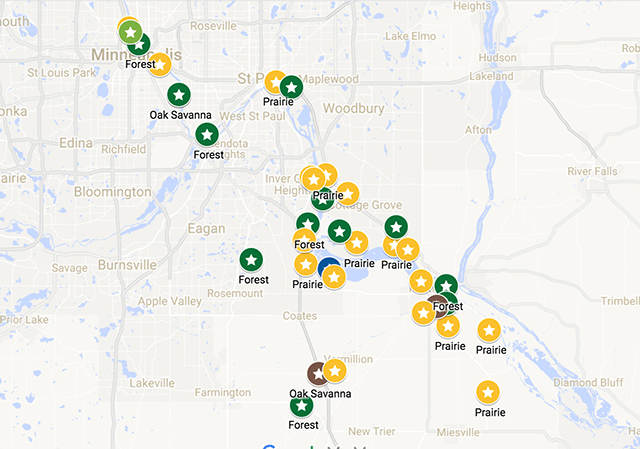 Although our policy and advocacy work tends to make the most headlines, many FMR supporters, members and volunteers highly value the natural areas we protect, restore and enhance throughout the metro area. But even the longest-standing FMR members and volunteers wonder where, exactly, we work.
Wouldn't it be great if there was a way for folks to see all of FMR's 37 active restoration sites in one place? Perhaps some kind of…map? >>
April 9
We set up a new research project in Hampton Woods (top left) to control buckthorn (top right) and see how different methods (such as the forestry mower, bottom right) best protect and encourage native plants (like the yellow ladyslipper, bottom left).
What pops to mind when you think of restoring a forest? Perhaps people planting trees? ...How about bobcat-like machines busily eating up small trees and spitting out the splinters?
If you'd visited Hampton Woods this spring, this is exactly the scene you would have come across. The machines were forestry mowers, consuming invasive European buckthorn.
Not only were the mowers benefiting the long-term health of the forest, but they're part of a new FMR research project to compare and contrast the effectiveness of different methods to both control buckthorn and support the growth of native plants and habitat. >>
April 5
Bird surveys and wildlife cameras (one of which captured this red fox on film) have long provided a glimpse of how wildlife use our restoration sites. But recently we've been greatly expanding our monitoring to include amphibians, reptiles, pollinators and other insects.
Since the creation of our land conservation program over 20 years ago, FMR has protected, restored or enhanced over a thousand acres of prairie, forest, wetland and other types of wildlife and pollinator habitat in the metro area. But does increasing native habitat result in the return of native animals?
Learn about bird surveys, wildlife cams and our work with local high schools to find out. >>
February 9
An aerial view of a prairie in progress. On the left: stubble left over from the fall soybean harvest. On the right: the half of the field worked up for broadcast seeding native prairie species.
It's not every day that FMR ecologists get to convert 180 acres of soybean and farm fields back to native prairie. Sure, we return park lawns and buckthorn thickets to prairie every year, but individual project sites rarely crack the 100-acre mark.
So we're especially excited about beginning the large-scale transformation at the William H. Houlton Conservation Area in Elk River. Check out some photos from the first steps of creating this much-needed pollinator and wildlife habitat at the confluence of the Elk and Mississippi rivers!
November 13
Our local national park, the Twin Cities stretch of the Mississippi River, is now protected by FMR-prompted state rules. (Photo by Jim Hudak)
At long last, new State of Minnesota rules are now in place governing land use and development along the metro stretch of the Mississippi River, a.k.a. our local national park! While allowing for growth and redevelopment, the new rules protect the metro riverfront's natural, scenic and cultural treasures. 
December 27
FOR IMMEDIATE RELEASE
From Friends of the Mississippi River
 
December 27, 2016
December 27
A little more green, please — for a healthy river and riverfront communities. (Aerial view, from the north, above Saint Anthony Falls.) Courtesy City of Minneapolis
Good news: The Minneapolis park board now owns over half the land needed to bring continuous riverfront parks and trails to the banks of the Mississippi River in north and northeast Minneapolis. FMR is continuing to advocate for and support the Minneapolis Park and Recreation Board's acquisition work while also investigating ways to work with north Minneapolis residents to increase and strengthen their local riverfront access.
January 11
Pages