Minneapolis is wrapping up its 2040 comprehensive plan, including new plans for the city's river corridor. 
While the plan contains m information, some very important river resources were not included in the city's draft list of what needs to be preserved or protected. Important views in the river gorge are missing as are views from future parks in North Minneapolis. Land downstream of the Stone Arch Bridge that is needed to complete the regional park and trails is slated for development up to 20 stories tall!
July 17
Speak up to help protect Minneapolis riverfront parks and scenic views for years to come. Act below or learn more. If you can, please take a moment to personalize your letter.
July 10
Albert Bierstadt's depiction of St. Anthony Falls circa 1860. While some seek preservation of the dams for hydropower, others advocate for the return of a more naturally flowing river. (Painting detail courtesy Wikimedia)
Will we stay the course or are rapids on the horizon? The Army Corps of Engineers is studying its options for the Minneapolis locks and dams and holding public meetings in Minneapolis and St. Paul on this topic July 16 and 17. >>
June 14
The 2018 Minnesota legislative session resulted in very good news for a 48-acre riverfront site in North Minneapolis known as the Upper Harbor Terminal. An influx of $15 million state dollars will help kickstart its redevelopment into housing, offices, stores, restaurants, an amphitheater, parks and trails. >>
June 5
It's the last week of Minnesota's 2018 legislative session and your support is needed! Ask Gov. Mark Dayton and your legislators to make five changes to the bonding bill to better support clean water and parks. >>
May 15
Minneapolis residents: Speak up before May 25 to ask your city councilmembers to lower the building height of Minnehaha Academy's proposed expansion in the Mississippi River Gorge. >>
May 14
Part of our local national park — River Heights Park in Inver Grove Heights — is being considered for disposal by the city.
Just eight months ago, FMR teamed up with neighbors to help save River Heights Park in Inver Grove Heights.
Now the park is on the chopping block once again. And the neighbors and FMR are back in action. >>
April 9
To celebrate our 25th year, each month in 2018 FMR staff will profile places along the metro Mississippi River that are near and dear to us, places that connect to FMR but that we also enjoy in our own downtime. By the end of our silver year, we'll have built a map of 25 special river places for you and yours to learn about, visit and enjoy.
This month: Minneapolis's riverfront Above the Falls.
The Minneapolis riverfront north of St. Anthony Falls is an interesting juxtaposition of the natural, urban and industrial. Here you can enjoy bike and pedestrian trails, or rent a kayak to see a heron rookery, restored prairie, riverfront raingarden parks and sculptures, as well as industrial relics. You'll also want to visit often over the next decade to experience the changing riverfront, as more industrial sites are converted into public parklands.
February 12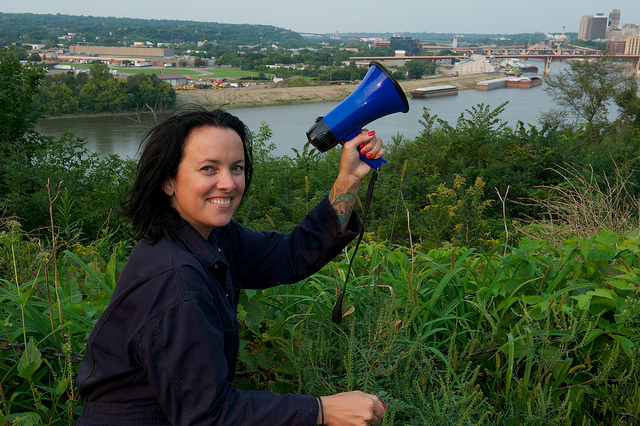 We're incredibly grateful and delighted to report that our community of river advocates more than doubled in 2017!
River Guardians helped to save River Heights Park in Inver Grove Heights, rein in water quality rollbacks at the Capitol, worked for improved public access to the riverfront in North and Northeast Minneapolis and much more. Check out the 2017 best-of photos! >>
December 15
In 2018, FMR will rely on you — our River Guardians — more than ever to make sure the river is protected, restored and enhanced.
Your voice is needed to create a growing body of Minnesotans who tell their legislators to improve our water quality, work with planning commissioners to enhance riverfront plans, ask city councilmembers save our parks... and more! And we work hard to make sure that it's easy to do so. 
Pages