The abundant prairie: A William H. Houlton Conservation Area wildlife update
Black-eyed Susans in full bloom during the second growing season at the William H. Houlton Conservation Area. Butterflies, bumblebees, skinks and more are already moving in to this restored prairie. (Photos by Chris Smith.)
Where soybeans once grew at Elk River's William H. Houlton Conservation Area, a budding prairie is forming. FMR ecologists want to track the effects of that transformation on wildlife. Are wildlife species using the prairie? Are their populations growing? Is species diversity increasing?
In 2018, FMR began monitoring wildlife populations, thanks to funding from SEA LIFE, and help from Wildlife Research & Consulting Services, LLC. That first year of monitoring yielded some exciting results: bumblebees, butterflies, frogs and reptiles had returned to an area previously lacking these critters.
But 2019 revealed even more progress toward thriving habitat.
From 16 to 575 bumblebees: More abundance and more diversity
Last year, Wildlife Research & Consulting Services again conducted pollinator, reptile and amphibian surveys throughout the restored prairie and forest. We wanted data on the number of species using the property in the second year of this four-year prairie restoration project. As these ecosystems became more established, how was wildlife responding?
Over the summer, our biologists conducted monthly meander surveys for pollinators, and bi-weekly cover board surveys to detect herptiles (reptiles and amphibians) and small mammals.
This second year's results showed increases in the diversity and abundance of species that use the property and its focal prairie restoration. That's exactly what we hoped to see! Here are just a few highlights:
The number of individual bumblebees increased from only 16 in 2018 to 575 in 2019.
The number of bumblebee species increased from four in 2018 to nine in 2019.
The number of butterfly species also increased from 15 in 2018 to 25 in 2019.
Given that our restoration project at Houlton is relatively new, with much of its land still in row crops through 2017, these numbers are very encouraging.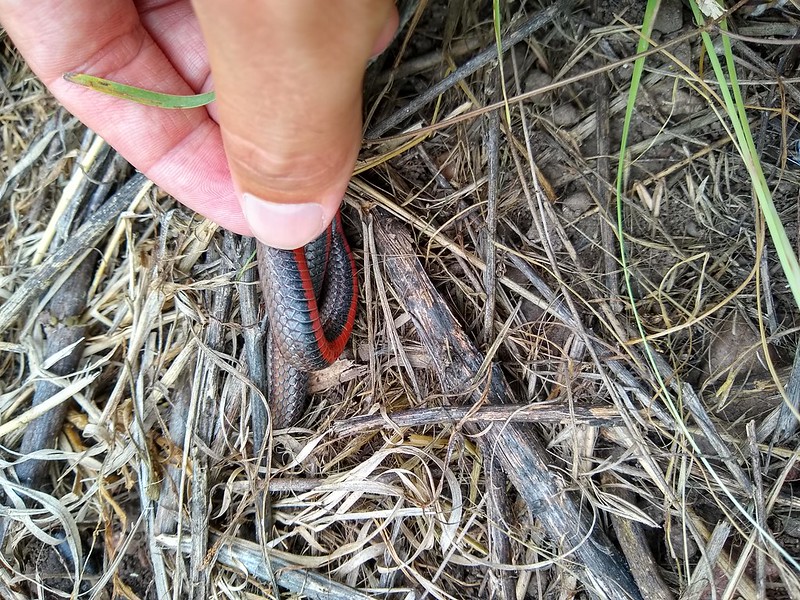 This year, we discovered Minnesota's smallest snake, the redbelly snake (Storeria occipitomaculata), for the first time during a cover board wildlife survey at Houlton. (Photo by Alex Roth)
Prairie skinks and yellow bumblebees
Two species that especially need the prairie have found refuge in this new habitat at Houlton.
The prairie skink (Plestiodon septentrionalis), a prairie-obligate lizard, is often found in sandy prairies, and was not known to be present at the site prior to the start of restoration. In 2019 its population increased the amount of habitat it was using at the site. That bodes well for its continued expansion and population growth throughout the restored prairie.
We also found yellow bumblebee (Bombus fervidus), a Species of Greatest Conservation Need as identified by the Minnesota DNR. The yellow bumblebee has experienced major population declines in Minnesota.
The presence of both of these critters at Houlton signals that the site is providing quality habitat for some of the species that need it most.
Stay tuned in 2020
Tracking the changes in abundance and diversity of these species as the restoration progresses will go a long way towards helping FMR assess the benefits of our restoration to wildlife and overall biodiversity. So far, so good! We're excited to see what we find in 2020.