FMR members make a difference for Twin Cities Coyote and Fox Project
Researchers at the University of Minnesota trapped and collared this coyote over the winter as part of a larger research project to understand more about how wild canines use our urban areas. (Photo used with permission.)
By now, you may have seen multiple FMR updates calling for reports of coyote and fox sightings in the Twin Cities. As a partner on the Twin Cities Coyote and Fox Project (TCCFP), we've encouraged FMR members and volunteers to report sightings of coyotes and foxes on iNaturalist or report their willingness to let researchers capture and collar these animals on their properties.
The goal of the project is to radio-collar urban coyotes and foxes, so researchers can track their movements, learn about their diets, and sample for diseases over a two-year period. This information will be used to improve habitat management and help educate the pulblic about these important predators.
In the project's first field season, researchers have trapped and collared 11 animals — seven coyotes and four red foxes. As the winter field season ended, we chatted with Nick McCann — one of the project's principal investigators and a post-doctoral research associate in the Departmen of Fisheries, Wildlife and Conservation Biology at the University of Minnesota — to hear more about the project's first year, and how FMR's involvement has helped along the way.
Alex Roth, FMR ecologist: Tell us more about your trapping and collaring criteria. What were you looking for in terms of animals, geography or other criteria?
Nick McCann, TCCFP: Scouting included four steps: First, we checked city ordinances and requested permission when ordinances prohibited livetrapping but did not include the exemption for research that most cities have. We did not work in Saint Paul, for example, as its Department of Safety and Inspection did not give us permission.
Second, we sought areas where we could capture study animals safely. We looked for locations where pets and children would not interact with cable restraints and animals we captured.
Third, we looked for animal sign — tracks and scat. We often set baited trail cameras to evaluate which canid species were using the site and to evaluate the safety of the location. We wanted to make sure no pets were coming to our bait.
Lastly, after finding safe sites (parks, yards, etc.) we looked for brushy patches where we could hide livetraps from study animals well, and where captured animals would have some sense of security. We did not want them to feel exposed by capturing them in a big open area. 
Alex: FMR received over 150 responses to a call to allow researchers to livetrap on their properties. How many FMR members did you contact to scout their properties and end up working with for trapping purposes? 
Nick: We contacted seven, gained permission at six, and set livetraps at two FMR member properties. 
Alex: How many animals were trapped and collared on FMR member properties? Can you tell us a little more about that process? What challenges arose? 
Nick: We captured an adult male red fox at one FMR member property. The owner was great to work with and was present when we processed the animal, snapping lots of photos. The fox was the biggest we captured, at 14.7 pounds! Unfortunately, although it seemed healthy, it had some areas where mange was evident, which was tough to see.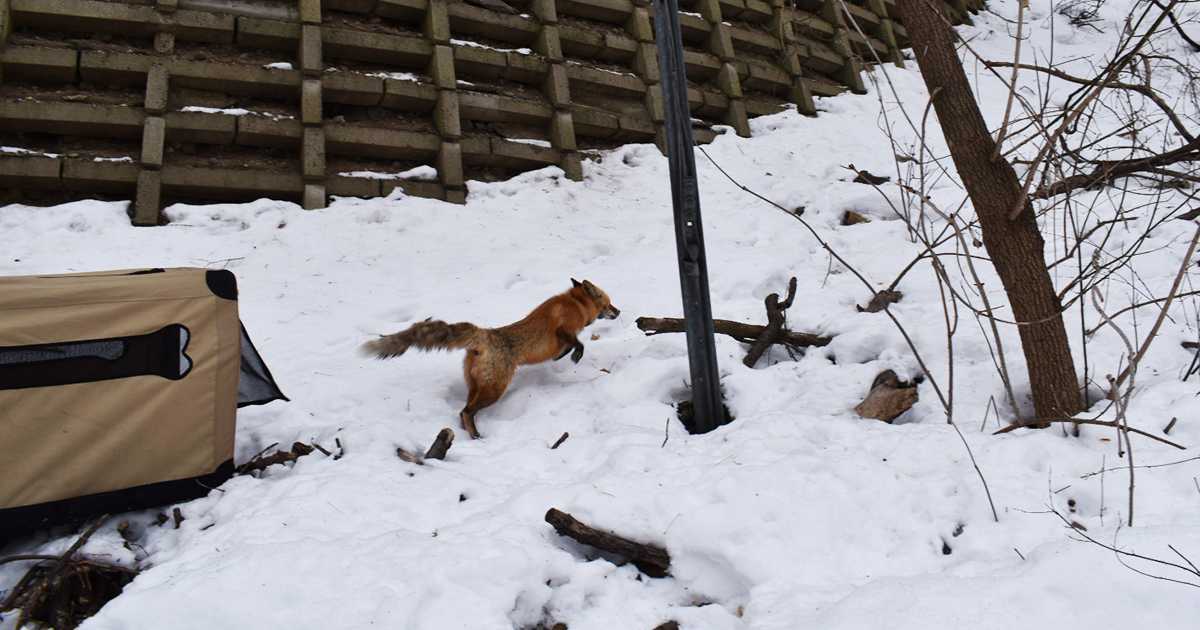 This red fox bounds out of its carrier after being collared so researchers can track its movement through the metro. (Photo by Bill & Denise Lynch.)
Alex: Can you share any interesting tidbits or anecdotes you've learned since collaring the first nine individuals? 
Nick: I think it is interesting that the coyotes have been quite docile. They often are sitting when we approach and do not struggle when we begin processing them. And they almost always need some coaxing to leave the pet carrier we release them from.
In addition to being a bit intimidated by us, coyotes apparently liked the blankets and handwarmers we used to make the pet carrier cozy and seemed to loiter for a while in the back of the pet carriers.
Alex: Has there been a particularly interesting individual in terms of its initial movement patterns or behavior?
Nick: We had one male coyote disperse more than 60 miles to Wisconsin. Although he was subsequently killed by a hunter, which is unfortunate, the dispersal itself was interesting and the hunter was kind enough to provide us with the animal's carcass and to return the GPS collar.
A post on the TCCFP Facebook page includes some more details and a map of where this animal went, as well as some information about why animals disperse in the first place! 
Alex: Any other thoughts?
Nick: FMR has been a valuable partner in this project. FMR members have been extremely engaged, informative and accommodating — truly wonderful people to work with — and FMR staff have also been great!
Looking ahead
Fall 2019 through Winter 2020 was the first of two trapping/collaring seasons for the project. University researchers will be in the field this spring and summer measuring habitat variables and tracking where their currently collared individuals are going.
Project researchers plan to start capturing study animals again in early fall. They're interested in boosting observations on iNaturalist now so they can get a jump on scouting locations. They're especially interested in hearing about any known den site locations for any of the three species (gray fox, red fox and coyote).
We'll likely put out another call for participants come fall. But in the meantime, report any sightings on their iNaturalist site, and keep an eye on their website and social media (Facebook @tccfp and Twitter @tccfp_umn) for other project updates.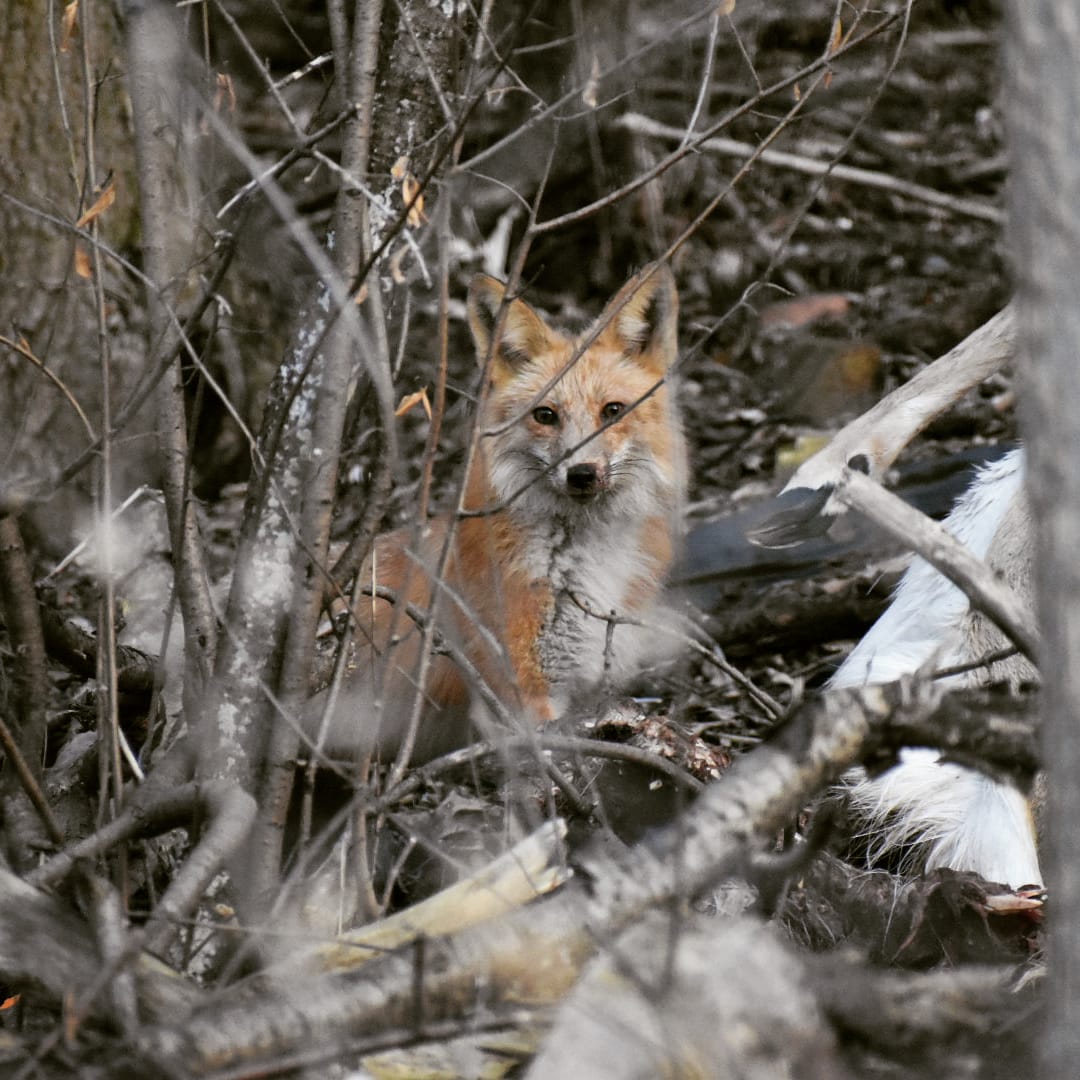 If you spot any wild canines, log your observations at TCCFP's iNaturalist site. (Photo by Bill & Denise Lynch.)
Funding for this project was provided by the Minnesota Environment and Natural Resources Trust Fund as recommended by the Legislative-Citizen Commission on Minnesota Resources.