FMR's fifth water quality mural celebrates community connections to water
Artists Thomasina Topbear and Tom Jay's new water quality mural reminds us: Mní Wičhóni, water is life.
Each year, FMR works with community partners to create and install a water quality-themed mural near a storm drain at a park in St. Paul. As part of our Water Quality Education program — which also includes storm drain stenciling, cleanups and educational outings — these murals serve as reminders that our city landscape connects to the river through storm drains and that we can all work together to keep our water clean.
This year, we partnered with the cultural arts and activism organization Indigenous Roots in St. Paul's East Side. They connected us with artist Thomasina Topbear of City Mischief Murals, who's also working on the Intercultural Mural Corridor, an expansive collection of art near the Indigenous Roots Cultural Arts Center on East 7th Street in St. Paul.
Our 2021 mural is also off East 7th Street, though down the road from the Intertribal Mural Corridor, at an entrance to Swede Hollow Park. The mural was inspired by community input collected at a workshop held at the Indigenous Roots Cultural Arts Center. At the workshop, members of the Indigenous Roots' Youth Council, neighbors and community members drew or wrote on paper raindrops to show why water is important to them.
Thomasina collected all the input from the workshop and designed the mural with art from the community as inspiration. The resulting design highlights the river as a source of life for plants, animals and humans. And it delivers the important message Mní Wičhóni, or "water is life" in the Dakota language. Thomasina and artist Tom Jay worked together to install the mural in early October at the Swede Hollow Bruce Vento Regional Trail lot.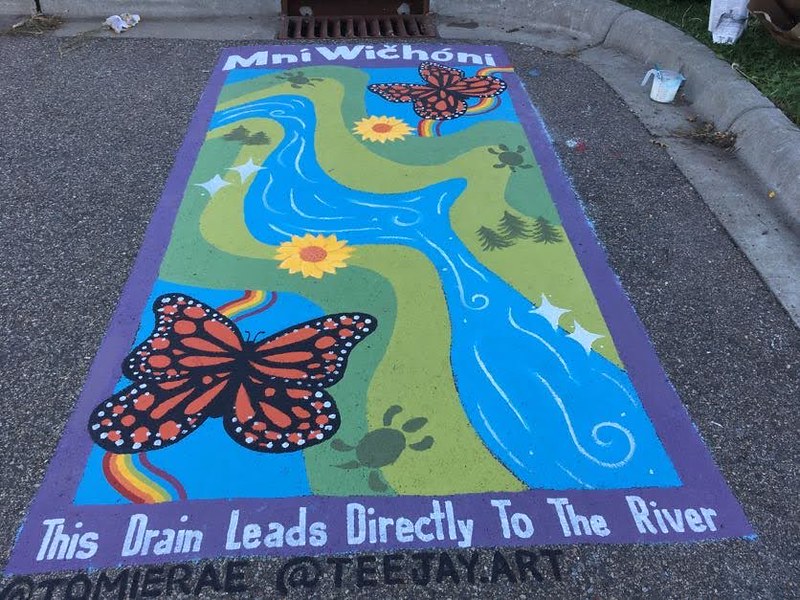 We asked Thomasina a few questions to better understand her background and her process for creating this mural. Thomasina's conversation with us will also be included in our Cultural Landscapes curriculum, which explores cultural connections to place and centers Native voices.
Q: Can you tell us a little bit about your background as an artist?
A: I've been drawing for as long as I can remember. As a child, my sisters and I used to paint this old abandoned house using clay from the creek on my family's land in the Santee Dakota Reservation. I started doing graffiti when I was around 14 as a way to be seen in a city landscape I didn't identify with, I've been painting using brush and spray paint ever since. As someone who was raised by many mentors, I wanted to find my way to give back to the community that raised me. So using these skills I've acquired over the years I started to transfer those to doing community-based murals and projects. I use art to share my culture, messages that have meaning to me and as a tool for healing.
Q: How would you describe your style?
A: I would say I have a bold, bright, to-the-point style. There's something about using bright colors with a simple design that makes me happy. I like to make murals that have meaning to me. Lately, I've been using Oceti Sakowin language in my pieces as a way of connecting my art to the land and culture.
Q: How do you think art fits into environmental stewardship or activism?
A: I think art can be used in many ways, one of them is by bringing awareness and starting important conversations that need to be had about being a good relative to Unci Maka [Grandmother Earth]. It is also a way like-minded folks can have something to identify with.
Q: Can you tell us about your relationship to the environment, the river or water?
A: I believe water is important, it literally gives us life and should be protected. The rivers and lakes are where our animal relatives live, they too provide us with sustenance to stay alive. Like many others, I find that being around the river calms me and gives me a sense of peace.
Q: Can you describe the process of creating this mural?
A: This mural was created over a few-month period this summer, involving community engagement, design and the painting process. Input was received by Indigenous Roots Cultural Arts Center, mainly youth along with the wonderful folks from Friends of the Mississippi River. I love when I'm able to hear what the community would like to see and how topics relate to them as we all share this collective space. I was joined by fellow muralist Tom Jay in the completion of this mural.
Q: How did the community input shape your approach to the mural?
A: I reviewed all of the amazing drawings that folks did on the raindrops and was able to find a few recurring themes. I used the most common themes to create my design.
Q: Did any input from the community workshop really stand out to you?
A: During and after the community engagement meetings I saw a few recurring themes, such as Indigenous language, water and animal protection which align with things often found in my artwork. I put Mní Wičhóni at the top to emphasize water is life and to normalize the Dakota language, the original language of this land. I also used drawings of the Mississippi and added in animal relatives I found in the raindrops. [Two raindrops pictured below]
Q: What do you hope people will think or feel when they see the finished mural?
A: I hope when people see this mural they understand the importance of keeping our storm drains clean and dispose of their liquid waste properly. Oftentimes folks don't know that the drains go directly into the Mississippi or they just need a friendly reminder. Hopefully, folks spot the bright colors on the mural and take a closer look at the message.
Find our other water quality murals in St. Paul
In 2019 and 2020, artists Liv Novotny and Violeta Rotstein created murals at Lake Phalen and Harriet Island. Last year, our mural at Harriet Island featured a postcard-inspired design, welcoming people to the riverside.
The 2019 Lake Phalen mural illustrated the many ways visitors enjoy the lake, and the wildlife they share it with.
Two earlier murals near Como Lake, created by artist Gustavo Lira in 2017 and 2018, feature elements from their surroundings: koi for the Como Conservatory, music notes for Como Dockside's well-loved outdoor music series and swirling water and wildlife for the waters Como Park centers around.
Want to protect our waters?
If you would like to help keep our rivers and lakes clean, check out our storm drain stenciling page where you can reserve a stenciling kit before the snow flies with no-contact pick-up and drop-off. And check out our volunteer events to get your hands dirty restoring native habitat.
Thank you to the City of St. Paul Public Works Department for supporting the Water Quality Education Program, and thank you to Capitol Region Watershed Management District for supporting our Cultural Landscapes curriculum.