Thank you, 2021 storm drain stenciling volunteers!
Thanks to hundreds of volunteers, we exceeded our storm drain stenciling goals for 2021 despite our second season of COVID-19.
Together, neighbors, classrooms, sports teams, girl scouts, churches and local businesses stenciled 1,615 storm drains in the Twin Cities and shared 2,529 flyers with community members to spread the word about why it's so important to keep our storm drains clean.
Why storm drain stenciling?
Unlike household water systems, storm sewers flow directly into our local waters, depositing whatever they pick up along the way (pesticides, motor oil, fertilizer, pet waste) directly into the nearest lake or river — unfiltered and untreated.
Storm drain stenciling is a fun and engaging solo or group activity where participants learn about their effects on water quality and impact their community.
With so many storm drains in the Twin Cities metro area, it would be nearly impossible to keep them, and our river, clean without the help of each and every one of our neighbors. Even still, many locals aren't aware that seemingly normal activities, like raking their leaves into the street, may contribute to the algae blooms and fish kills that have impacted their favorite places to connect with the outdoors.
Storm drain stenciling volunteers spray paint awareness messages like "Keep 'em clean, drains to river" next to drains as visual reminders of our connection to waterways.
FMR offers storm drain stenciling programs for groups and individuals in the city of St. Paul (funded by St. Paul Public Works) and select youth groups in Minneapolis. For volunteers in other areas, ask your local government about your city's storm drain stenciling program.
2021 season highlights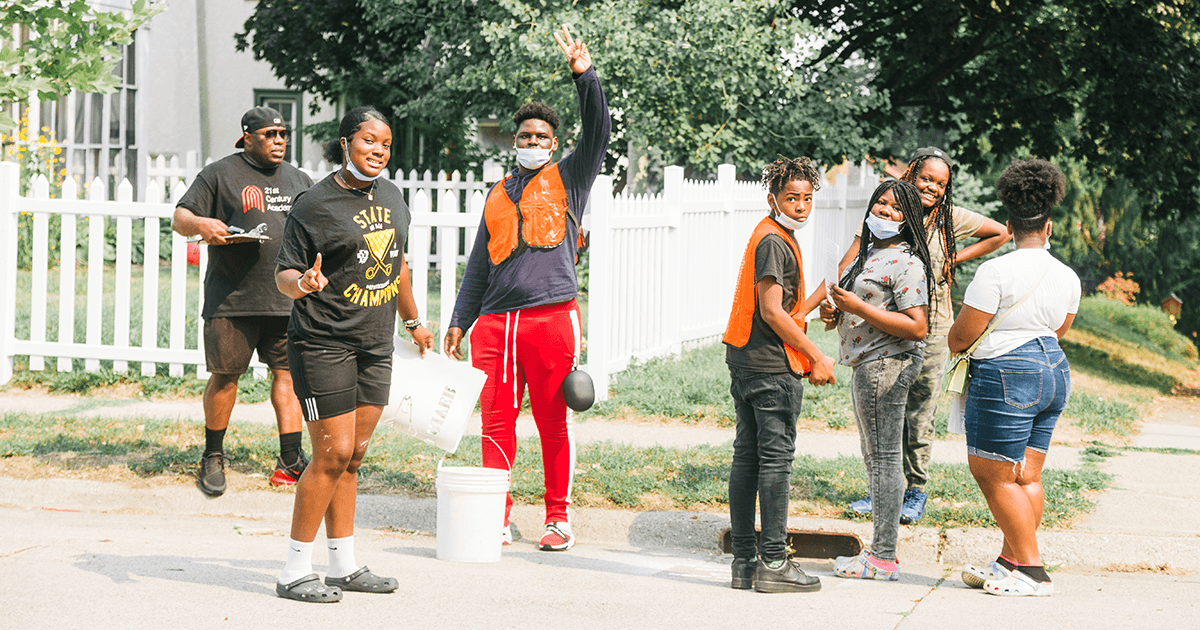 Scholars from 21st Century Academy stenciled storm drains in North Minneapolis in partnership with the City of Minneapolis Public Works. (Photo by Tamar Patterson for FMR)
This year's numbers far exceeded our expectations for 2021, our second season of volunteer events impacted by COVID-19. Over 400 volunteers from across the metro area stenciled storm drains with us this year, nearly reaching the number of storm drains stenciled in 2019.
Despite limitations, teachers at multiple schools reached out to us to get their classes involved. Saint Anthony Elementary School made it possible for their students to get outdoors and learn about the environment by signing up to use FMR's stenciling kits and scheduling a virtual lesson about water.
FMR also partnered with community organizations Indigenous Roots and Solidarity Street Gallery to offer storm drain stenciling kits on the East Side of Saint Paul, eliminating the need for individuals to pick up kits at FMR's downtown Saint Paul office.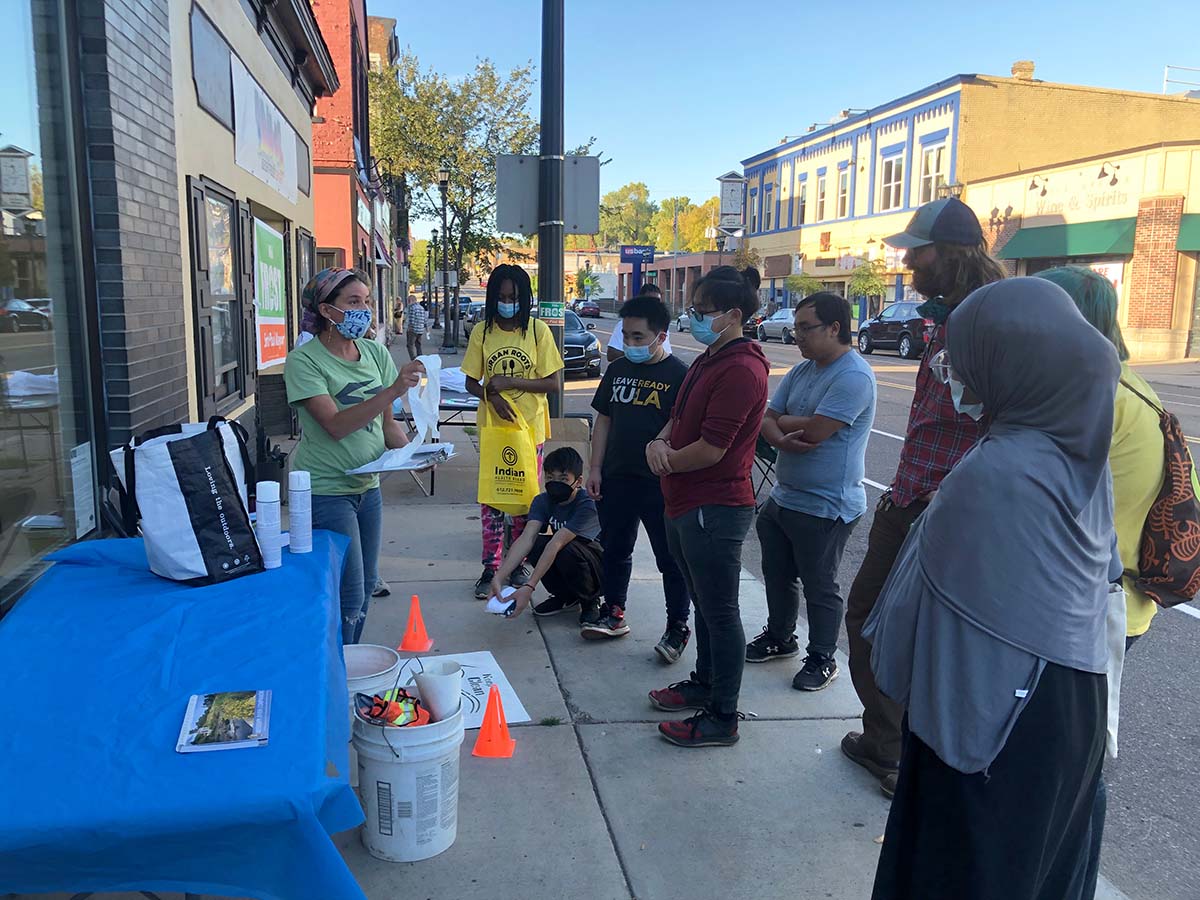 FMR Stewardship & Education Director Laura Mann Hill talks to a group about storm drain stenciling at the Solidarity Street Gallery Festival in September. (Photo by Angie Tillges for FMR)
FMR summer intern Marcellus Dees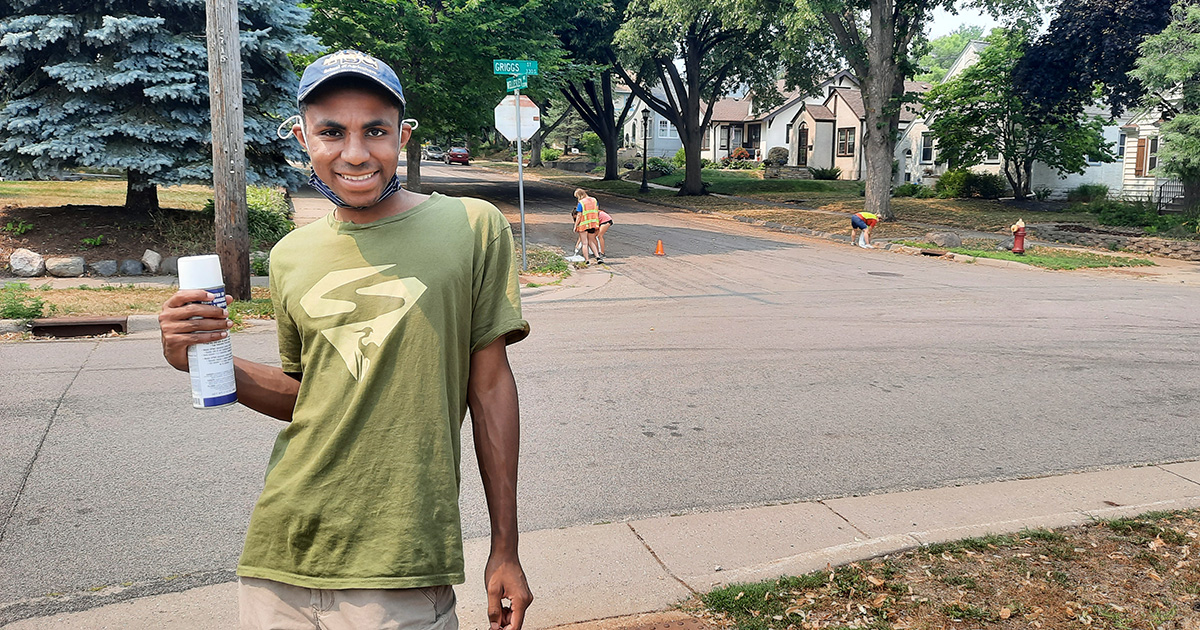 A true river steward, Marcellus is a star example of a community member committed to giving back to the community.
None of our stenciling outings could have happened this summer without Marcellus Dees, FMR's summer intern through Tree Trust. Marcellus made it possible for us to meet the increased demand for stenciling kits and outings, and always brought a positive attitude that made stenciling outings fun.
Marcellus' favorite stenciling outing was at the Old High Bridge overlooking the Mississippi River. When his internship wrapped up in August, he didn't want to stop working with the team, so he volunteered his time to continue to support FMR's programs! Some of his long-term goals include leading youth programs for students with disabilities.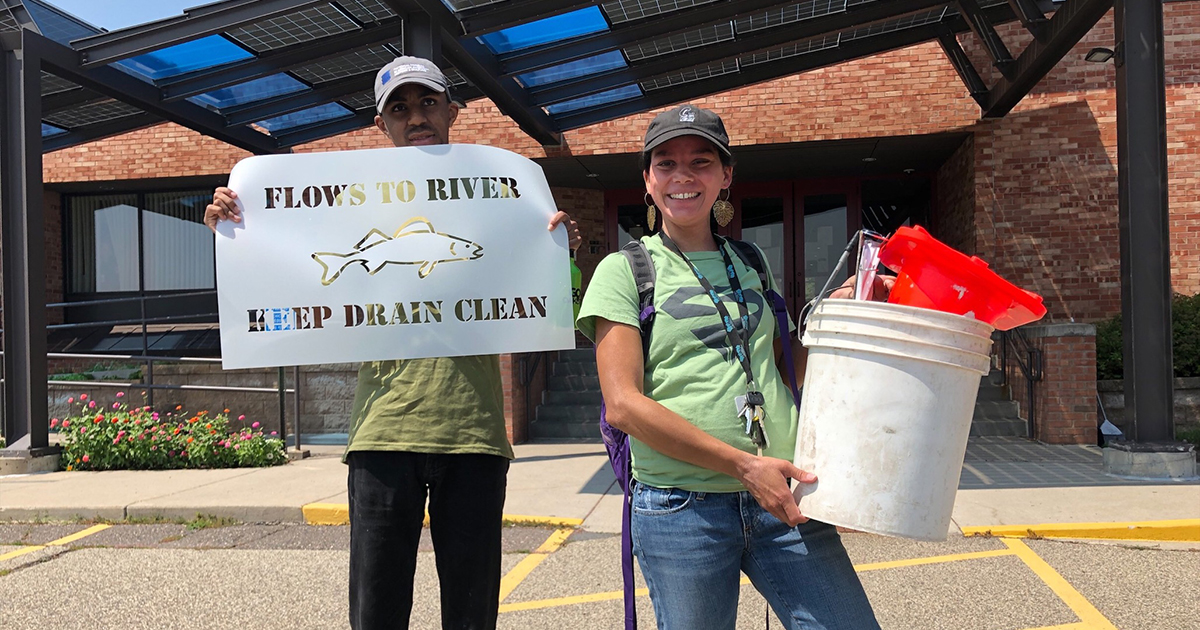 How you can get involved 
We've wrapped up our storm drain stenciling program for the 2021 season, but you can sign up to receive email alerts when our program opens back up in May of 2022 or as Minnesota's spring weather allows. Then you can consider reserving a storm drain stenciling kit to use in your neighborhood as a solo volunteer project with your family or with a group. Larger groups can also schedule an in-person stenciling outing with FMR staff.
Over the winter and into spring, our stewardship and education program offers educational programs for youth and classrooms. Check out our opportunities for all ages to get involved at FMR.